Seattle Lutheran repeats as State 2B baseball champs
Seattle Lutheran repeats as State 2B baseball champs
Coach Meehan reflects on the 'magical' run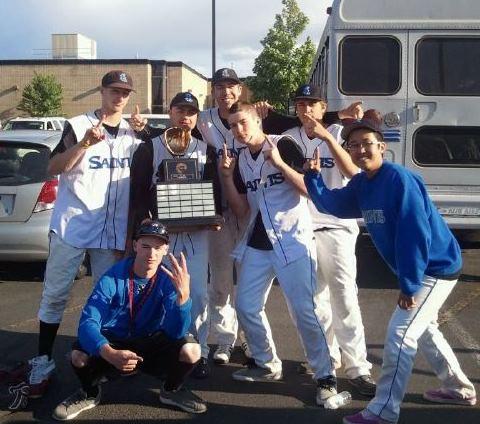 Courtesy of Seattle Lutheran
Tue, 05/31/2011
Seattle Lutheran's Saints brought home the 2B boys baseball trophy on Saturday, May 28 with a 7-1 victory over Warden at Parker Field in Yakima.
Updates were tweeted by Seattle Lutheran throughout the championship game and told the story of a Saint squad that went up 2-0 in the first inning and never looked back.
Seattle Lutheran pulled away from Warden in the top of the sixth, driving in three runs and putting the tally at 6-1.
One more run in the seventh and the Saints emerged victorious, 7-1.
Reflections on a record-tying accomplishment
Saint's coach Steve Meehan and his team are undoubtedly still running high off their championship win on May 28. Taking the trophy this year ties Seattle Lutheran with DeSales out of Walla Walla as the only 2B teams to win back-to-back championships.
And as good sport stories go, the Saints had to get through DeSales' storied squad (their coach Kim Cox has 500 career wins and was recently inducted into the Washington Interscholastic Activities Association Hall of Fame) in the semifinal to get a crack at the championship. They ended up beating DeSales 12-7.
"So going into that game obviously there was some pressure, especially when the paper over there (in Walla Walla) puts out a big article stating they are the underdog, twisting things for us a little bit," Meehan said. "There's a little bit of pressure there, no doubt about it."
"But overall once the first pitch came out we settled in and we just played our game," Meehan said of the semifinal victory over DeSales. "Fortunately, I think teams have a tendency to peak at certain times and although we've had a really successful year (22-2), it just seems like the quality of play and our level of play consistently went up and so I think we peaked at the right time."
Keegan White got the pitching win over DeSales, with Jordan Webb closing out the sixth and seventh innings.
White's success against DeSales left pitcher Evan Clements, "our gun," available for the final against Warden and he took care of business with 12 strikeouts.
"I think the kids, once they got past DeSalle, you know obviously the level of confidence to beat not just a team but a dynasty – getting past that put the confidence level really high and the kids played loose and had a good time."
"Pitching was really key … and the kids hit the ball really well and played sound baseball," Meehan said of the final against what he described as a tough, well-coached Warden team.
"It was such a magical time last year and to be able to do it again and go back again this year was really just incredible," Meehan said. "It's something a coach or a player could only dream or wish of being in a state final or state championship once in your career as opposed to being able to do it twice, so it was just a great experience."
Meehan has coached Seattle Lutheran baseball for nine years with his trusted assistant Dan Imori (they have coached together for 18 years). Will Clowney and Augie Matteo round out the championship coaching staff.
"They did a heck of a job for me this year," Meehan said.
MaxPreps.com, a website dedicated to high school sports scores and rankings, moved the Saints up drastically in their rankings following the game. Nationally, MaxPreps has them ranked 1411 (moving up 1491 spots) and 23rd in Washington State (moving up 22 spots).