SLIDESHOW: Bloody disturbance on 35th s.w.
SLIDESHOW: Bloody disturbance on 35th s.w.
Asian man in mid 30's, bleeding, leapt on cars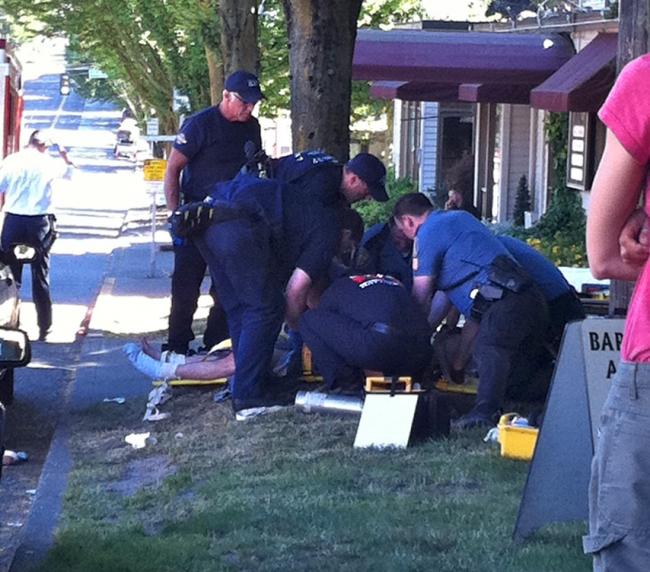 Kimberly Robinson
Tue, 07/05/2011
A man who appeared to be in his mid 30's of Asian descent, and possibly either under the influence of drugs or mentally unstable, and who was bleeding profusely, leapt on three cars on 35th s.w. between Henderson and Barton Streets around 4:40 pm on Tuesday, July 5. According to police on the scene the incident began as an argument but his wounds appeared to be self inflicted.
The incident took place in front of the Barton Court Apartments at 9021 35th Ave. s.w.
A young woman, Raissa, was driving southbound on 35th and saw the man atop one of the cars. "I stopped and that woman was here on the phone (a person who called 911) so I stopped to make sure, and I was worried he'd jump out in the street so I wanted to talk to him while I'm here, you know to get his attention, which wasn't smart because he jumped on top of the car. He seemed totally out of it. He didn't even know I was standing there. He was jumping from one car to the next. The blood was everywhere but the majority of it was on his hands." She also reported he was not wearing a shirt.
Three cars were damaged in the incident, the roofs of two of the cars were dented in.
The man in question was arrested and taken to Harborview Hospital.