Singing-Feet, Duwamish tribe's culture performance group receives Mayor's Arts Award
Singing-Feet, Duwamish tribe's culture performance group receives Mayor's Arts Award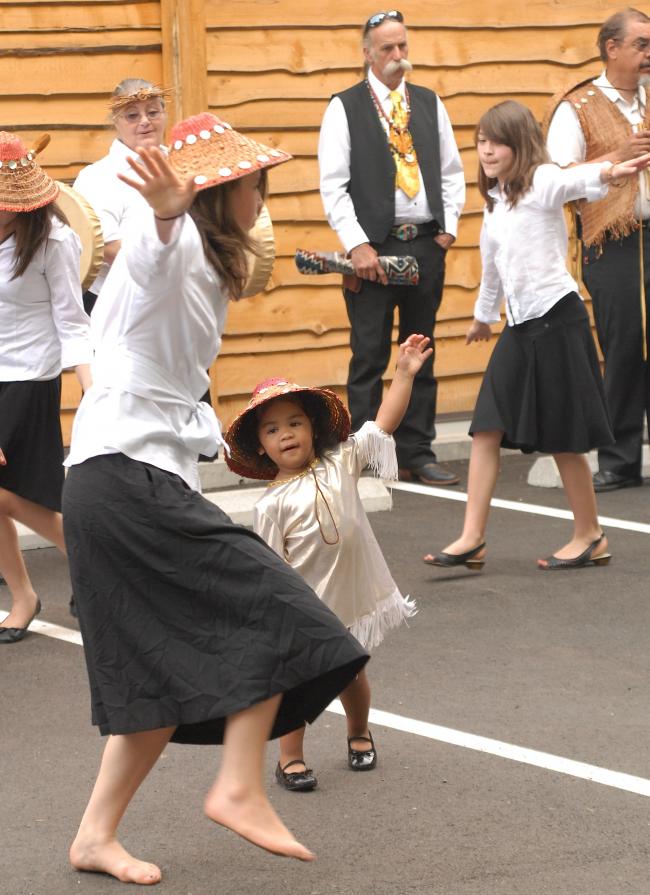 Photo by Steve Shay
Tue, 06/05/2012
Press release: City of Seattle, Office of Arts & Cultural Affairs:
We received more than 500 nominations this year.
In honor of its 10th year, there are 10 recipients of the 2012 Mayor's Arts Awards:

TilibSedeb (Singing-Feet), the Duwamish tribe's language and culture performance group
From the Duwamish tribe website: The Duwamish Tribe with the direction of Cecile Hansen, Chairperson, formed the Duwamish Language and Dance Group (tyleebshudub) or "singing feet". Zeke (Uswahli) Zahir is the scholared linquist and teacher instructing the dance group. There are approximately (10) duwamish youth who participate on a monthly basis. They are learning traditional Lushootseed language through song and dance and have been invited to perform at many forums including cultural events, festivals, for state and city officials and for other Native tribes and events.


The nine other recipients are:

Freehold Theatre Lab/Studio
KEXP 90.3 FM
Li Hengda, choreographer, artistic director and founder of the American Asian Performing Arts Theatre and Hengda Dance Academy
Lucia Neare's Theatrical Wonders
Seattle Arts & Lectures
Buster Simpson, visual artist
Three Dollar Bill Cinema
The Vera Project
Olivier Wevers, choreographer and artistic director of dance company Whim W'Him
We hope that you will join us for the public awards ceremony at 12 p.m., Friday, Aug. 31 at Seattle Center on the North Fountain Lawn. The outdoor ceremony will feature award presentations followed by free entry to the visual arts exhibits at Bumbershoot: Seattle's Music & Arts Festival.
Again, many thanks for your participation in this year's awards. We hope that you will continue to help us highlight the achievements of those whose contributions in arts and culture make Seattle a wonderful place to live, work and visit.
Sincerely,
Vincent E. Kitch
Director Jon Rosen
Chair, Seattle Arts Commission