Michele On The Town: Noble Barton – A Neighborhood Gathering Place

Michele On The Town: Noble Barton – A Neighborhood Gathering Place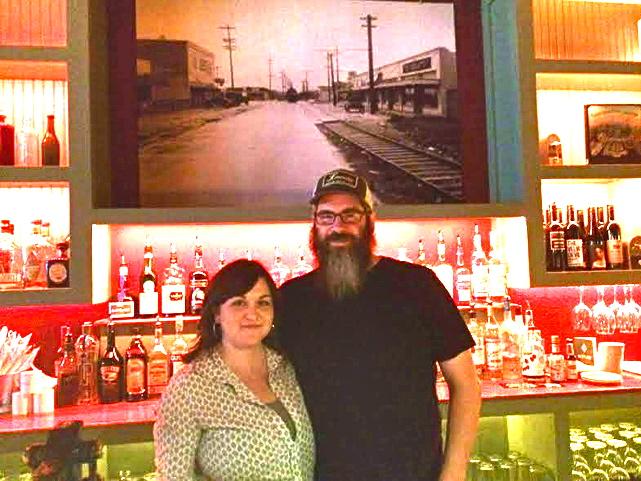 Mon, 10/26/2015
By Michele Smith
John LeMaster and his wife Vanessa are long time local bar owners, with Tin Hat in Ballard and wildly successful Jules Maes Saloon in Georgetown, John "never thought we'd open a bar that allowed kids" But now that the couple has two of their own and live in White Center, their choices for family friendly places were severely limited. In December of 2013, John and Vanessa decided to change that and open a neighborhood bar/restaurant in their community where parents like themselves, can go out with kids in tow. Securing a lease on 16th Ave SW in the heart of White Center for the old Papa's Bar and Grill space, the couple enlisted the help of friends and family to transform it from a dive bar with lots of problems to a beautiful new restaurant complete with dark hardwood floors, vintage Edison lighting and old time trolley photos. In the back there's a play room for adults with 2 flat screen TVs, a shuffle board table and pinball machines. A large outdoor patio with western exposure is set to open next summer. It took 2 years but the doors are now open and it is quickly becoming a neighborhood favorite.
A lot of the same delicious menu items found on the Jules Maes Saloon menu are available including the uber-popular, Grilled Cheese with Tomato Basil Soup, Whiskey Burger and their crispy tater tots and tots sauce. Look for new items like the Rat City Cheesesteak and Buffalo Chicken Salad. There are 10 beer taps and one cider tap, wines by the glass or bottle and a full bar with a specialty cocktail menu on the way, but ask Preston the bartender to mix you something special and he will, he's very creative!

Noble Barton is open 7 days/week 11am - 11pm on weekdays and later on weekends. Weekend brunch is 11am - 3pm and in the near future, they will open for breakfast at 8am. Enjoy happy hour Mon-Fri, 3pm – 7pm $1 off well drinks and micro beer.
What's in a name?
Vanessa very close with her grandmother Maude Barton, Maude would talk about her father Noble and tell stories about Noble's auto mechanic shop in Blaine, WA during the depression. Noble was said to let people who were wandering the country looking for work, sleep in the shop and feed them a home cooked meal in exchange for helping around the shop. His sense of fairness and generosity were known throughout Watcom County. When he died, he left a little bit of money to Vanessa's grandmother Maude. Having grown up during the depression Maude never spent a dime of it, and over time it grew. When she passed away 2 years ago, she left some of it to Vanessa, and that became the seed money for Noble Barton. The couple knew they wanted to honor Maude's memory in some way with the name of their new place. While it is named after a great man, it is more importantly a tribute to an incredible woman. 
Noble Barton

9635 16th Ave SW

Seattle 98106

206-420-7574