West Seattle resident Russell Lundwall prepares for 100th birthday
West Seattle resident Russell Lundwall prepares for 100th birthday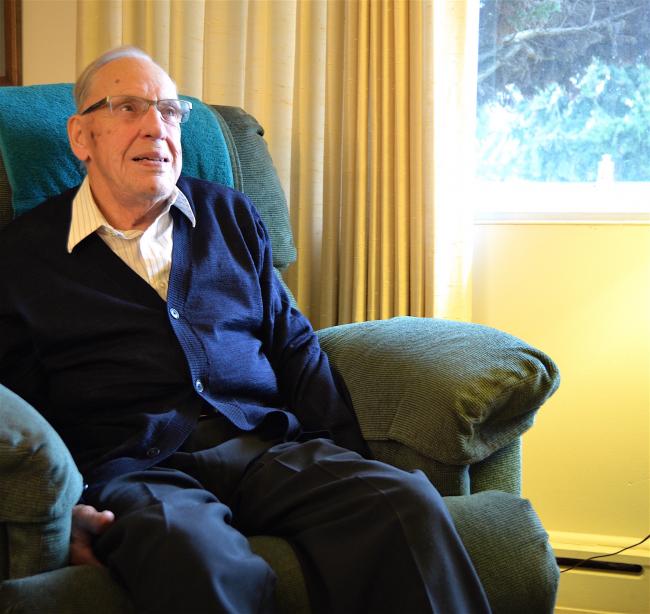 Lindsay Peyton
Mon, 10/31/2016
By Lindsay Peyton
West Seattle resident Russell Lundwall is not one to argue with the old adage, "Behind every great man is a great woman."
In fact, when revealing his secret to a long and happy life, the 99-year old credits three women.
"When people ask how I've stuck around this long, I tell them, 'My mother, my wife and my daughter -- who were all extra special,'" he said.

Lundwall most likely inherited his spunk from his mother, who was born in Norway in 1887.
"She went to high school when women didn't go to high school and worked when women didn't work," Lundwall said. "She was way ahead of the times."
His mother moved to Minnesota with her first husband and ran a boarding house for miners in Chisholm. She then divorced and remarried Lundwall's father, who was a policeman for U.S. Steel Company.
Lundwall was born on Nov. 4, 1916 when iron ore was king in Minnesota. He remembers the cold winters of his childhood, even one so brutal that the hard-working furnace couldn't keep up and broke.
He enjoys telling stories about his first pair of glasses, when he was only 2-years old from a doctor stationed at his school – and his first job as a gandy dancer in an iron mine in Hibbing.
"At first, I couldn't carry the tools from one worker to another," he said. "By the end of four months, I could pick up anything I wanted and run with it."
Lundwall recalls the first time he went to the Pacific Northwest. He rode a boxcar to Poulsbo to visit an uncle at age 16.
"I was with all the hobos, and there were hundreds of us riding in boxcars," Lundwall said. " Today, you'd be thrown in jail for that."
That was not his first adventure on a boxcar. He had ridden the rails to Chicago the year before to see the World's Fair. But the trip northwest was one that left a lasting impression.
Lundwall would return to Washington at the beginning of his career as a machinist – and was that place where he met his future wife Margaret, while riding a ferry to Poulsbo.
"We had about six years of correspondence," he said.
The couple settled in Seattle, first moving to the University District. Lundwall had already worked as a machinist across the country, starting in his native Minnesota.
"When the war broke out, I was hired as a teacher for the Army Corps of Cadets," he said. "They shipped me to Illinois."
Lundwall was stationed there for a year, before he was sent to New Haven, Conn. and set up his classroom on one of the most prestigious college campuses in the nation.
"We used Yale facilities to teach the cadets what a machine shop could do for aircraft maintenance," he said. "My best lie is that I taught at Yale. They didn't hire me, they didn't pay me, but I taught there."
Three years later, the army offered Lundwall a position to move his class south. "I didn't want to go, so I hired out as a machinist in Bridgeport, Conn," he said. " I knew trigonometry, which was absolutely necessary for the machine I was using. It was one of the fanciest machine shops in the world."
His journey then took him back to Minnesota for a while, before he was hired to work as a machinist at Pearl Harbor. He also taught math there.
"Then I had a chance to return to what they called the 'Big Island,'" Lundwall said. "I came back to the mainland and got married."
He and Margaret were wed in 1946 and stayed together until her death in 2004. They had one daughter Maryann and two grandsons David and Daniel.
David currently lives with his grandfather.
Lundwall enjoys spending time in his home, which he built almost completely on his own in the mid-1950s. He even drew the plans for the building himself.
"My wife and I did half the work," he said. "I worked on everything except the brick-laying and the plasterboard."
Lundwall and Margaret moved into the home in 1954. They chose West Seattle, because his aunt had a home nearby.
"We visited a lot," he said. "So when this lot three blocks away was available, we bought it and went to work."
Lundwall said his mother was responsible for his ability to build the home. When he was 16 years old, his mother hired carpenters to enclose a stairwell on her duplex.
"There was one condition – that I would be their helper and work with them," Lundwall said. "I learned how to swing a hammer."
His next job was working alongside the carpenters as they tore down and rebuilt a garage.
"We built a two-car garage that's still standing," he said. "The house is gone – and I don't know what happened to it. But the garage is still there."
After moving to Seattle, Lundwall heard that Boeing was hiring – and was brought on board as an industrial engineer. He stayed in the position for 33 years.
Most of all, Lundwall is a testament to having a positive attitude. His advice to younger generations is simple enough.
"Enjoy what you're doing – and do things that you enjoy," he said.