The cake that won $10,000; 'Baked' custom cake boutique comes out on top
The cake that won $10,000; 'Baked' custom cake boutique comes out on top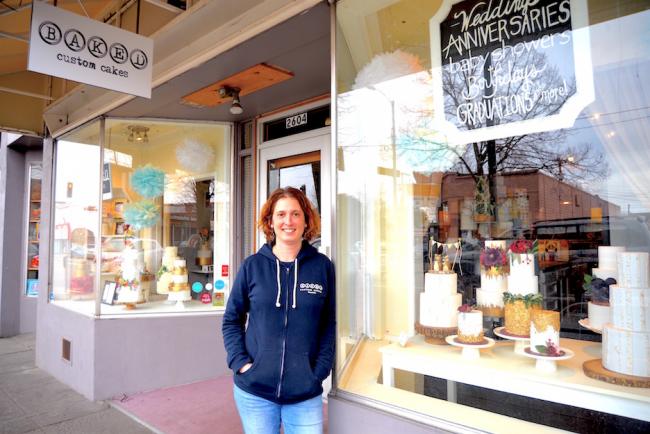 Lindsay Peyton
Mon, 04/10/2017
By Lindsay Peyton
West Seattle pastry chef Kristina Serfass just added a new flavor to her menu of offerings at Baked, a custom cake boutique located on 2604 California Ave SW.
Her S'mores Cake is a graham cracker flavor served with toasted marshmallow crème and chocolate ganache.
It's the winning recipe that Serfass served to judges on Food Network's Cake Wars for the LEGO episode, which aired last month.

The show was part of a championship round – and the challenge was to honor the classic toy, LEGO.
Serfass, and Baked's lead cake decorator Stacey Underwood, created a giant LEGO ranger, surrounded by outdoors-themed LEGO scenes out of cake and frosting. The judges recognized the bakers for superior style and flavor – and Serfass took home a $10,000 prize.
The episode was filmed in January – and aired on March 6. This was Serfass' second appearance on the show. She also won the first time – in an episode where she created a wedding cake for a couple with a design that reflected their love story.
Her "Salted Lime Margarita" flavor from "The Knot Episode"– featuring lime cake, tequila syrup, lime curd and salted lime crème – is also on the menu at Baked.
The business opened in its current space in 2012 – but Serfass and the bakery's co-founder Natalie Vorpahl first operated out of shared kitchen spaces.
Serfass graduated from the Art Institute of Houston – but her career path was far from ordinary.
"I knew I wanted to do culinary, but beyond that I wasn't sure," she said. "I wasn't sure which direction I wanted to go."
Serfass did know that she wanted to travel. She decided to join the Coast Guard – and was stationed on an icebreaker, the USCGC Healy in Seattle. She ended up going around the world and working in a variety of kitchens, including a Coast Guard icebreaker in the Arctic, McMurdo Station in Antarctica and a fishing camp in Alaska, as well as small specialty bakeries in between.
She met her husband Chad Serfass in the Coast Guard -- and eventually she decided to leave the service and start her own business with her friend Vorphal.
"At first it was just the two of us," Serfass said. "We started off small and grew our clientele. When we started, there weren't a lot of custom cake shops in Seattle. So we had an advantage."
Baked specialized in cakes of all kinds – and the wide variety of flavors and decorative styles set the shop apart.
Chocolate salted caramel and Italian cream are two of the most popular flavors – but the menu also features the cinnamon roll cake, almond joy, pina colada, PB&J, raspberry lemonade and lavender haze.
And Serfass and her team of employees -- Melissa Lewis, Ali Graham, Catie Rizzo, Taylor Neumeister and Stacey Underwood -- can form cakes that resemble almost anything. A photo album of past projects includes the classic stacks of white wedding cakes, some decorated with hand-painted flowers, as well as custom creations made to resemble cartoon characters, sports logos, VW busses and sea creatures.
Some of Serfass' favorite cakes were shaped to resemble other types of food, including hamburgers, trays of sushi, grilled cheese sandwiches, a bowl of salad and a stack of pancakes, topped with a pad of butter.
Serfass grew up painting and drawing for fun – and the creative spark has stuck with her. She credits her team for helping brainstorm ideas for clients.
"We look for inspiration, talk to each other and come up with different ideas," she said. "We all learn so much from each other. Everyone had a different way of doing things and a different style. We're very team-oriented."
Serfass ended up on the Food Network after she received a call from producers looking for bakeries willing to compete. She said the publicity – and the prizes – has helped her business grow. With her winnings, she was able to purchase much-needed equipment.
She has no plans to expand beyond the space on California Ave. She said staying small helps ensure that her products stay fresh – since everything is made to order.
West Seattle resident Marci Eversole said Baked is glad that Baked and Serfass were in the spotlight on Food Network.
"Kristina is definitely getting the attention she deserves," Eversole said.
Eversole first discovered the bakery in 2011 and hired Serfass to make a birthday cake for a party. She was surprised when she picked up a cake that resembled a vintage valise, complete with stitching.
"It was just incredible and so beautifully done," Eversole said. "Then we cut into it, and it was one of the best cakes I'd ever had. It was not only stunning, but the taste was fantastic. They sold me on that first cake."
She returns to the business a couple times each year to order specialty cakes – and dreams up unusual designs to challenge the bakers.
For one party, the cakes resembled a stack of various cheeses, each a different flavor inside. At another soiree – with an Alice in Wonderland theme -- Baked created cakes that looked like a teapot, surrounded by full teacups.
"The cakes have been the hit of every party I have," Eversole said.
She recommends Baked to all of her friends, as well. "There's nothing to compare to their artistry," she said. "And the cake and fillings are sublime. Everyone who has one of their cakes goes back for more."
For more information, visit www.custombakedcakes.com.