Kitchen Talk: Eggsactly what you need
Kitchen Talk: Eggsactly what you need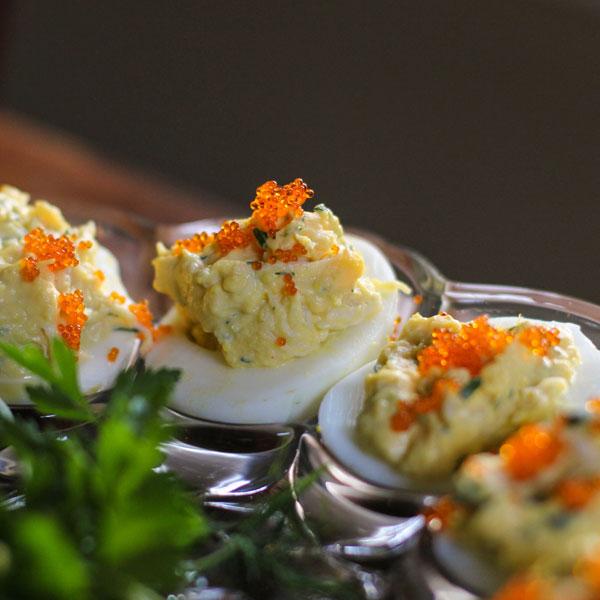 Salty's Seafood Grillsl
Sat, 04/29/2017
By Chef Jeremy McLachlan
The best thing in the world is the egg. They are cheap, nutritious and you can cook them many different ways. Kathy has the nutrition in her blog The Unscrambling Of Eggs and I get to tell you all the ways to cook an egg. The original chef hat has 100 pleats in the top of it and this signifies how many different ways you can cook an egg. Egg is amazing because it can be manipulated in so many ways and is protein packing giant. Egg is the base for many loved items like whipped egg whites for meringues, emulsified egg yolks with oil for mayonnaise or the combination of whipped egg whites folded into warmed egg yolks to create a magical souffle. I love eggs and know that no kitchen can survive without this eggsistential item.
This month I am going to give you our amazing crab stuffed deviled eggs. These little gems are being served Easter weekend at all three Salty's locations.

Crab Deviled Eggs
Serves 6-8
1 dozen eggs, hard-boiled and peeled
2 tablespoon mayonnaise
1 teaspoon dijon mustard
1/2 lemon, zest and juice
splash tabasco
1/4 teaspoon red wine vinegar
pinch coriander, ground
pinch fennel seed, ground
dash worcestershire
pinch white pepper, ground
1 sprig dill chopped
2 sprigs chives chopped
6 leaves italian parsley chopped
1/2 cup dungeness crab meat
4 tablespoon tobiko fish roe or caviar (depending on what's in your wallet)
Halve the eggs and then scoop out the yolks in a bowl.
Add the mayonnaise, mustard, lemon, tabasco, vinegar, coriander, fennel, worcestershire, white pepper, dill, chive, and parsley.
Mix well until the eggs are smooth.
Fold in the dungeness crab and taste for seasoning.
Scoop the amazing egg mixture into the egg white holes and then top with tobiko or caviar!
(Author of Kitchen Talk, Jeremy McLachlan is also Corporate Chef for Salty's Seafood Grill restaurant group. He says: "My love is to create great dishes with fresh seafood, as we are a seafood restaurant, but not forget the meat lovers. My goal is to match exceptional food with our incredible views. Living in the Pacific Northwest, we are fortunate to have an abundance of regional treasures. The use of these fresh ingredients is key to Salty's Northwest cuisine. If you have any questions about cooking, feel free to email me at chef@saltys.com.)