Marc Lainhart is a prospector in service to spirit
Marc Lainhart is a prospector in service to spirit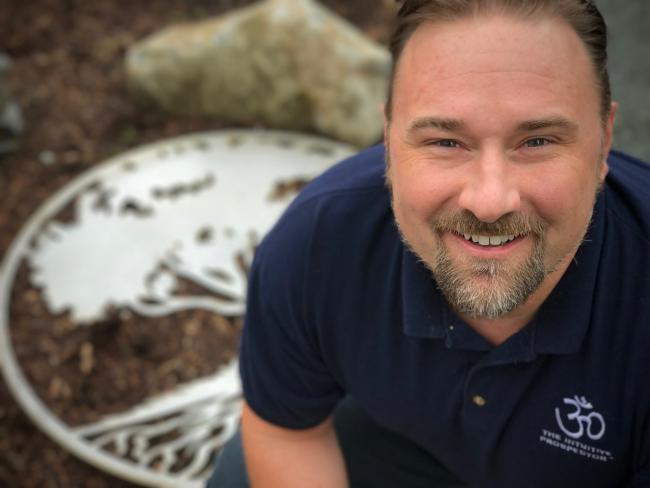 Patrick Robinson
Tue, 05/02/2017
It's part of the human experience to have a kind of knowing without conscious reasoning. We call it intuition and for many people it has saved them money, saved their lives, or led to a life changing event.
Is that some kind of special ability possible for only a few rare people? Marc Lainhart will tell you otherwise. He believes everyone can access a sense beyond the five we all agree on but the occasional awareness, flash of insight, or just knowing is something that can be trained, refined and highly focused.
Lainhart is The Intuitive Prospector which is his identity as a psychic/medium. Among his peers he's reasonably rare in that he has been tested and certified, travels to England every year for more training, and even offers a money back guarantee. He's also something of a renaissance man he is as he says a "Radio show host, hiking guide, Certified Scuba Diver, metaphysical teacher, holistic healer, inspirational thought leader, certified healthcare provider, and writer. He served for 8 years in the Coast Guard, and then became a firefighter and EMT. A back injury cut short that career but his true calling was still in his future.

It began with a near death experience he had at the age of 5 in Spokane. "I remember walking at the time with what I called 'Shadow People' they were holding my hand and walking me around even though I was in a full coma in the hospital." He had no frame of reference for it so he shrugged it off. But as he grew into an adult, tragedy would bring his abilities into sharp focus. "My younger brother, Michael at the young age of 21 was taken from us (in his own home) when a robbery went sideways and my older brother Todd was diagnosed with terminal brain cancer at the age 33, that very same week. As if life couldn't get any worse for my family, my wife, Jenni and I were witness to the rapid decline of Jenni's father, Don as he slowly passed away from the horrible disease, Multiple Sclerosis at the young age of 48."
He also came close to death again himself in a river rafting incident in which he was swept under a log jam. He was a trained swimmer but even so, the realization struck him, "This is how I'm going to die" and after what seemed like minutes fighting until he couldn't fight anymore, he just relaxed. "A peace came over me, for just a brief second. As soon as I embraced the peace I popped up to the surface," without explanation."Was it divine interaction? Was it my angels? I don't really know."
These experiences led him to seek a level of spiritual depth that his early church training had not prepared him for, "But it wasn't until I was taking my graduate studies at the University of Washington in Sports Medicine. We focused on visualization, manifestation and meditation for the professional athlete. But the professor had a background in spirituality." He studied mind meditation, muscle tension release meditation, walking meditation and many others. "It was from that point that my journey really started." He was deeply concerned at first wondering, "Am I crazy? I'm experiencing things in my dreams or just a sense of knowing."
That led him to seek training to deepen his awareness and hone his natural gifts. He found Arther Findlay College just outside London which has been teaching classes in Psychic Science, spiritualist healing and awareness, spiritual and psychic unfolding and kindred disciplines since 1945. He now travels there annually for more training.
Lainhart has come to understand that many people have a lot of misconceptions and misunderstandings of mediumship and psychic readings. This is in part due to the fact that some have tainted the field by simply hanging up a shingle and offering to do readings. Lainhart's lengthy training led to his being being tested and certified. He's listed in Shay Parker's Best American Psychics, he is a member of the Spiritualists National Union, and is listed in the Best Psychic Directory. He's confident in his skills and is an open and very easy going personality.
He now works from his West Seattle home providing psychic readings, healing, email readings, and group sessions with prices ranging from $75 to $225. He also conducts hikes, offers mentoring, and holds workshops. His desire to share his insight and understanding extends to his online radio show Inspired Living on OMTimes Radio with another psychic-medium Kimberly Thalken which reaches a global audience. Lainhart also writes for the OMTimes magazine and travels to events around the nation.
The idea of being the Intuitive Prospector came to him and it seemed a perfect fit. "You've got to go out in search of that spiritual gold. You need the right tools, you've got to put some sweat on the brow but when you find that nugget or that precious spiritual moment it's all worth it."
He uses a variety of modalities from card readings to automatic writing, to clairvoyance, clairaudience, and even clairgustance (literally smelling or tasting something associated with someone "coming through" in a reading.) He's careful to explain the difference between these tools and tries to match the tool to the purpose sought by his client in each case.
He tells his clients, "I'm either one hell of a good guesser or there's something to this." and they seem to agree. Cheri Farnsworth wrote in an online review, "Marc read me so well! The advice, wisdom and details he shared really resonated, leaving me with much to consider. And the icing on the cake was when he relayed images and information from my late father," and Denise Glisson wrote "This was my first reading ever, and although sceptical at first, it was well worth it. I'm feeling much calmer about my life and the decisions that need to be made." Fran Connolly wrote, "Marc was awesome. He's extremely pleasant to work with and so easy to talk to. I've seen some psychics and mediums before, but Marc is one that delivers the true message of Spirit."
Lainhart, offering a simple explanation of what Psychic Science is to him said, "It's what physics doesn't yet understand" and, "As we move forward as a species, as we move forward with unlocking potential, our consciousness, our mind," he suggests more people will come to understand not only his but their own psychic gifts.
What does the future hold for Ballard, West Seattle and Burien in the next 20 years? Lainhart paused for a few moments and wrote in his notebook before speaking.
"I see these communities becoming more like the burroughs of Manhattan. Construction will continue but will go up higher as the land values increase and space becomes more valuable. A natural disaster either volcanic, earthquake or Tsunami in nature will strike the area in the year 2019 (based on the numerology of 3) and will extend into 2020, but while quite serious, won't stop the growth of the area since so many of the buildings have been improved and built to a higher standard than in the past."
Lainhart is a very serious fan of Star Wars, but not just because he's a movie buff. He took to heart the central philosophy of the films, that "The Force" is a tool that can and should be used for good, that there is an underlying energy and connectedness to everything that exists and that our thoughts, feelings, attitudes and actions all flow from it. He relies on his own sense of empathy to make that connection to force in people to heal, to understand and help them see.
You can connect with Marc through his website at MarcLainhart.com
He's also on Facebook
FACEBOOK LIVE ON OMTIMES WEBINARS - EVERY MONDAY MORNING:
"Metaphysical Mocha Monday's with Marc"
8am PST / 9am MT / 10am CST / 11am EST
WEEKLY INTERNET/RADIO SHOW - OM TIMES RADIO:
INSPIRED LIVING with MARC & KIM - LIVE every Wednesday at:
12pm PST / 2pm CST / 3pm EST
http://omtimes.com/iom/shows/inspired-living/
Join Marc and Kim LIVE every "Wisdom Wednesday" in 2017 along with their awesome special guests as they explore thought provoking topics and ideas that promote creativity, self-help, healing, happiness, and well-being to inspire you on your spiritual journey.