Cast of Shrek the Musical does some innovative promotion
Cast of Shrek the Musical does some innovative promotion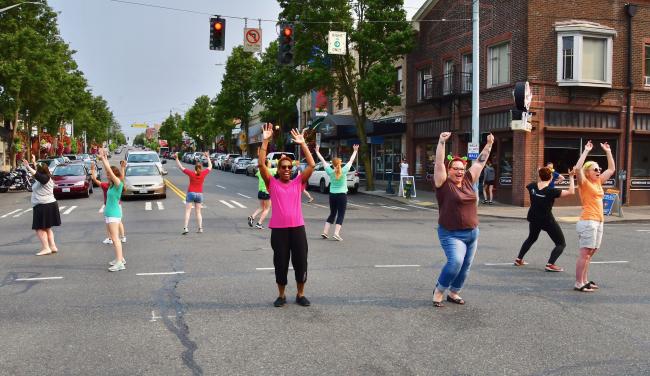 Patrick Robinson
Sat, 08/05/2017
The cast of Shrek the Musical (or most of it) from Twelfth Night Productions took to the West Seattle Junction on Saturday morning to promote the production in an innovative way. The junction is somewhat unique in that it offers the Walk All Ways feature meaning for 30 seconds at a time, the center of West Seattle is devoid of cars. Drawing inspiration from late night talk show host James Corden, the cast first gathered in the parking lot for some instruction and a brief rehearsal, then as the red lights went on, they dashed to the middle of the street and began singing and dancing. They performed just the very end of the song Freak Flag and shouted, "We're Twelfth Night Productions, we're doing Shrek, come see us!" then quickly got out of the way of oncoming traffic. The show opens on Friday at the West Seattle High School theater.
Here's the video of the publicity stunt.
More about the show: "Once upon a time, there was a little ogre named Shrek…." and thus begins the tale of an unlikely hero who finds himself on a life-changing journey alongside a wisecracking donkey and a feisty princess who resists her rescue. Throw in a short-tempered bad guy, a cookie with an attitude and over a dozen other fairy tale misfits, and you've got the kind of mess that calls for a real hero. Luckily, there's one on hand… and his name is Shrek. 
"SHREK THE MUSICAL is sweet and busy, nice and big, and, every so often, extremely lovable," writes Newsday .
This production will be performed at West Seattle High School Theater, August 11, 12, 18 and 19 at 7:30 and August 13, 19 and 20 at 3:00. Tickets are available online at Brown Paper Tickets , and at West Seattle High School Theater, 3000 California Ave SW, an hour before the show on performance days. Prices are $23 for adults and $20 for students & seniors. http://www.twelfthnightproductions.org/