Award-winning actor Richard Gray, now starring at ArtsWest
Award-winning actor Richard Gray, now starring at ArtsWest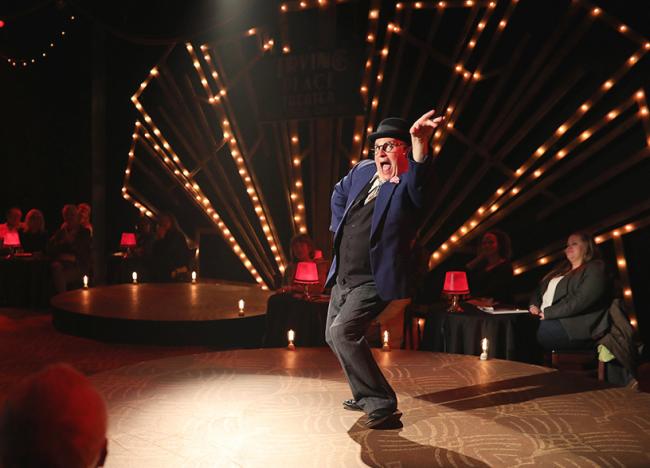 Thu, 11/16/2017
By Lindsay Peyton
Richard Gray had already heard about Douglas Carter Beane's play entitled, "The Nance."
In fact, his friends, who saw the play when it opened on Broadway in 2013, insisted that Gray would be perfect for the lead role of "Chauncey Miles," originally played by Nathan Lane.
When Gray saw that the play was on the season line-up at ArtsWest, he thought he would finally have his shot.
There was only one problem.
Gray had already booked a nine-day cruise – a trip to celebrate his father's 87th birthday. And it was smack dab in the middle of the rehearsals for "The Nance."
Then, director Mathew Wright called Gray. "He said, 'We planned this with you in mind,'" Gray recalled.
The actor explained the situation – and Wright agreed to start rehearsals a week early to accommodate the break for the father-son cruise.
"Everyone was fine with it – and I'm glad they were," Gray said. "To have missed this opportunity would have been a shame."
Wright said that Gray was his top choice for a reason.
"Rich Gray is Seattle's all-around song-and-dance man," Wright said. "The character of Chauncey Miles is hard. It requires just about everything. You need to be an incredible actor, singer, dancer, and entertainer. The whole play is a combination of realism and vaudeville, and it takes an incredible performer to make it all work - and Rich can do it all."
The complex main character appealed to Gray right away.
"It's such a tragic hero," Gray said. "It's this guy who we want everything to work out for – it's just that he makes such bad decisions."
The story is set in the world of 1930s burlesque – a time when it was dangerous to be gay. The "nance" – was a popular comedy act packed with double entendre and parodies of gay men.
While most "nance" actors are straight, Chauncey is not. Still, he has no choice but to hide his true identity – the very thing he mocks onstage.
Gray said the story reminded him of when he first came out – and would hear stories from older gay men about police raids in the late 1960s.
"It was very violent," Gray said. "These men had experiences of being brutalized in some way for just wanting a place to congregate."
Gray was recently honored with the Gregory Award – receiving the recognition only three days before "The Nance" opened.
He won the award for "outstanding actor in a musical' for his role in ACT Theatre's "Murder for Two" – a two-man, murder-mystery-comedy.
Gray has been acting from a young age, starting in elementary school.
"I fell in love with it really early on," he said.
Gray majored in the field at the University of Oregon. He tried to make it in New York, but said a few months in the city changed his mind.
"I was broke and lonely and hungry and miserable," he said.
Gray decided to head back to the west coast – and landed in Seattle. He has been a fixture on the city's theatre scene ever since – acting, writing children's musicals and directing. He teaches at Cornish College of the Arts – and is a regular on stage at ACT and 5th Avenue Theatres.
This is his first appearance at ArtsWest – but he hopes to return soon.
In the meantime, Gray is preparing for his next show at 5th Avenue Theatre.
He continues to search for challenging roles. "I want to keep getting better – and keep working at it," he said. "Acting is an art form, where there's just so much to learn."
Catch Gray while you can in West Seattle. The Nance closes on Sunday, Nov. 19. For more information – and to purchase tickets online – visit www.artswest.org.