Using photography to empower girls--art show on display at West Seattle café
Using photography to empower girls--art show on display at West Seattle café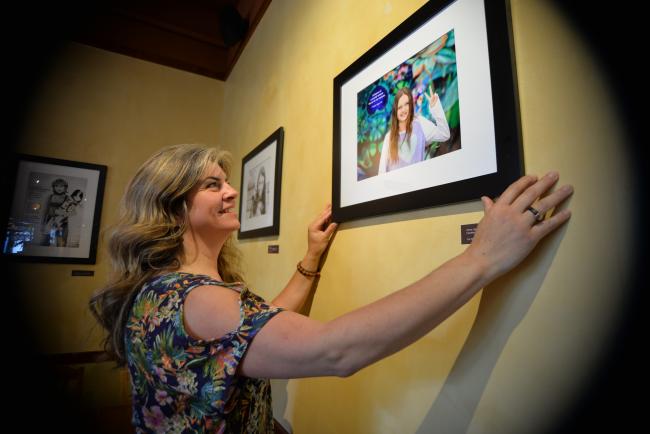 Photo by Lindsay Peyton
Wed, 06/06/2018
West Seattle's Kiara Bartel's portrait is currently on display at Chaco Canyon Organic Café.
Printed on the edge of the 12-year old's photo is a quote from her sister Jessica: "Kiara can read people so well, she can instantly sense when she needs to slow down and switch gears. She has been in many situations that I myself have never been in but somehow she always handles it more elegantly than I ever imagined."
The walls of the restaurant, located on 3770 SW Alaska St, are lined with similar photos, all showing teen girls with a quote from someone who cares about them. The work is by artist Linda Brooks, all part of her series entitled "the Empower Project."
She has spent the past year preparing the work for the exhibit, which will be on display throughout June at Chaco Canyon.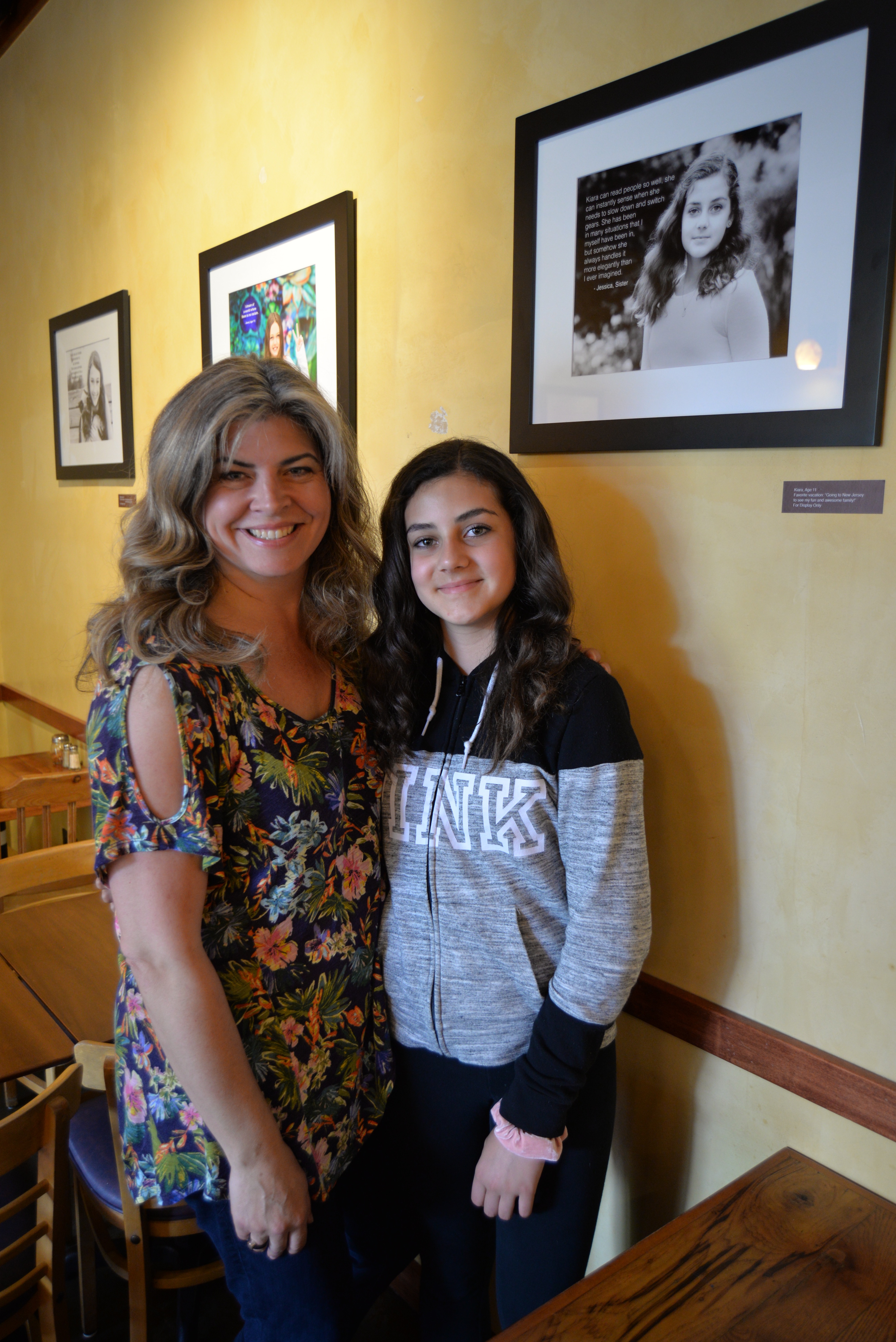 Brooks explained that the idea for the project came from her work as a portrait photographer. She noticed that families would often hire her for professional pictures of their babies, toddlers and young children. 
"Then, they skipped ahead to when their kids were graduating high school or getting married," Brooks said. 
Families neglected to take photos of their pre-teens and teenagers. "That whole time is skipped and undocumented," Brooks said. 
She believes that those years are a critical time, especially for young girls who often struggle with their self-esteem as teenagers. "This transition should be acknowledged and celebrated," she said. "Often times, families don't take enough time to stop and do that."
Brooks thought she could use her photography to empower youth in their adolescent years. She started offering "Empower Sessions" as an option in her portrait business. 
Brooks spends time with her subjects, taking photos that reflect the girls' personalities and talents.
Then, she asks members of the family to fill out a questionnaire about the child. The model also fills out a survey. Brooks uses their responses to create quotes for the photos. She creates albums, image boxes and wall portraits families can order to celebrate their daughters. 
While working on the Empower Sessions, Brooks decided to create her own traveling art show based on the experience. She started last summer and continues to expand the series. She hopes to launch a parallel series empowering boys soon. 
"It's all about appreciating people just for who they are," Brooks said.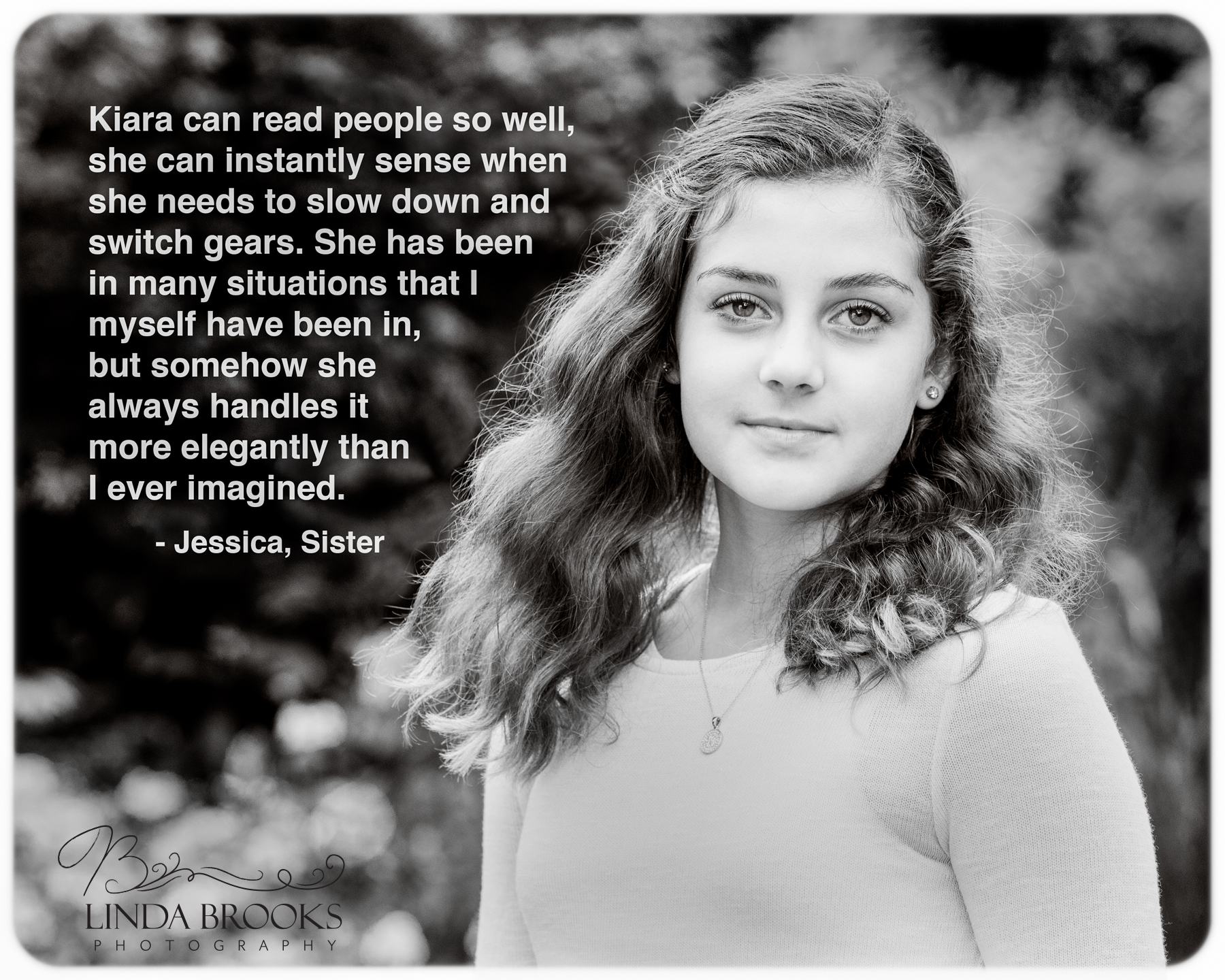 Kiara's mother Doris Bartel wanted to focus some attention on her daughter and signed her up for a portrait. 
"My hope was to build her confidence," Doris said. 
She is a social worker and therapist and knows that the adolescent years can be difficult for girls. 
"Linda is really onto something," Doris said. "This is the age where suddenly there's this huge drop in confidence. And it's hard as a parent, because you feel helpless."
Doris said that Brooks focuses attention on kids who need it the most. 
"She brought out Kiara's personality," Doris said. "It was very meaningful."
Kiara enjoyed the process. "It was really fun doing the pictures," she said. "We've never really had professional photos done before."
Brooks is also an educator. She currently teaches a class called "For Girls," which is about puberty and growing up. In the past, she taught outdoor science and ropes courses. She has also been active in social service groups. 
Now, she feels like she can use photography to make a difference. "This is bringing out leadership qualities of people, helping youth see themselves as leaders," she said. 
Using her camera as a tool to empowers other is Brooks' passion. "I want to do more," she said. 
For more information, visit lindabrooksphotography.net.