Hop Around West Seattle—and sample local taps
Hop Around West Seattle—and sample local taps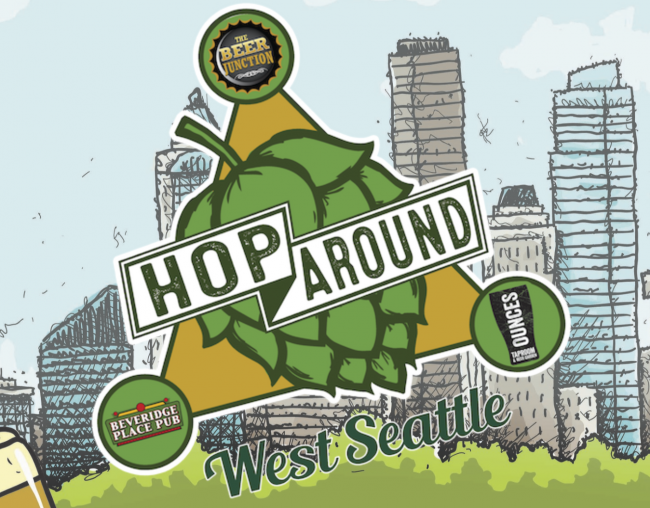 Mon, 07/09/2018
West Seattle resident Laurel Trujillo is on a mission to spread the word about the local beer scene and promote Washington brews. 
That's why she and her husband Andrew opened Ounces, 3809 Delridge Way SW, in 2016. The taproom and beer garden has become a popular gathering spot for West Seattle residents.
Now, Trujillo has partnered with Beer Junction, 4511 California Ave SW,and Beveridge Place Pub, 6413 California Ave, to go a step further—and offer an easy way to hop on board for a local pub tour. 
"Hop Around West Seattle" is slated for noon to 5 p.m. on Sunday, July 22. 
Tickets are available online at www.hoparoundwestseattle.com or at any of the three venues on the day of the event. 
Guests simply pick a pub to start their adventure into West Seattle's beerland and then board the shuttle to reach their next destination. 
"The shuttle comes every 30 minutes," Trujillo said. "You can decide when you want to hop on and when you want to hop off."
Each stop will have its own unique beer offerings. "Each spot has its own ambiance," Trujillo said. "Check out the different tap lists."
Each pub will serve an exclusive beer made just for the event. Ounces, Beveridge Place and Beer Junction worked together to create the Hop Around IPA with Seapine Brewing. 
The brew, made just for the event, will be used to support the West Seattle Food Bank, and $1 of each pint sold will be donated to the cause. All three stops on the pub tour will also serve as donation spots and guests are encouraged to bring non-perishables to drop off. 
"We're trying to do something for the community and have a little fun while we're at it," Trujillo said. 
She said that the businesses want to build the local sense of community. "We all do the same thing, but we do it in our own ways," she said. "And we all get a long together."
Beer Junction and Beveridge Place both inspired her to go into the business. "We're huge fans of what they're doing," she said.