Paddle craft safety emphasized in West Seattle demonstrations
Paddle craft safety emphasized in West Seattle demonstrations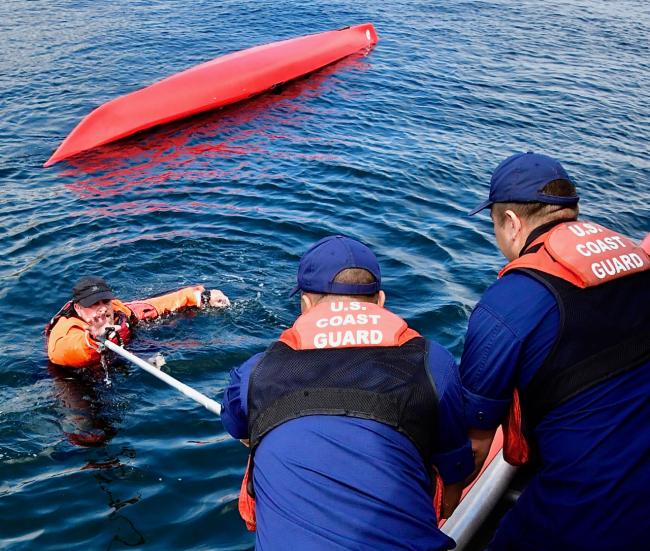 Wed, 07/18/2018
As the popularity of paddlesports grows and rates of accidents increase, Washington State Parks' Boating Program and boating enforcement agencies are partnering to lead a statewide awareness campaign to promote safe paddling practices. That program was demonstrated just off shore from Seacrest Park on Wednesday as Greg Whittaker of Alki Kayak and Jim Virgin Chairman of the Paddle Advisory Committee of the Washington State Parks & Recreation Commission demonstrated various safety issues regarding paddle craft. 
According to the U.S. Coast Guard's 2017 statistics, 138 people died while kayaking or canoeing, and 88 percent of those fatalities were due to drowning. Since 2012, close to half of all boating fatalities in Washington state involved paddlecraft, and there have been six kayaking fatalities reported this year.
Earlier this year, Gov. Jay Inslee issued a proclamation declaring July 20 through 28 Paddle Safe Week.
A U.S. Coast Guard and Seattle Police Department rescue vessel were used as observation and assistance platforms during the demonstrations.
Virgin and Whittaker first demonstrated the proper procedure for an overturned kayak, with one assisting. First being sure the person in the water is safe, then lifting the kayak, tipping it over to drain any water taken on, then holding it to permit reboarding. Next was a scenario in which a man was unable to reboard his vessel and was taken aboard another as two Coast Guard members lifted him by having him face their vessel and lifting him from under his arms. Finally a fall and reboarding from a paddleboard was shown. Virgin, an experienced boater and marine safety expert wore a dry suit throughout the demonstration to keep him warm in the 50 degree water.
Derek Van Dyke, Education Coordinator for the Safe Boating Program said, "When you paddle, you are going to become a swimmer at some point. A mindset of a boater is that I'm a boater not a swimmer. Are you prepared and equipped to swim in 50 degree water. That's the big mistake. With paddle board you have a whole other set of issues. A lot of casual paddle boarders do not realize that they are a boat or a vessel and they have minimum safety equipment which is a sounding device (a waterproof whistle) and a personal floatation device.  We give out thousands of whistles a year and it's $99 ticket if you don't have a whistle on a paddleboard." Also required on board a paddle board is a leash to keep the board close should you fall off.
Van Dyke pointed out that aboard a paddle board the maximum wind speed an experienced person should be out in is 15 knots (around 18 mph) since commonly paddle boarders will head down wind, and may not consider heading back into the wind where paddling can be much more difficult.