Macklen Alger and family are getting support from Providence Hospice as they deal with Tay-Sachs
Macklen Alger and family are getting support from Providence Hospice as they deal with Tay-Sachs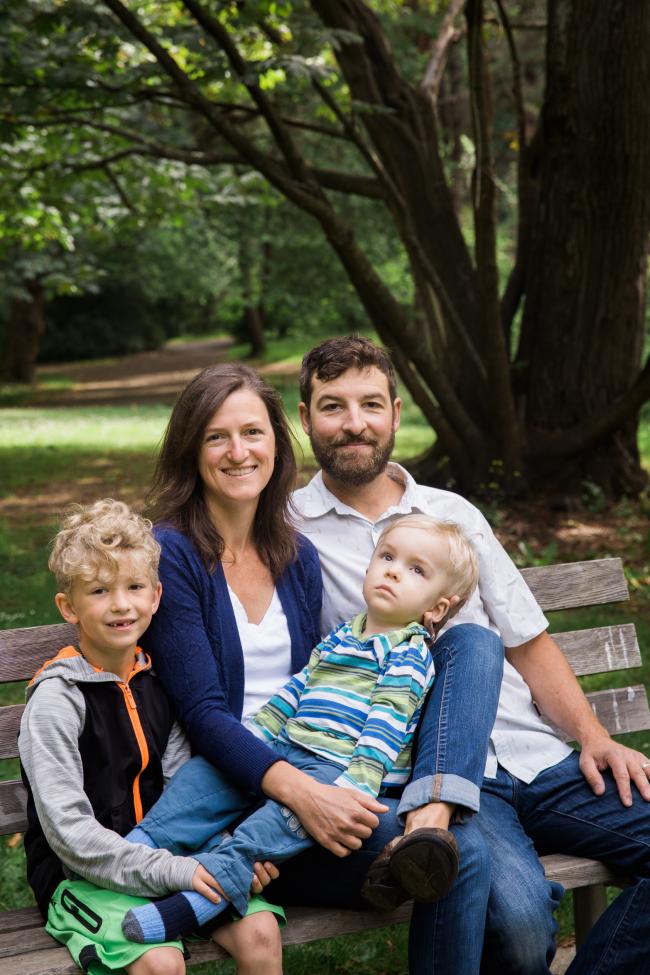 Mon, 09/10/2018
By Cynthia Flash
Until Macklen Alger turned 10 months, everything seemed pretty normal. The cute West Seattle boy seemed to be developing like any other infant.
But then a routine eye exam detected abnormalities. Follow up tests led to the devastating diagnosis of Tay-Sachs disease, a rare genetic disorder that affects nerve cells and results in the gradual loss of muscle control, blindness and paralysis. There is no cure. Macklen will likely not live past early childhood.
Shortly after Macklen was diagnosed, his parents Hayes Swinney and Ryan Alger learned about Providence Hospice of Seattle's services for children. Providence Hospice is the only hospice in King County with a dedicated pediatric hospice program. Macklen and his family have relied on this care for more than a year and a half. The nurses, social workers and chaplain provided by Providence Hospice are helping to make Macklen's life as good as possible – while at the same time providing support for the entire family.
"They know him and they know us and they can see the progression and get a better feel for when he's showing signs of discomfort," says mother Hayes. "He's such a subtle guy. His ability to communicate is so very subtle now so if you don't spend a lot of time with him or don't know him it's going to be difficult to read. Having them with us through this whole journey is pretty amazing."
Providence Hospice of Seattle provides medical equipment and trains the family how to use the equipment. Nurses are on call 24 hours a day to help assess Macklen's condition and let the family know if he needs additional care.
"Last year, at this time, when it was super smoky and gross he got sick. I was really worried about him aspirating. The nurse was able to quickly get us a home suction machine. That's a piece of equipment we have in our home when we need it," Hayes said.
A social worker also helps the family navigate the system – filling out paperwork and getting the additional services they need. "It's really tricky to wade through the state processes and federal processes and all the paperwork. I feel really lucky to have them help me navigate this stuff," Hayes said. "I'm a college-educated, English-first-language person and it's difficult for me and I can only imagine how difficult it would be for someone who didn't have that support."
Then there's Macklen's big brother Findley. At age 7, he's too young to understand that there's no cure for his brother's disease. But a counselor from Providence Hospice of Seattle's Safe Crossings program visits Findley once a month to help him process his emotions and get support.
"The counselor has been absolutely amazing," Hayes said. "Findley doesn't yet understand the outcome of this disease. She's helping us talk with him about emotions and listening and meeting him where he is and she's helped me if questions come up with him. Or, if I'm noticing something with him, she gives me advice on how to support him and incorporates what she's doing for him. A lot of people come to the house for Macklen. It's nice to have someone come to the house for Findley and he needs that too."
Jill Meyers, Findley's grief counselor with Providence Hospice of Seattle, notes that it's important to treat the whole family. "A serious illness impacts an entire family. Sometimes children are excluded. Our Safe Crossings children's grief program offers families the opportunity to welcome the child into the process."
Meanwhile, Hayes, Ryan and Findley are enjoying as much time as they can with Macklen. "He's a sweet, pretty content little guy," Hayes says of her son, who at two and a half years old is pretty much confined to a bed, chair or stroller these days. "When he's had more ability to show awareness of his environment and emotion he was a super social little guy. He really loved having people around. I still notice he enjoys hearing different voices, especially kids. He loves getting attention from his brother. He loves being outside. You can still see he enjoys feeling the breeze and hearing the trees rustle."
On Sept. 18, Providence Hospice of Seattle will hold its 19th annual Pediatric Luncheon to raise money for kids like Macklen and others who will benefit from hospice care. For more information go to https://washington.providence.org/donate/hospice-of-seattle-foundation/events
[Cynthia Flash owns Flash Media Services, a media relations company. Providence Hospice of Seattle is a client.]