Sarver's blocked shot clinches West Seattle win
Sarver's blocked shot clinches West Seattle win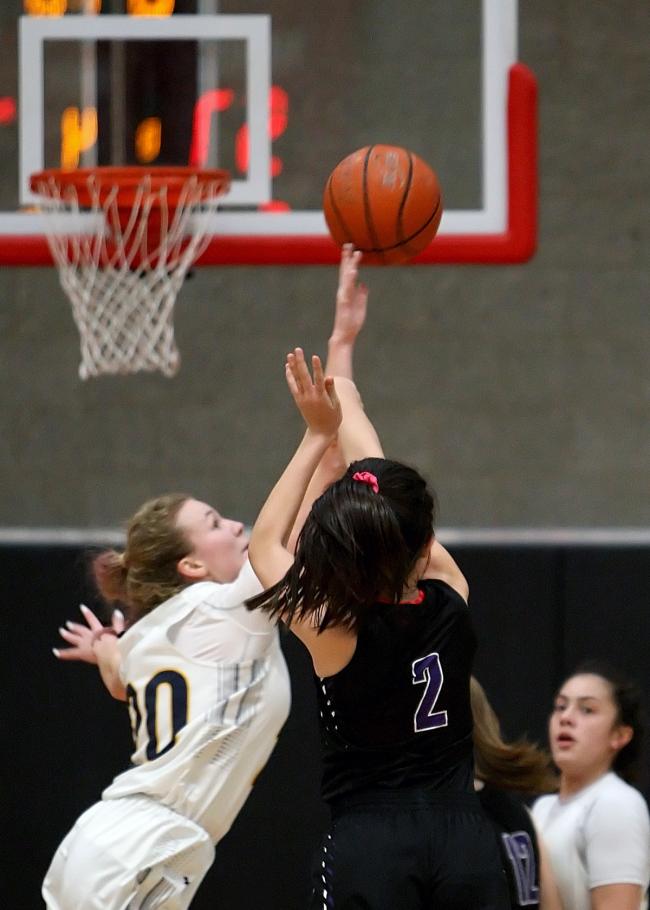 Kurt Howard
Mon, 02/18/2019
By Gerardo Bolong
CONTRIBUTING WRITER 
BELLEVUE - With 2.5 seconds left in the fourth quarter, the West Seattle girls basketball team held a 57-54 lead against Lake Washington, but needed one more defensive stand to claim victory in the Mon., Feb. 18, SeaKing 3A District tournament at Sammamish High School.
The Kangaroos inbounded from the side to their most potent outside shooter, Sophia Liesse.
Attempting to drain a three-pointer from long range, Liesse barely got the ball out of her hands before Grace Sarver batted it away.
Although the Wildcats missed two free throws with just more than eight seconds to go, time ran out before the Kangs could unload another shot.
"I knew they needed a three-pointer and would try to get the ball to their shooter," said Sarver. "I just had to stick with her."
WS earned the third seed from district, but more importantly, kept or improved its RPI ranking which determines state regional match ups.
Lake Washington pressured West Seattle strongly to lead 6-0 ahead of two Meghan Fiso three-point missiles sandwiched around a Kangaroo basket to close in ahead of a 14-10 deficit after the first quarter.
Trailing 25-22 with three minutes showing in the Lower Gym at Sammamish, Sarver ignited the Westsiders with a short range basket from the wing.
Jayla Wilson's free throw plus an Anissa Babitu three-pointer made the score 28-25.
Kelsey Lenzie homed in a basket to cap the eight-point Wildcat scoring as West Seattle moved on to a 31-27 halftime edge.
The battle continued to rage into three ties in the third quarter, the last at 41-all.
Horne drove it to the rack to draw a shooting foul that resulted in a pair of free throws made.
Liesse countered with a three-pointer to send the Kangaroos bounding to a 44-43 lead.
Jen Estes broke away to give Lake Washington a 46-43 lead at the end of three.
Wildcat woes produced three and one-half minutes of scorelessness to end the third quarter.
Three-point goals from Liesse helped the Kangaroos extend their lead to 54-47 with just more than five minutes showing on the scoreboard clock.
"We had some problems communicating on both ends of the court," Gayles related.
Keeping the Kangs from scoring the rest of the game, the Wildcats began the surge to victory on a Gayles pass to Horne for a hoop.
Sarver notched the next three points and Fiso rebounded in a basket while being fouled
Her added free throw conversions preceded hectic action of missed shots and fouls.
Gayles dished off to Sarver to complete a 10-0 Westsider run with 1:05 remaining.
LW missed two consecutive shots and the Wildcats ran off clock time until they threw the ball out of bounds with 12.6 seconds showing in action leading to the Kang's final out of bounds play.
Sarver pounded home 13 points and Gayles added 12. Fiso closed at 10 with Horne and Lenzie locked at eight apiece.
SeaKing district players for West Seattle (17-5) were Brielle Martin, Ciera Jorge, Kelsey Lenzie, Ashley Young, Jasmine Gayles, Julianna Horne, Jayla Wilson, Emily Buchanan, Meghan Fiso and Anissa Babitu.
Head Coach Taylor is assisted by Karyn Golgart.
Corey Sorensen is the athletic director.