Alki Elementary to be rebuilt; Virtual Public meeting set for June 14
Alki Elementary to be rebuilt; Virtual Public meeting set for June 14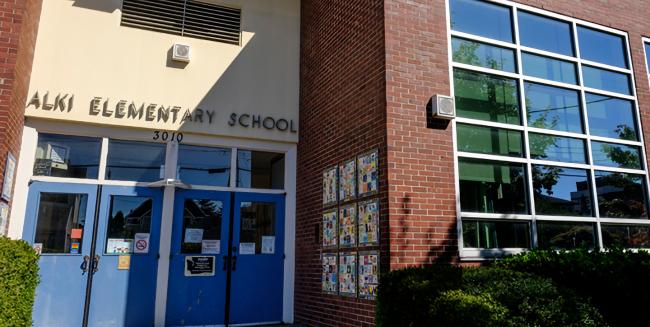 Thu, 05/19/2022
On Tuesday, June 14, 2022, Seattle Public Schools will hold a virtual community information meeting about the project to replace the Alki Elementary School building and renovate the gymnasium. 
It's the first opportunity for most people to learn about the project. The meeting link will be posted on the project webpage on Monday, June 13. 
Alki Elementary School Replacement Project
The existing school building will be removed and a new school building will be constructed on the same site. Alki Elementary will move to an interim location during construction. 

Timeline
Learn what happens during these project phases
Pre-design phase complete
Schematic design phase in progress
Design development phase begins Spring 2022
Construction documents/permitting phase begins Fall 2022
Bid and award phase begins Winter 2023
Construction begins Summer 2023
School opens Fall 2025
Community Participation
SAVE THE DATE: Virtual Community Meeting 
Date: June 14, 2022
Time: 6–7 p.m.
To Join: A link to the meeting will be posted on Monday, June 13. You will need internet access to join the meeting. 
Recent Progress
Progress updates are posted for the previous month the week after the monthly BEX and BTA Capital Levies Oversight Committee meetings. These meetings typically take place on the first Friday of each month.
Major activity in April 2022
The process of selecting the electrical and mechanical construction management firms is in process. Work continues to wrap up the Schematic Design phase. The final SDAT workshop took place and a community meeting is being planned for June. The landmark nomination was denied by the Landmarks Review Board.
Major activity planned for May 2022
This month, the architect will complete the Schematic Design Phase and prepare the construction cost estimate. Details are being settled for the virtual community meeting, which will be held on June 14.
About the Project
Most of the existing Alki Elementary School will be removed. A multi-story 75,000 square foot replacement school will be constructed and the existing gymnasium will remain and be modernized. Once complete, Alki Elementary School will provide permanent space for up to 500 students in grades PreK to 5. 
The new school building will have secure entry points. It will be designed to be respectful of the surrounding neighborhood. Storm water management will be included. The attached Seattle Parks & Recreation community center may remain open during construction. 
The entire school site is 1.45 acres.
Design Firm: Mahlum Architects
General Contractor/Construction Management Firm (GC/CM): Cornerstone General Contractors
Project Budget: $66.9M
Funding Source: Funded by Building Excellence V (BEX V) Capital Levy project, approved by Seattle voters in 2019.
Contact
For questions or comments about the project, please use our online feedback form
Project Manager: Brian Fabella, brfabella@seattleschools.org, 206-252-0702
Alki Elementary 
3010 59th Ave SW
Seattle, WA 98116