Kitchen Talk: A mother's true love
Kitchen Talk: A mother's true love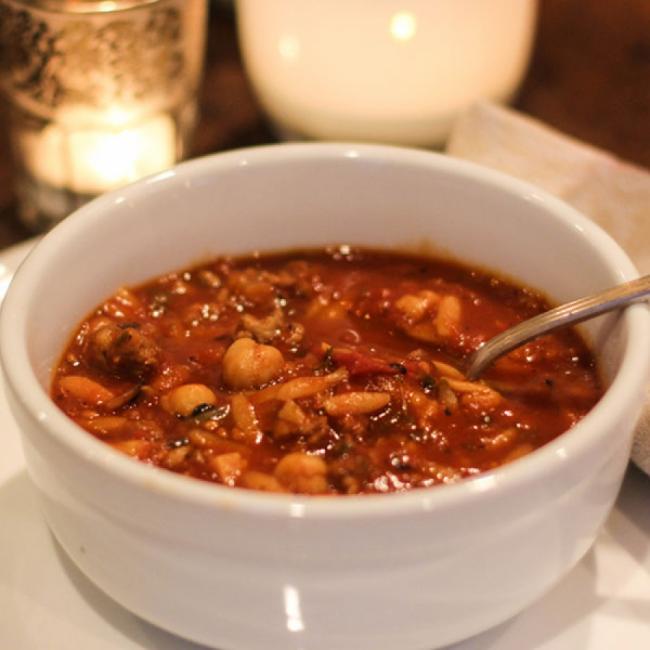 Salty's Seafood Grills
Fri, 05/05/2017
By Chef Jeremy MacLachlan
I never REALLY knew what true unconditional love was until I had my own kids. In writing this blog I reminisce about all the times I screwed up, said something wrong or wasn't on my best behavior but my mom was always there with love support and patience. I am dedicating this month's blog and recipe to my mom because of all her sacrifices, guidance and true love. Living in a blue collar family we always had some interesting meals. My mom would come home and try out a new casserole on the family every week. Some of these concoctions went into my culinary database (Tamale Pie) and some made me learn what not to do (Taco Casserole). No matter what the meal was, we always had some sort of vegetable or healthy supplement on the side just like Salty's mom talks about in her blog, Your Mom Was Right. This month I am featuring one of my mom's favorite things in the entire world, Soup! This soup is one that we had in Italy and features fresh vegetables that you can soon find at all your local markets and grocery stores.
Tuscan Minestrone

Serves 8
1 pound sweet Italian sausage, casing removed
1/4 cup olive oil
1 onion, small dice
1 fennel bulb, small dice
2 carrots, peeled, small dice
3 cloves garlic, minced
1 bay leaf
2 tablespoons tomato paste
1 cup chardonnay
32 ounces chicken broth
2 each 28 ounce cans San Marzano tomatoes
1/2 teaspoon celery salt
Black pepper to taste
1/2 cup small pasta (datalini, orzo, couscous or macaroni)
1 14 ounce can garbanzo beans
2 sprigs fresh thyme
3 sprigs fresh flat Italian parsley, chopped
Salt to taste
Torn rustic bread, garnish
Olive oil, garnish
Heat a large soup pot over medium heat.
Add sausage and olive oil and cook until sausage is brown and crumbled.
Remove sausage with slotted spoon and put in bowl. Set aside.
Add onion, fennel and carrot to soup pot and cook over medium heat until slightly softened. Add garlic, bay leaf and tomato paste and cook 2 minutes. Add white wine and cook 2 minutes or until wine smell is gone.
Return cooked sausage to soup pot. Add chicken broth, canned tomatoes, celery seed, black pepper, pasta, garbanzo beans, thyme and parsley. Turn heat to medium low and simmer for 1 hour.
To serve add 4-5 pieces of torn bread to bottom of bowl. Ladle soup over top of bread and finish with a drizzle of olive oil. Enjoy!!
(Author of Kitchen Talk, Jeremy McLachlan is also Corporate Chef for Salty's Seafood Grill restaurant group. He says: My love is to create great dishes with fresh seafood, as we are a seafood restaurant, but not forget the meat lovers. My goal is to match exceptional food with our incredible views. Living in the Pacific Northwest, we are fortunate to have an abundance of regional treasures. The use of these fresh ingredients is key to Salty's Northwest cuisine. If you have any questions about cooking, feel free to email me at chef@saltys.com.)