You Are What You Eat: Breakfast in a jar
You Are What You Eat: Breakfast in a jar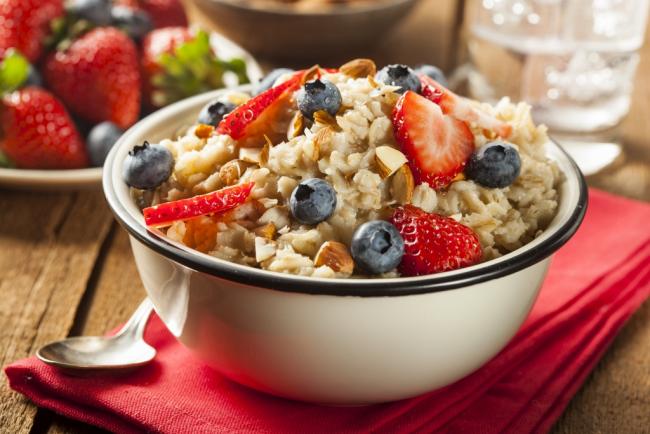 Katy G. Wilkens
Mon, 06/19/2017
By Katy G. Wilkens
Breakfast in a jar, tasty wherever you go
It seems I am always late getting off to work. I walk through my garden on all but the rainiest days, and I can get sidetracked picking rhubarb, snacking on blueberries or watching a robin hop through the lettuce. So I need a quick and easy breakfast I can eat at home or take along.

Breakfast in a jar is an excellent solution. I just put a hearty grain in a Mason jar or plastic container, and then add fruit, milk or yogurt along with some nuts. Voila! Breakfast is served.
Most breakfast in a jar recipes use oatmeal, but one of my favorite grains is farro, the ancestor of modern wheat. Unlike oatmeal, it needs to be cooked. I put a batch in my slow cooker the night before and wake up to a hearty whole grain breakfast that I can dish up for a week. The next week I switch to quinoa, couscous, oatmeal or brown rice. I even have a mix of black, brown and red rice that cooks nicely in my rice cooker.
Adding frozen blueberries from my garden — or strawberries, figs or kiwi when they are in season — gives me a quick, sweet burst of energy. The milk, almond milk or yogurt give me calcium and protein to hold me until lunch.
Breakfast in a jar
1 cup cooked farro, couscous, quinoa, steel cut oats, or brown or mixed rice
If using instant oatmeal, don't cook; mix with milk or yogurt. 
½ cup cow's milk, almond milk or soy milk
¼ cup nonfat Greek yogurt
½ teaspoon cinnamon (optional)
1 teaspoon honey (optional)
½ cup blueberries, strawberries, figs, kiwi, raspberries, banana, fine chopped apple or dates
2-4 tablespoons unsalted nuts, chia, or toasted sesame seeds
Cook farro, rice or steel cut oats in rice cooker or in a slow cooker overnight. Put 1 cup cooked grain or raw instant oatmeal into each of 5 or 6 containers. Add the grains first, and then the milk or yogurt, followed by the fruit. I keep the nuts in a separate zip-close bag so they don't get soggy, and stir them in right before eating.
Nutritional information:
Calories: varies depending on dairy choice, about 200 to 400. Protein varies depending on grain and dairy choice, about 10 to 20 grams. Sodium: varies depending on the dairy choice, about 100 milligrams or less.
The information in this column is meant for people who want to keep their kidneys healthy and blood pressure down by following a low-sodium diet. In most cases, except for dialysis patients, a diet high in potassium is thought to help lower high blood pressure. These recipes are not intended for people on dialysis without the supervision of a registered dietitian.
[Katy G. Wilkens is a registered dietitian and department head at Northwest Kidney Centers. A recipient of the Susan Knapp Excellence in Education Award from the National Kidney Foundation Council on Renal Nutrition, she has a Master of Science degree in nutritional sciences from the University of Washington. See more of her recipes at www.nwkidney.org.]