The scoop on Walter's Cafe
The scoop on Walter's Cafe
At-Large with Peggy Sturdivant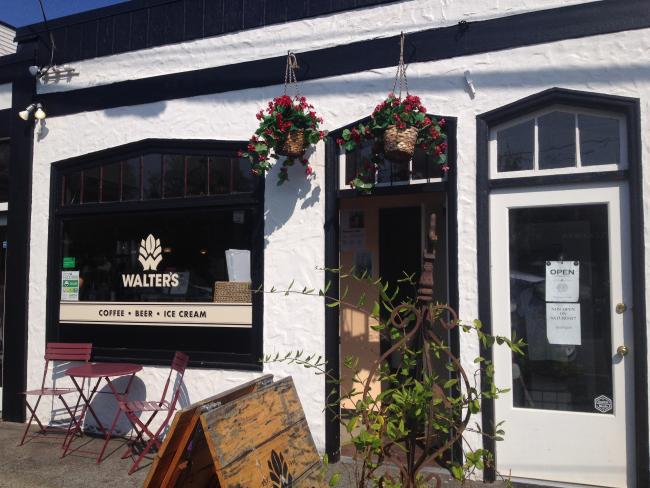 Peggy Sturdivant
Sun, 08/19/2018
The Scoop on Walter's (Part One) 
When the "Notice to Terminate Tenancy" sign was posted at Walter's Café on July 27, 2018 by Gibraltar LLC, the potential loss hit the Sunset Hill Community in Ballard like a bomb. The vacate date was originally August 31, 2018, since extended to November 30, 2108, perhaps due the volume of calls and emails to the leasing agent Laura Miller.  
Walter's Café at 6408-32nd Avenue NW in Seattle is most commonly known as The Scoop, despite having called itself other names since it opened in 1990. Along with the Sunset Hill Green Market it's the last original business that overlapped with any dating back to Sunset Hill's time as a thriving business district, with trolley, supermarket, gas station, butcher, tailor, pharmacy, restaurant with soda fountain…the works. 
For those living in other parts of the booming region substitute the name of what may soon be a lost gathering place, or one that has been saved like C & P Coffee in West Seattle. This is potentially another story of a neighborhood losing its defining place. 
Opened as "Just Say Espresso" in a single storefront the expanded café now has an ice cream counter, outdoor patio, serves beer and wine, mounts monthly art shows and hosts live music featuring local talent. It has become the still beating heart of the Sunset Hill neighborhood, for longtime residents and new. 
There are high schoolers who haven't missed a first day of school ice cream cone since Kindergarten. There are families that gather every Sunday, including one that introduced their newborn daughter on the way home from the hospital. 
As with any beloved community-gathering place, the patrons (including people who live out-of-state) reacted to the news of a forced closing very emotionally, as though they were losing their home away from home. Grief. Anger. Bitterness. As the news of what was perceived as an eviction spread quickly and became "viral" those were the predominant emotions. The potential loss of the community's "spot" hit right in the gut. But on the second breath, hundreds of people, in-person and online began asking, "What can we do? How can we save Walter's?"
They were asking it as, how can we save ourselves? Where will we meet? How can we tell our son there's no more bubblegum ice cream after the first day of school? How can we lose the place where children walk on their own, and Kim Paxton knows all of their names? Why do we have to lose another favorite place? 
By Monday, July 30, 2018 there was word from Gibraltar, based perhaps on the outcry, Walter's Café could potentially stay through November 30, 2018. As Kim Paxton removed the Notice to Terminate she cried with relief. At the espresso machine Walter Pawelko kept plugging ground beans but looked as though he'd been pulled from a cliff and was still in shock. 
The organizing fervor prompted by the original notice is only on hold, with even more groups like Vanishing Seattle and Sunset Hill Community Association at the ready to help. Walter's Café is a neighborhood institution. 
Whether people are regulars because they love longtime employee Kim Paxton, or even despite owner Walter Pawelko (more on that later), or because they've worked there, met their partner there…everyone who's a fan wants to know, what can we do to keep Walter's Café in our neighborhood? 
Too bad the answer isn't simple. 
Is it a matter of a rent increase, the building sale, Rain City Video leaving? It's complicated. 
Some history…the block's background is available through the Ballard Historical Society's Mapping Historic Ballard project, and the structures are listed on the City of Seattle's Department of Neighbood's database of architecturally and historically significant properties. Skipping to 1990 when Walter Pawelko opened an early (for Seattle) espresso café, the building owners were Harold and Zelda Ottersen; they had maintained Beach Pharmacy at that location. The senior Ottersens died respectively in 2005 and 2001 and the property stayed in the hands of their three surviving children. As was common in the past the Ottersens didn't offer leases to tenants.  
Over the years the businesses located on the block paid for their own renovations and installations, often including the wiring and plumbing for new equipment. Walter Pawelko had asked to have a lease in hopes that the business he built could be sold by him, when he chose to retire. He wanted to have what's known in real estate as an "exit strategy," but unfortunately his focus was on community rather than real estate savvy. 
Instead he chose to always put his money back into the business, expanding, paying for improvements, new equipment, along with usual rising costs of insurance, permits, utilities, taxes and labor. "People may think I was a bad businessman because I didn't save," Pawelko says. "I put it all into building the business." 
Faced with a large vacancy after the Rain City Video owners closed the store and moved to Hawaii, the Ottersen family listed the property for sale, perhaps because prospective tenants would require a higher level of management. Gibraltar Investment Property Solutions purchased the property in May 2017, for $1.925m and established an entity called Rain City LLC. Pawelko stayed on despite a major increase in rent; the longtime barbershop closed. 
How Walter's Café and Gibraltar Investment got to the rescinded "Notice to Terminate Tenancy" weekend and a still ticking clock is a series of unfortunate events. The backstory involves an unsigned lease due to a serious diagnosis. A less favorable lease a year later, a visit by prospective tenants, and the commercial listing that describes the location as Walter has built it out, "Ideal for coffee, ice cream, cafe, bakery, bar use." 
So what does Walter Pawelko want? He wants to be able to sell the business to someone who will keep it just as the community loves it now, the business he created. Short of that he would like to be compensated by Gibraltar Investment for what he has created. 
How can the community help that happen?  
The broker at Gibraltar would like Walter Pawelko's help, his promise even, to ensure the community welcomes new tenants. What's the incentive if he has to walk away from the community and business he built for 28 years with nothing to show for it? 
To be continued…
Comments
I look forward to reading the next installment. I'm puzzled why the neighborhood is up in arms, although I don't think I've heard a bad word about Kim (the long-term employee).
Add new comment