Earthquake preparedness drill set for June 1
Earthquake preparedness drill set for June 1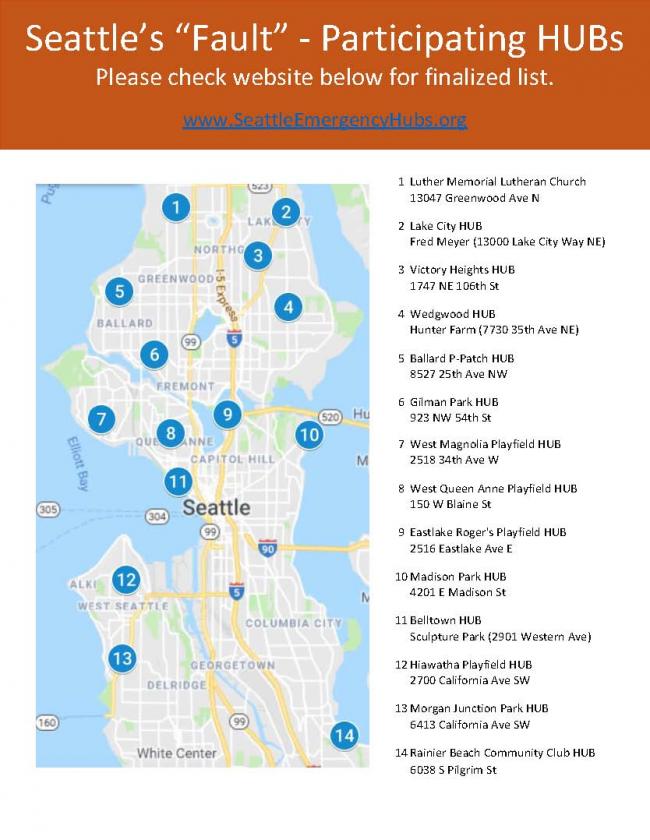 Tue, 05/14/2019
On Saturday, June 1st from 9am to noon are staging an earthquake preparedness drill, "Seattle's Fault."
The Seattle Fault runs east/west under Seattle. A 6.7 magnitude quake along that fault line would disrupt power, communications, water supply, sewer, and more.
Seattle Emergency Communication Hubs are practicing their response to this "quake and tsunami" scenario.
Find your local Hub; learn how you fit into this disaster plan!
Download the map of the hubs here
- Multiple ways to participate.
- Reduce your uncertainty.
- Be in the know!
Seattle's "Fault" - Participating HUBs

1. Luther Memorial Lutheran Church

    13047 Greenwood Ave N

2.   Lake City HUB

      Fred Meyer (13000 Lake City Way NE)

3.  Victory Heights HUB

     1747 NE 106th St

4.  Wedgwood HUB

      Hunter Farm (7730 35th Ave NE)

5.  Ballard P-Patch HUB

     8527 25th Ave NW

6.  Gilman Park HUB

     923 NW 54th St

7.  West Magnolia Playfield HUB

     2518 34th Ave W

8.  West Queen Anne Playfield HUB

    150 W Blaine St

9.  Eastlake Roger's Playfield HUB

     2516 Eastlake Ave E

10.  Madison Park HUB

      4201 E Madison St

11.  Belltown HUB

       Sculpture Park (2901 Western Ave)

12.  Hiawatha Playfield HUB

       2700 California Ave SW

13.  Morgan Junction Park HUB

        6413 California Ave SW

14.  Rainier Beach Community Club HUB

       6038 S Pilgrim St