Seattle CityClub hosts District 1 City Council debate on Oct. 10; Herbold and Tavel will face off
Seattle CityClub hosts District 1 City Council debate on Oct. 10; Herbold and Tavel will face off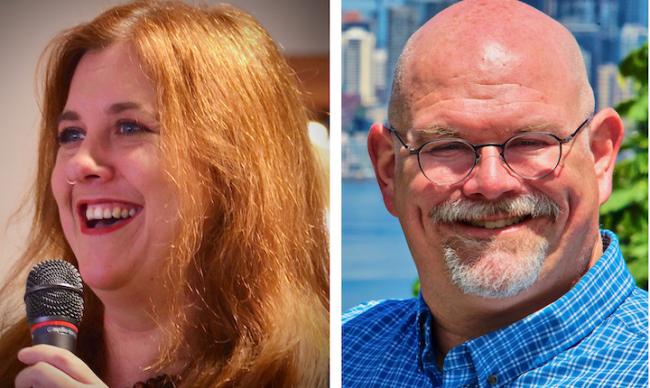 Wed, 10/02/2019
District 1 Seattle City Council incumbent Lisa Herbold and candidate Phillip Tavel will vie for support on Thursday, Oct. 10, in a voter-engaged debate hosted by the nonprofit, nonpartisan Seattle CityClub. The event, which is free and open to the public, will also be broadcast and reported widely thanks to partnerships with local media.

The debate — one of seven for all City Council races held within or very close to district boundaries — will take place at 6 p.m. at Youngstown Cultural Arts Center, 4408 Delridge Way SW. Voters who cannot participate in person will be able to watch or listen to the debate within 36 hours of the event on the websites of Seattle CityClub, Seattle Channel, KUOW-FM, Crosscut, KCTS-9, KING-5 and KOMO-4, as well as read coverage of the debates in The Seattle Times.

"We are grateful to our media partners for providing extensive access to debates for voters, in-kind production support, and knowledgeable journalists to serve as moderators and interviewers," said Teresa Moore, Executive Director of Seattle CityClub, a nonprofit and nonpartisan organization that informs and inspires civic engagement. "By bringing candidates and voters together to learn about public issues and explore differing approaches to solve them, we empower people with knowledge in an atmosphere of civil public discourse." 

Financial support for the debates is provided by presenting sponsor Amazon, signature sponsor AARP Seattle and District 1 contributing sponsor BNSF Railway. Community partners lending their in-kind support to the event include Goodwill, GSBA, Forterra, Solid Ground, and the Seattle Ethics and Elections Commission. The debate host is Youngstown Cultural Arts Center.

CityClub expressed its gratitude to these organizations for supporting open civic dialogue for these important races. Sponsors and partners have no influence over the format, content, questions or other elements of the debates.

While tickets to attend the debates are free, seating is limited and registration is required. Go to www.SeattleCityClub.org/local-debates to learn more and register. 

 

Seattle City Council District 1 Debate with Lisa Herbold and Phil Tavel

Thursday, October 10, 2019
6:30 p.m. - 7:30 p.m. (doors open at 6:00 pm)
Youngstown Cultural Arts Center
FREE

Join us for a free and public debate for Seattle City Council with Lisa Herbold and Phil Tavel. The debate will be moderated by Heidi Grover from The Seattle Times and Ross Reynolds from KUOW-FM. A recording of the debate will be available to watch within 48 hours at this link. 

About City Council Debates

CityClub's series of free public debates put Seattle City Council candidates up close and personal with the people they seek to represent. Because we partner with television, radio, newspaper and online media outlets for city debates, we reach tens of thousands of voters who can compare and contrast candidates and then make more informed choices at the ballot box.

Ask a Question

In order to make sure we have diverse questions that cover multiple topics, we are asking residents to submit their questions in advance for selection via our survey. Deadline for submission is August 25.

FAQs

What time should I arrive for the debate? Doors for the debate open at 6:00 p.m. and promptly close at 6:30 p.m. Please note, seating is first-come-first-serve.

What can I bring to the debate? Literature and signage, including campaign/political apparel, is not allowed inside the debate venue.

Do I need to print out a ticket? No, guests will be checked-in by name at the entrance.

 About Seattle CityClub: Founded in 1981, Seattle CityClub informs and inspires people to engage meaningfully in the most important issues facing our community, state and nation. As a nonprofit organization with an unwavering commitment to nonpartisanship, respectful dialogue and civic innovation, we build a more civil society and a stronger, more equitable and inclusive democracy. Your support for CityClub is an investment in a well-informed, empowered electorate. Learn more at SeattleCityClub.org.