Jerry's View: My first kiss
Jerry's View: My first kiss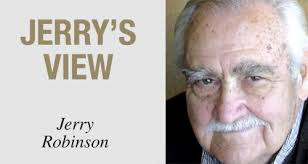 Tue, 10/08/2019
Editor's Note: This is an excerpt from "Listen to your father: The life adventure of Jerry Robinson" by our publisher emeritus Jerry Robinson who passed away in 2014.
By Jerry Robinson
I can remember my first kiss. I was 16 and was one of the gang that hung out on the street corner at night. Boys and girls, all about the same ageused to gather under an arc light in our neighborhood near the old Commerce High School in Portland. The guys all gravitated to that corner because it was across the street from Jackie Tosti's house. She was just about the most beautiful creature alive. Really long dark hair, flashing dark daredevil eyes and she knew how to tweak the latent mating instincts of untutored teenage boys. Around her I was bug eyed and tongue tied. A dangerous combination. George Lord and Marvin Mosely and the Bridenstein brothers. We were all captivated by her. And scared. She also had a tough guy brother named Sammy who kept an eye on all of us. He later went on to become a football star for Commerce. We played a lot of vacant lot football together. I could never tackle him.
Anyway, one night we were all hanging out, being goofy around Jackie and a car came by with three guys in it and yelled some rotten thing at us. Jackie held her hands up to her ears and looked kinda shocked because none of us talked like that. So Russell yelled back something like "Go fly a kite", or "Go jump in the lake." The three guys in the car, it was a coupe of some sort, all piled out.
They came running at us but when they saw how many guys were there they lost a little nerve and slowed down. The biggest one of them said, "Who's the wise guy who yelled at us?" "I did," said Russell, throwing out his chin.
"Well, tough guy," he said, "I'm gonna knock your block off."
"Yeah? You're gonna need an army," Russell said, "I'll take all three of you on, one at a time."
The rest of us, even Sammy were in awe. The corner under the arc lamp was a vacant lot so it made a great spot for the rumble.
"So you want to rassle or box," Russell asked.
"Rassle," the first guy said.
Then they went at it. Russell was fast and wiry and had vanquished many a bully with his secret weapon- The hold he had made his name with at Woodlawn Grade School. The dreaded headscissors. It didn't take long. They tumbled around for awhile till Russell could get his legs wrapped around the other guys' head, right upward around his crotch and the guy just yelled and yelled and finally hollered "Uncle!" and Russell let go.
The second guy tried to get Russell into a full nelson but Russ was slippery and rammed his elbow into the guys' gut and then tackled him around the knees and got him in the famous Woodlawn head scissors and the guy gave up real fast.
When he saw what a great rassler Russell was the third guy said, "I'm gonna box ya."
And Russell said that would be okay and sent me running home to get our old set of four boxing gloves. When I got 'em and was going out the door Mom spotted me and asked what I was doing with the gloves. I told her I was lending them to somebody and ran out. She hated fighting.
By the time I got back the smart alec trio had lost their ardor for revenge but couldn't back down. I tied the gloves on Russ and gave him a pep talk and the two of them went at it. Russell didn't know much about boxing but he had heart and energy.
No sparring around feeling out the opponent. No feints, no jabs, just a sudden storm, both hands flailing wildly. A whirlwind of hits and misses. The poor guy, equally amateur, never knew what hit him. It took about 10 seconds. Of course, Russell was a hero as the three wise guys got in their coupe and drove away.
Maybe Russell's heroics rubbed off on me because the next day Jackie asked me if I wanted to come to her Halloween party. Now that was exciting, and that's when it happened. We played Spin The Bottle. What a great game. When the bottle stops spinning and the top points to you it is your chance to kiss somebody. You're supposed to do it in front of everybody but on the first spin it stopped in front of Jackie and she chose me and she took me into the hall closet. It was dark and heavenly in there with all those coats and Jackie.
I didn't know what to do. But she did. She just put her arms around me and planted her ruby lipsticked mouth on my quivering lips and held it there for what seemed like an hour. Then she stopped and said, "Gerald, my really whole name is Aqualina Maryanna Capatosti."
Then she opened the closet door and went out. I followed her in a daze. Why would she tell me that? Then I ran my tongue over my red stained lips and smiled and didn't care.