No Scandinavian sunset for Doug Warne
No Scandinavian sunset for Doug Warne
The host of radio's 'Scandanavian Hour' is retiring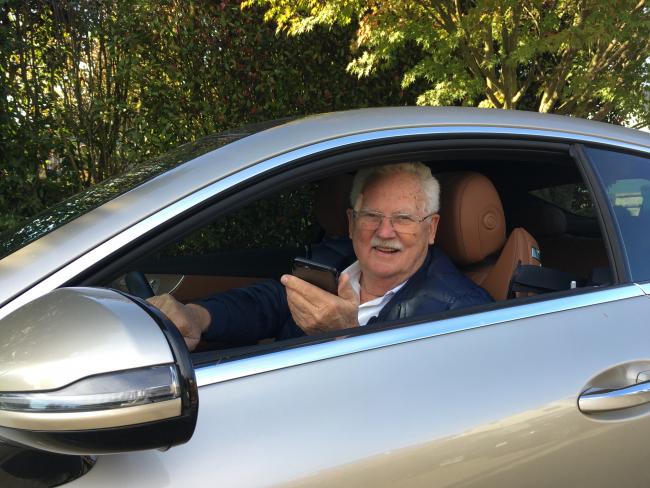 Mon, 11/02/2020
By Peggy Sturdivant
How can you leave Scandinavians in the lurch?
The year was 1959 and sixty-one years later history is in danger of repeating itself. In 1959, Doug Warne, all of 21 years old, had just returned from the University of Oslo and discovered The Scandinavian Hour on local radio. Then host Svein Gilje announced he was taking a paying job, and it would be his last show. "How can you leave Scandinavians in the lurch?" Warne asked the radio station at the time. 
Sixty-one years later, and never having been paid as host of The Scandinavian Hour, Warne has decided it's time to move on. However he does not want his retirement to mean the end of The Scandinavian Hour. He's found an able, young, (although not as young as he was in 1959) host in Seth Tufteland to carry on the tradition. He's passed the Viking microphone but without financial support the weekly radio program will sunset. Warne has been the advertising representative extraordinaire, but air time isn't free (but The Scandinavian Hour ads are very reasonable). 
Although Warne hosted his last Scandinavian Hour in October he will contribute to programming all the way through their annual Christmas Day Show. Which is why we first sat on my porch to interview him and then got into his car (aka mobile studio) for a brief interview of me. 
The last 61 years afforded Warne and his former longtime radio partner Ron Olsen many highlights, including Warne being invited to meet the King of Norway. Scandinavian programming in the region dates back over 100 years (another reason the program shouldn't be allowed to die). Warne's oft told tale is that after volunteering himself to take over the program, he determined to recruit the Consul's daughter Ingrid Stang and a fellow Ballard High School graduate Ron Olsen. "I knew he danced like five nights a week so I figured he had at least some albums." 
Warne and Olsen were co-hosts for nearly 50 years, until Olsen's death in a traffic accident in Norway in 2008. Over the years following the impetuous 1959 re-launch of The Scandinavian Hour they traveled between many different stations. "Every few years the station we were at would be sold, and we'd be told, 'You guys don't fit." It's been an absolute alphabet soup, with K as the only constant on the AM dial:: KNBX, KBLE, and for the last 14 years, KKNW. 
The joke in Warne's family is that not one of them has ever met a microphone they didn't like, so don't be surprised if he can't stay away completely. He knows he has had a great run, meeting and interviewing interesting people for 60 years. Meanwhile he's always hustled for ads, made personal appearances, worked full-time and in retirement served on numerous Boards. Even as he steps away from the work involved in weekly planning and producing, Warne intends to become more involved with the Ethnic Heritage Council and has his hat in the ring to return to the Board of Norway Park. 
The pandemic has greatly affected the perennial struggle for advertising: clubs that would usually use the program as a bulletin board for events didn't have events to share. However virtual events are picking up (of course there will be a Julefest). Warne is ever optimistic and recently met with a longtime advertiser, Patty's Eggnest, who went from "We can't…" to "We've got to do this." Warne also cites the longtime support of locals like Doug Dixon of Pacific Fisherman who advertise less to build their own business than to support the whole community.
Warne would love to help once the full burden is off of him. He first appealed for more help several years ago and has had support from Seth Tufteland ever since. Tufteland was practically raised in the Sons of Norway, coming up through all of its summer camps, and is a Cultural Director for the organization. So how to position Tufteland for a sixty-year tenure? Advertisers. "We'll make the decision by December 15th," Warne said.  "We need organizations to become Associate members." 
"Either it goes on or it doesn't," Warne said. "Either way, I'm out." (Doubtful). As if the son of Norwegian halibut fisherman is really going to unplug completely from The Scandinavian Hour after 61 years. At this point it's the community that mustn't leave The Scandinavian Hour in the lurch. 
Listen every Saturday morning from 9-10am on KKNW 1150AM radio or online at kknw1150.com. The show is also replayed at 6am on both Saturday and Sunday. To advertise, call Doug at 206.291.4330.