HERBOLD: ST3 light rail to West Seattle cost estimate increases
HERBOLD: ST3 light rail to West Seattle cost estimate increases
Mon, 01/18/2021
District 1 City Councilmember Lisa Herbold offered this update on the cost increases recently announced by Sound Transit regarding the extensions to West Seattle and Ballard
Sound Transit committees have received two recent briefings about cost increases for the West Seattle/Ballard light rail project.
January 7 Executive Committee
Last week the Sound Transit Board Executive Committee received estimated cost increases for the West Seattle/Ballard light rail project. Other projects included in the 2016 ballot measure have increases as well.  The Sound Transit Board is engaging in a realignment process, scheduled to run through a decision point on program realignment in July, 2021. The page notes,
"Sound Transit is facing an unprecedented and extremely challenging financial environment caused by two major, simultaneous factors: (1) a pandemic-driven recession that has severely reduced consumer spending and government agency tax revenues; and (2) unrelenting pressures in the real estate and construction sectors of the economy that are continuing to drive costs to levels significantly beyond those foreseen in our plans."
The agency has commissioned an independent review of its cost assumptions and underlying methodologies.  The estimated cost increase for the West Seattle/Ballard light rail project is as follows: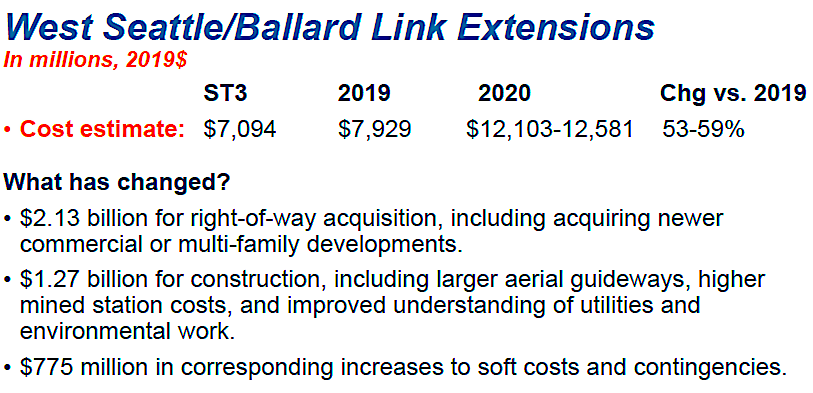 Other projects under development from the 2016 ballot measure also have projected costs increases: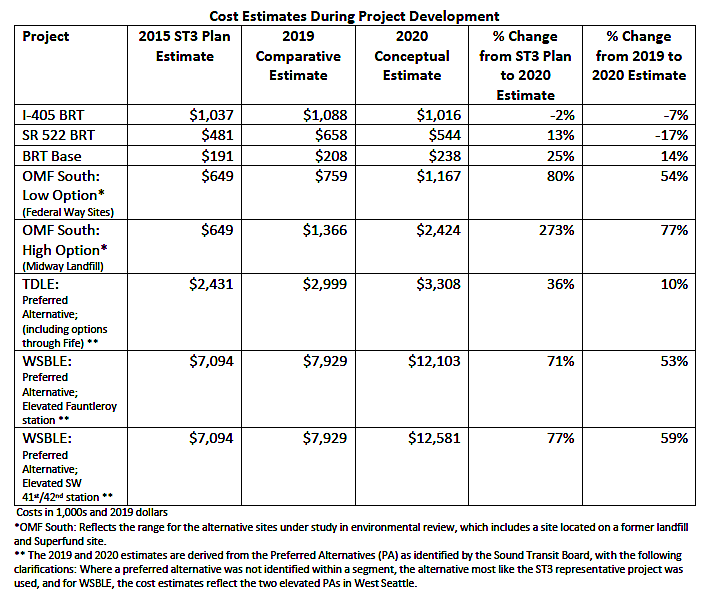 Here's Sound Transit's estimates for cost increases for light rail projects by categories, across projects: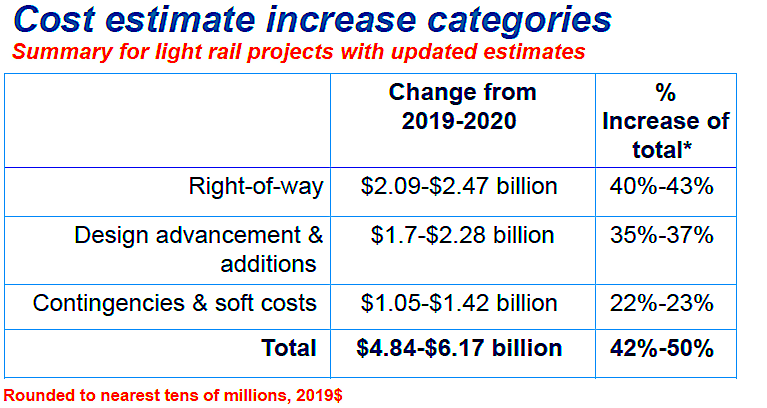 Here's the realignment schedule listed in the Realignment webpage:
Realignment Process

The Board has set the process for capital program realignment, culminating in summer 2021 after gaining input from the public and partner organizations. This will provide time for the financial impacts of the recession to become clearer while we pursue additional funding opportunities. The Board has laid out a month-by-month process:  

January: review project evaluation

Board workshop provides common grounding for the 2021 realignment requirements, processes, and decisions. Review project evaluation results, clarify tools available to the Board, clarify project and program elements subject to realignment. Update federal revenue prospects. Provide direction to staff on realignment approaches to develop. 

February: discuss realignment approaches

Board reviews financial update, previews work on approaches emerging from the Board workshop. 

March: define realignment approaches for public feedback

Board reviews financial update; discusses public engagement plans. 

April: engage with the public and key stakeholders

Board asks what is important for them to consider before they make final realignment decisions. 

May: discuss realignment options

Board hears public engagement results and identifies priorities for a draft realignment plan. 

June: develop draft realignment plan

Board leadership outlines what they have heard as priorities and requirements for realigned plans. They present and discuss proposals for a realigned plan; identify potential refinements; and direct staff to prepare final plan/action for Board consideration in July. 

July: take realignment action
A Sound Transit blog post notes, regarding options to address the funding gap:
The first emphasis in working to close that gap is securing additional financial capacity by seeking increased federal and state funding and employing every creative means that can be identified.  

The Board's options for addressing whatever gap remains include delaying the delivery of projects to provide longer periods for revenue collection; delivering projects in phases; and reducing project scopes.

The Board also retains the most extreme option, which it has not yet discussed, of suspending or deleting projects if deemed necessary to best realize the region's critical transit needs within the parameters provided by voter-approved plans.
Additional information is available at the  Sound Transit realignment web page, which  includes presentations from last year, beginning in June. Here's a link to the presentation heard at the Executive Committee, and  a staff memo.
January 14 System Expansion Committee
This week the System Expansion Committee received an update on cost estimates for construction projects currently in development. The presentationincludes additional  information on the West Seattle and Ballard Link Extensions section,  beginning on slide 26.
Here are cost estimate increases for segments of the project: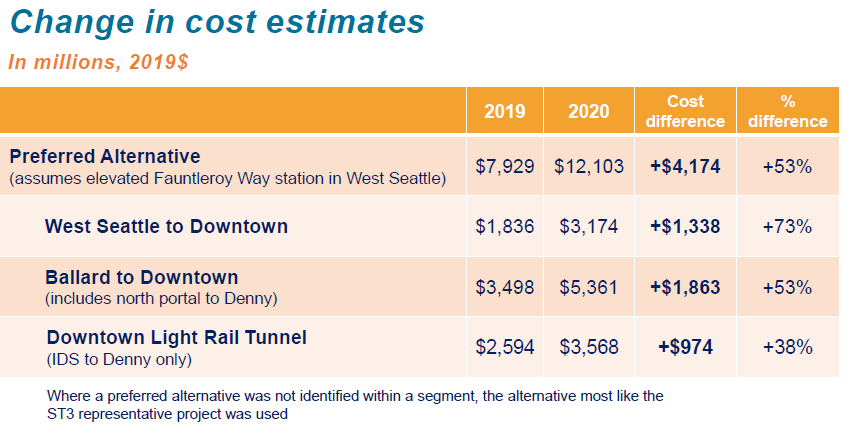 The presentation includes information about right of way acquisition, property costs, and construction.
Other items germane to the West Seattle segment include:
Larger, deeper foundations due to ground conditions in Duwamish and Interbay.
Straddle bents/long spans along Spokane St and in Duwamish and Delridge.
Drainage detention vaults throughout the corridor.
Ecosystems mitigation due to potential impacts in the Duwamish River and Salmon Bay.
Archaeological and historic mitigation in Duwamish, CID, Downtown and Ballard.
Tunnel alternatives that go to the Junction are estimated to be closer to the cost of an elevated option than previously: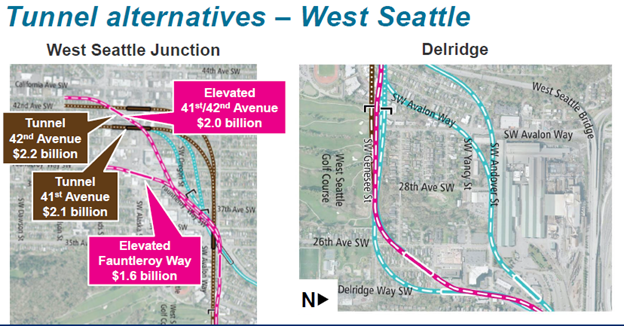 The presentation provides the following timetable for the independent review of Sound Transit's cost methodologies: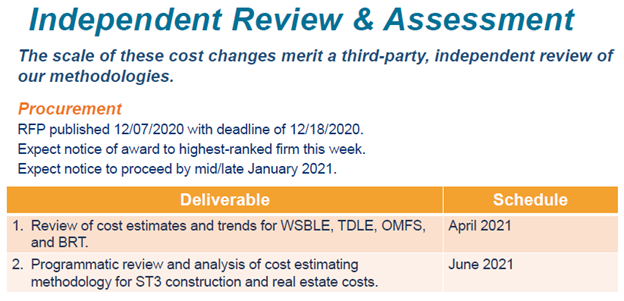 Here are Sound Transit's next steps: