Global Connections Wind Ensemble to participate in presidential inauguration
Global Connections Wind Ensemble to participate in presidential inauguration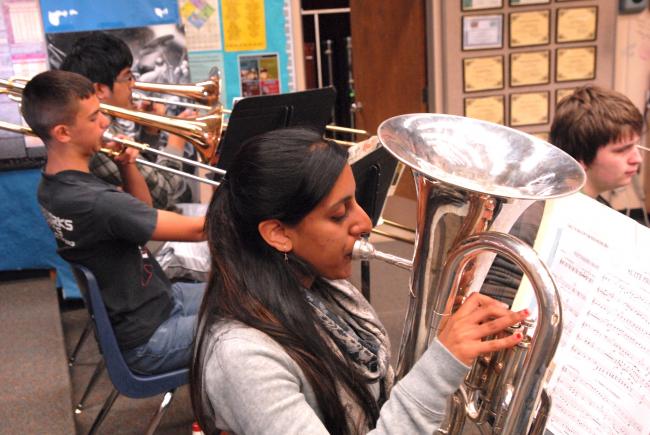 Photo by Steve Shay
Sun, 10/14/2012
Global Connections High School's Wind Ensemble, headed by band director Lyn Nelthropp, has been invited to perform at the 2013 Presidential Music Festival January 19 and 20 at a college near Washington, D.C. Global Connections is one of the three schools at the Tyee Educational Complex in SeaTac. Thirty-eight band members, freshmen to senior, will join five chaperones. The entire trip runs Jan. 18 - 21, and includes a tour of the White House, museums and other sites like Arlington National Cemetery and the Lincoln Memorial, and possibly a tea with Congressman Adam Smith.
The ensemble will perform at the Rachel M. Schlesinger Concert Hall and Arts Center at Northern Virginia Community College, Alexandria. While only professional musicians will perform at the inauguration itself, the band will attend, witnessing the swearing in of the president while standing at the National Mall.
"We were invited based on the recommendation from the judge when we went to Orlando in April, 2011," said Nelthropp, who has been with Tyee School for 24 years. "There was a competition. Only four schools in the nation were invited to participate (at the upcoming festival) without further auditions or applications."

"It sounds pretty awesome to go to D.C. and see the presidential inauguration," said senior Martin Obrero, clarinet player. "We're kids, and it doesn't happen to many people, and being able to perform is definitely going to be one of the best performances of my life. We'll play a Sousa march, a suite by Jan Van Der Roost, and possibly variations on an African hymn song. It's a really cool, percussive piece."
"I've not been to Washington, D.C. before but I am very excited because I have family members who have been there and they said it's really fun," said senior Raveena Rabadia, who plays the euphonium, like a small tuba. "The swearing in of the president, that sounds pretty cool."
"I'm looking forward to witness history and actually see something that's going to go down in the books," said David Smith, a junior who plays tuba. "That would be cool to speak to senators. I would like to talk to them about problems that are here. But I know that they don't to only hear problems, so, also the good things they're doing for our country."
Added Nelthropp, "To have the district support in this trip is pretty amazing."
The Highline Schools Foundation and SeaTac Rotary are sponsoring the trip, which will cost about $60,000. There will be a major fundraiser Oct. 28, 6:00 p.m., "A Night of Friends and Jazz" at Cedarbrook Lodge, 18525 36th Ave. S., Seattle. Tickets are $100, music by Seattle bands Sonando (Afro-Cuban Jazz) and Pearl Django (Gypsy Jazz). The Global Connections Wind Ensemble will also perform. There will be farm-to-table hors d'oeuvres, wine, and cocktails. Tickets can be purchased at: http://www.brownpapertickets.com/event/275468.
Community members can help students reach their fundraising goal by making a tax-deductible donation by check, marked GCHS Band to: Highline Schools Foundation, 15675 Ambaum Blvd. SW, Burien, WA 98166.