Seattle Christian holds on to beat Crosspoint Academy
Seattle Christian holds on to beat Crosspoint Academy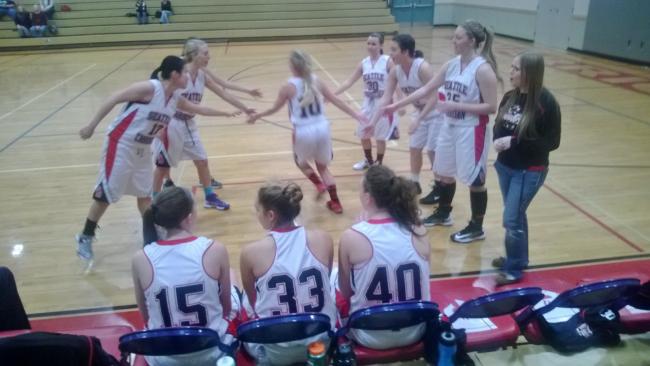 Photo by Gerardo Bolong
Mon, 12/30/2013
By Gerardo Bolong

SEATAC - The Seattle Christian girls basketball team was in control most of the way, but had to hold off the continued charges of its Friday, Dec. 27th, opponent before claiming a non league holiday victory on its own home court.
Nisqually League 1A Seattle Christian nearly blew leads of 15 points and 16 points before claiming victory against SeaTac 2B league Crosspoint Academy (Bremerton). Six-foot senior Aly Kahler was fouled with 45.8 seconds remaining in the fourth quarter and proceeded to the foul line. Her first attempt on a one and one chance hit the back rim, bounced straight up and back down through the hoop before Kahler swished the next attempt to stop a Crosspoint Warrior after a 10-0 charge that was part of a 14-2 uprising that nearly evaporated the entirety of a 33-17 SCS Warrior command. The homestanding Warriors then fended off the determined visitors for a 37-33 decision.
"Our defense and rebounding effort was what got us through," said Kahler who led Seattle Christian with 15 points while also being tough on the boards. "We just had to push harder and get some bodies on people."
After an uneven first quarter, the SCS Warriors led 5-2 before finding their stride in a full court defensive pressure that yielded turnovers that led to rebounds and fast break shot opportunities. Kelli Ronish joined Kahler in spearheading a 13-9 Seattle Christian charge to a halftime 18-11 advantage.

SC (4-1, 2-1) continued the blitzing defense to build a 28-13 advantage before taking a 29-15 lead into the fourth quarter.
The SCS Warriors grabbed a game high 33-17 lead on freshman Mariah May's lay up off a nice assist from Kahler, but let the scrappy Crosspoint (4-1) contingent rally within 35-31 ahead of Kahler's key free throws. Pressure defense from the visiting Warriors wore the home team down in the stretch run.
"We were successful with pressing and our fast break," said Seattle Christian head coach Dave Janse. "We got a little tired and give Crosspont credit. In the fourth quarter they made us go away from everything we do well. as coaches, it was on us to manage the substitutions better to give rest. We are still at the stage of woring players into understanding and knowing their roles better. The girls have to execute better. This was a good game for us to do this. They made us have to rely more on the people that are less experienced. We just need more practice."
Other SC point scorers were Weber (7), Ronish (6), Makenzie May (5), Jessalyn Henry (2) and Mariah May (2).
Fireball Desere'e Doty ran and spun her way to a game high 18 points to lead the visitors.