Order holiday treats from Bakery Nouveau in Burien and West Seattle
Order holiday treats from Bakery Nouveau in Burien and West Seattle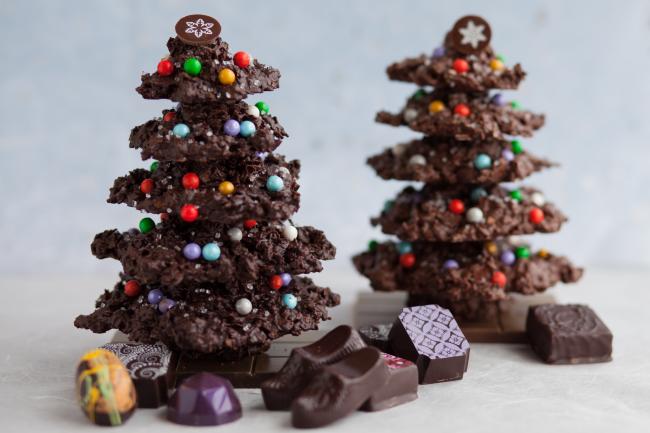 Photo by Clare Barboza
Tue, 11/28/2017
Skip the holiday baking this year -- and get Bakery Nouveau to do the work instead.
The bakery -- with locations in Burien and West Seattle -- is offering lineup of decadent treats this holiday season. The menu includes pecan and chocolate pecan pies, Christmas cookie assortments, Bûche de Noël complete with chocolate mushrooms, peppermint cheese cake, brioche rolls, holiday rolls, panettone and stollen. 
Christmas Cakes also include "Santa's S'more," which has three layers of chocolate mousse (white, milk and dark) with a graham crust, finished with a festive red glaze and house made marshmallows and the "Sugar Plum Fairy," a cinnamon chiffon spread with quince and layered with a caramelized white chocolate mousse, all over a gingerbread crumb base, finished with a purple glaze and mini macarons. There's also the "Snowball" -- a vanilla butter cake with a toasted coconut crème Madame filling, finished with white chocolate glaze and shredded coconut.
House made chocolates are also available in various assortments. A chocolate tree with a selection of chocolate presents underneath makes an edible centerpiece for festivities. 
Orders must be made by Tuesday, Dec. 19. All the shops will be open from 7 a.m. to 6 p.m. on Sunday, Dec. 24 for last minute goodies.
Call the bakery you'd like to pick up from:
Burien — 206.717.2100
Capitol Hill — 206.858.6957
West Seattle — 206.923.0534
Chef-owner William Leaman and co-owner and CEO Heather Leaman opened Bakery Nouveau in 2006 with their first location in the heart of West Seattle. They expanded to Capitol Hill in 2013, and 2017 brought their flagship location to Burien. William is an acclaimed pastry chef and baker whose creativity shines when he combines innovation with longstanding tradition.
For more information, visit www.bakerynouveau.com.