Burien Arts Association presents: Pop-Up Gallery featuring the work of local artist Janet Price
Burien Arts Association presents: Pop-Up Gallery featuring the work of local artist Janet Price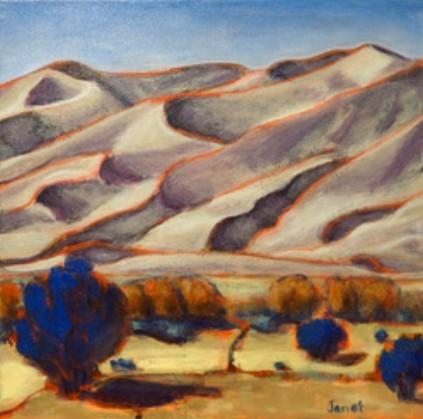 Thu, 11/30/2017
Paintings by the late Janet Price will be on display for the December 2017 exhibit at the Pop-up Art Gallery in the lobby of the City of Burien Municipal Office, Burien City Hall.
Price died this year in a bicycle accident while on vacation on Ireland this year. This exhibit is hosted by Janet's family as a tribute.
Family members will attend the opening reception, which is slated for 5:30 p.m. to 7:30 p.m. on Friday, Dec. 1 at the City of Burien Municipal Office, 400 S.W. 152nd St., 3rd floor. Take the elevator from the 1st floor lobby by the Library to reach the 3rd floor.
The exhibit runs through Dec. 29 and is open to the public during City business hours, 8 a.m. to 5 p.m., Monday – Friday.
Price had homes and studios in Seattle and Taos, NM.
"In my painting, I am very inspired by the southwest landscape, which extends well into Mexico: the high country colors, the light, and the cultures, While I find it interesting to paint plein air, I prefer painting in my studio," she has stated.
"One of the things I love about art is the ability to work in many different mediums. I am an acrylic painter, print maker, and collage artist. I have also dabbled in sand cast brass and glass, stained glass, slumped glass, colored pencil, pottery, and basketry," she continued.
She studied with various artists in Seattle and Taos and has exhibited in galleries in both locations.
Born in Detroit, Price always loved art, but received her bachelor's degree in math from the University of Michigan and a master's degree in computer science and business at the University of Wisconsin. She enjoyed a long successful career at the Wisconsin Dept. of Natural Resources and later at Weyerhauser in Seattle.
Price was noted as a pioneer for women in technology and management.
After retirement, she devoted herself to art, drawing inspiration from her extensive travels and the New Mexico landscape. She also loved to hike and ski.