White Center Jubilee Days announces band line up for annual festival July 17-21
White Center Jubilee Days announces band line up for annual festival July 17-21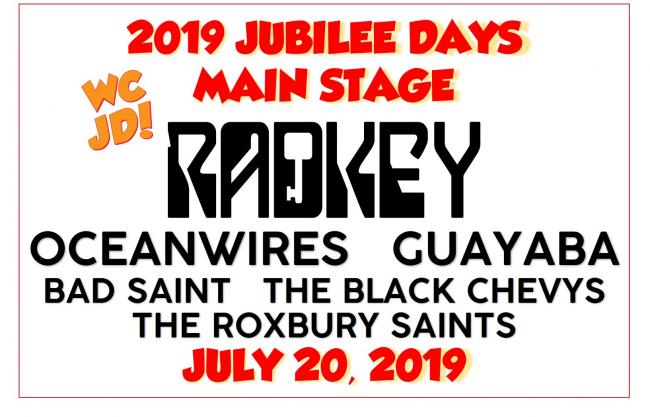 Fri, 05/31/2019
information from Jubilee Days

There's not a lot they could do to top last year's amazing main stage with the Fame Riot, but they believe we got close.
White Center Jubilee Days is  presenting Radkey as the 2019 Jubilee Days Main Stage headliner, with a fantastic array of local and/or hyper-local musicians to support them. 

Radkey hail from Missouri, share a label and have toured with Fame Riot,
The band is made up of three brothers who have been writing, recording, and touring since they were in their early teens, creating riff-heavy, super catchy, rock/punk ear worms that stick in your head and your gut. 

Also featured on the main stage will be sonically charged sounds of Oceanwires; Guayaba's unique, layered spin on the hip-hop narrative; the hooky, dark playfulness of Bad Saint; the blues-esque rock of the Black Chevys; and Roxbury Saints. They have a sax and a harmonica.

The Jubilee Days main stage will also feature an all-ages area, early happy hours in the beer & cocktail garden.
 
MAIN STAGE LINEUP
Please see www.jubileedays.org/main-stage for more information about the bands, including links to their websites and/or social media pages. Set times and more info will be posted soon.
WHITE CENTER JUBILEE DAYS 2019 - July 17-21
Live Music on the Jubilee Days Main Stage - July 20, 2019
16th Ave SW between SW 98th & 100th Streets, All-Ages Area, Beer & Cocktail Garden! 
jubileedays.org | info@jubileedays.org | matchandgas@gmail.com


JUBILEE DAYS MAIN STAGE – Saturday, July 20
RADKEY
OCEANWIRES   
GUAYABA
BAD SAINT   
THE BLACK CHEVYS
ROXBURY SAINTS
 
Band sites/social media:
RADKEY
http://radkey.net/
https://www.facebook.com/radkeyband/
https://www.instagram.com/radkeyrock/
https://www.instagram.com/radkeycats/

OCEANWIRES
http://oceanwiresmusic.com/
https://www.facebook.com/oceanwires/
https://www.instagram.com/oceanwires/

GUAYABA
https://aguadeguayaba.bandcamp.com/
https://www.facebook.com/aguadeguayaba/

BAD SAINT
http://www.badsaintband.com/
https://www.facebook.com/badsaintband/
https://www.instagram.com/badsaintband/

THE BLACK CHEVYS
https://soundcloud.com/the-black-chevys
https://www.facebook.com/theblackchevys/
https://www.instagram.com/theblackchevys/

ROXBURY SAINTS
https://www.facebook.com/roxburysaints/
https://www.instagram.com/roxburysaints/