King County residents invited to give input on Airport Master Plan update
King County residents invited to give input on Airport Master Plan update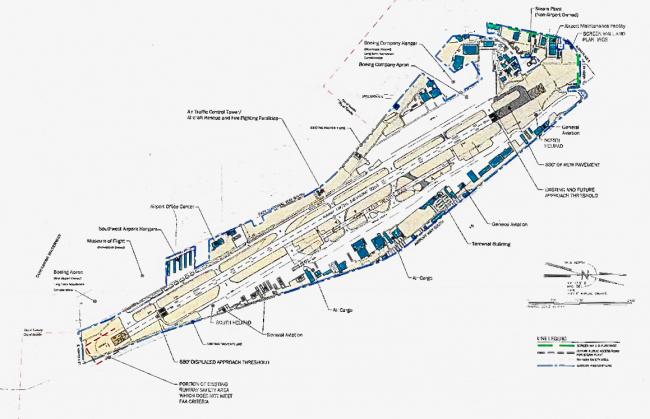 Tue, 06/18/2019
After a delay, King County International Airport-Boeing Field's Master Plan Update process is again underway. Residents are invited to hear from airport director John Parrott and his team to learn more about the plan and share their views on the latest developments.
Date: June 27, 2019
Time: 6 to 8 p.m.
Place: King County International Airport Arrivals Building, 7299 Perimeter Rd. S., Seattle. (The Arrivals Building is immediately south of the historic red brick Main Terminal.)
The Master Plan Update is a comprehensive study to consider how the airport should be developed to meet current and future needs. It covers future alternatives for runways, taxiways, passenger buildings, tenant leaseholds, and freight handling, as well as maintenance facilities, general aviation, and other facilities.
"Anyone with an interest in helping to chart the future of your county-owned airport is invited to this event," said Parrott. "King County International Airport is a unique facility, and our goal is to make the evening both informal and interactive."
The meeting will include:
- Welcome and introduction to the Master Plan process
- Airport planning mini-class - decoding airport acronyms and terminology
- Participant walkabout - info tables will be staffed for attendees to explore plans, ask questions, and provide feedback
Light refreshments will be served. For more information about King County International Airport-Boeing Field, visit kingcounty.gov/airport.