UPDATE: Thunderstorm knocks out power; Now restored for all but a handful
UPDATE: Thunderstorm knocks out power; Now restored for all but a handful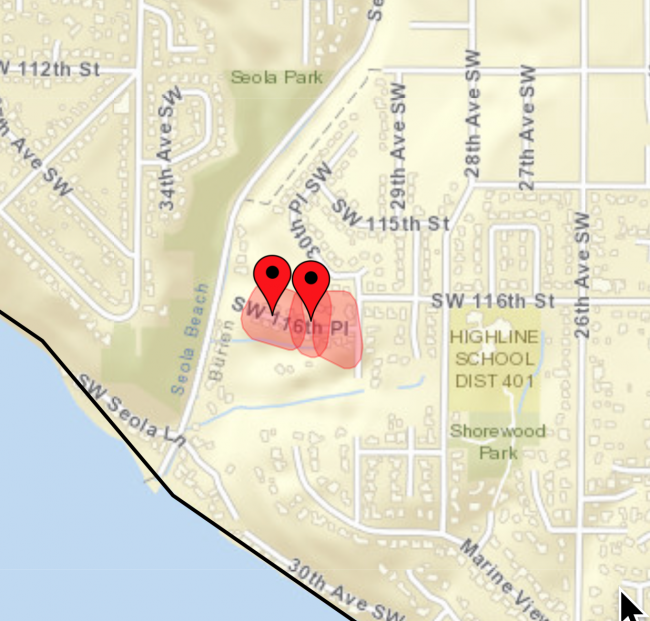 Tue, 09/10/2019
Update Tuesday 12:30pm
The power outage from the storm last Saturday night proved to be difficult to completely resolve. Thousands remained without electricity well into Monday and now only those in the Fentonwood neighborhood on 116th Pl. SW, a street of 13 homes is still without power.
Update 11:50am Monday
The power outages caused by the Saturday evening lightning strikes were persisting into Monday for as many as 424 customers. 33 along Chilberg Ave SW near Beach Drive in West Seattle were out and not expected to get it back until 6pm.Near 106th and Seola Beach 10 more were out due to equipment failure. In Burien 3 homes were still out along Maplewild Drive SW on the way to Three Tree Point. 14 homes were out along NW 83rd Street just north of Ballard with no fix expected until nearly 9pm.
Update 7:45pm
929 were still without power across  the Seattle City Light service area with stubborn pockets of outages remaining. Some of the estimated restoration times had slipped so the exact time power would come back was uncertain. 
Update 6:45am
The number of City Light customers was reduced to 1537 across the service are but pockets of outage remained Sunday morning, especially in West Seattle's Fauntlee Hills with estimated restoration times from 12 Noon to 6pm.
Original Post
A major lightning and thunderstorm event swept into the Seattle area right around 8pm with torrential rain making driving a challenge, shutting down outdoor events like Burien's Arts A Glow and even as far south as the Washington State Fair in Puyallup. More than 200 lightning strikes were recorded in Seattle by 9:30pm. The storm also took out power for 4392 customers across the area. The power outages in West Seattle were west of 35th SW and north of SW Barton Street. The estimate for restoration was 3am for some of the outages.
You can monitor the power outages and restoration times on the City Light System Status map.