Lancer boys trap Tigers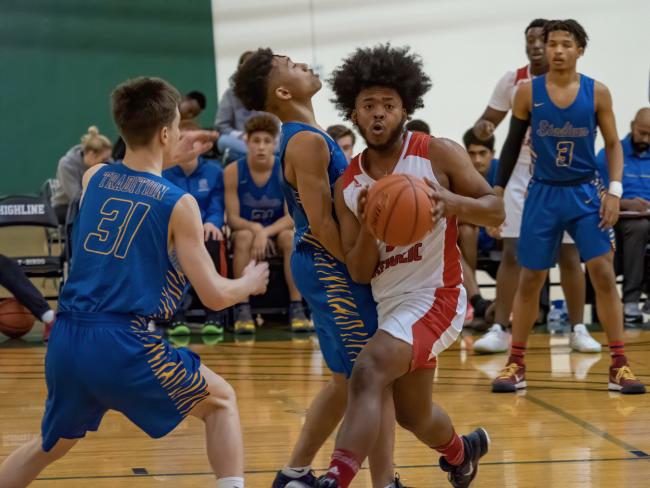 Brian Fisher brian@fullstop-photography.com
Sun, 12/15/2019
By Gerardo Bolong 
CONTRIBUTING WRITER 
Defensive toughness and aggression paved the way for the NPSL 4A Kennedy Catholic boys basketball team to trap the 3A Pierce county League Stadium Tigers 77-66 on Sat., Dec. 14. 
The result at the 2019 Alliance Flooring Showdown at Highline College hinged on basic elements. 
"We played good defense and were aggressive," KC head coach Don Hoffman said. 
These elements manifested themselves in the first quarter for an eight-point Lancer lead, but the Tigers rallied to trail only 18-15 going into the second quarter. 
KC owned the boards and shot well to dominate in a 46-25 halftime advantage-the largest lead of the game. 
Large double-digit margins continued until Stadium chipped away at the Kennedy Catholic mastery to trail only 66-57 with just more than four minutes left in the fourth quarter by virtue of better rebounding and Lancer missed shots. 
"It's exhausting when the shots don't drop," observed coach Hoffman. 
Nine consecutive Kennedy Catholic points later settled the issue. 
As the Lancers continue league play, Hoffman had this observation. 
"It's going to be a tough year," he concluded. "On any given night, anyone can win or lose." 
Sophomore KC guard Jamare Childs had a monster game, posting 27 points, dishing out seven assists, and capturing six rebounds. 
Chancellor Hilliard notched 16 points while capturing eight boards. 
Senior guard Jaylen Scott and Donnelle Irvin were deadly for Stadium, registering 25 points and 22 points, respectively. Irvin also hauled in eight caroms.