Caldwell and and Burns named as Kennedy Basketball coaches
Caldwell and and Burns named as Kennedy Basketball coaches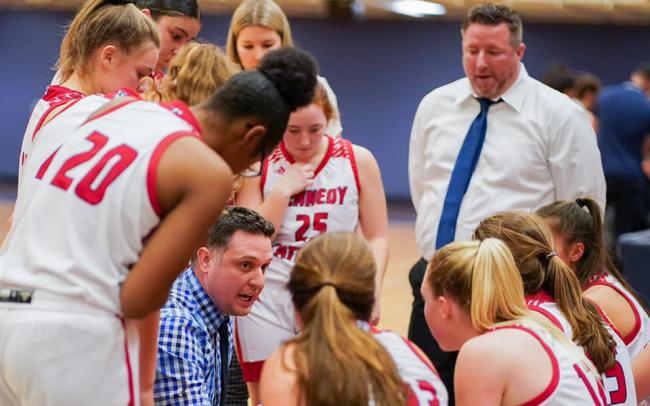 Tue, 05/05/2020
Recently named athletic director Don Hoffman made official his first two head coaching hires, naming Greg Caldwell  and Willy Burns the next head coaches of the boys and girls basketball programs, respectively.
Greg Caldwell takes over the boys program following Hoffman's recent decision to step down from the position. Caldwell spent the past eight seasons as the head girls coach, compiling a 92-91 record during that time, but was anxious to return to the same boys sideline where he served as an assistant to Hoffman prior to accepting the girls job in 2012.
"It was a very difficult decision to step away from the girls program," Caldwell shared. "I am excited about what we were building there, but I felt that I could not pass up this opportunity. I am eager to get back over to the boys side and continue and grow the great culture that Don has established for this program."
In addition to coaching, Caldwell is a respected member of the faculty, teaching PE and AVID, leading the popular Lancers Against Cancer and more.
With Caldwell moving to the boys program, his longtime assistant Willy Burns moves up a seat on the girls bench. While this becomes Burns' first head coaching assignment at the high school level, he's well known in the youth basketball community, having been involved in CYO and AAU girls basketball for years, in addition to his time helping run the Lancers.
"I am grateful for the opportunity to lead Kennedy Catholic girls basketball and look forward to continuing the great tradition of the girls program and working with student-athletes," Burns said.
Hoffman worked in conjunction with outgoing athletic director Sam Reed and interim president Fr. Bryan Dolejsi to make these hires. Hoffman states, "both Greg and Willy have shown tremendous loyalty and dedication to our programs. Our student-athletes are in good hands."