"I'm going to miss you two"
"I'm going to miss you two"
High School ladies vie for win at PNW Girls Junior PGA Championship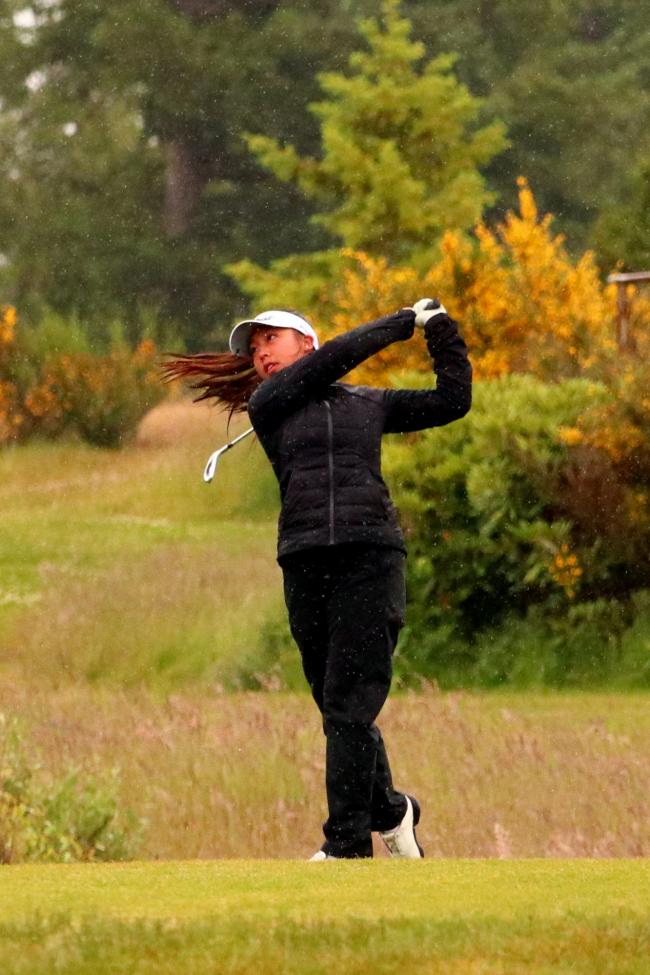 Chelle
Mon, 06/07/2021
By Chelle
CONTRIBUTING WRITER

Six hours of non-stop wind and drizzle Sunday morning did not prevent strong performances by four local high school girls at the PNW Girls Junior PGA Championship at The Home Course in DuPont on June 6, 2021. 
Kennedy Knox is a senior at Mt. Rainer High, Lauryn Nguyen is a senior at West Seattle, Grace Lee is a junior at Bellevue High, and Suzie Tran is a homeschooled freshman who plays for North Kitsap High. The four frequently find themselves grouped together at tournaments. The Junior PGA Championship is the third tournament for the four of them in the past week. 
"The girls play together often and have become friends. It has been interesting the past few weeks, as each has won a major tournament. Today it looks like Grace is on point, and Lauryn and Suzie are tied for second," according to Kennedy's dad, who walks the course with the other parents, quietly cheering and cringing collectively with each swing of the club by the girls.
The Home Course's 18-holes have a par of 72. Grace placed first with a 69, Lauryn placed second with a 74, and Suzie is the alternate with a 75. Kennedy placed behind Suzie but was unavailable for comment after the match. The three girls agreed hole 13 is their least favorite of the course, "It is a long run with tough greens waiting at the end." 
When asked the best advice they have been given, the wisdom of these young athletes spoke volumes. "Don't worry about performing for others, like parents or coaches or recruiters. Perform for yourself. Enjoy it, that is when you will do your best," offers Lauryn.
"Everyone is playing in the same conditions as you. A bad weather day for you is a bad weather day for everyone, so don't beat yourself up over it," says Suzie, with the other two nodding agreement. 
"Play against the course, not the others. Golf is a mental game. Stay in the moment and don't worry about the previous stroke," added Grace. In college play this becomes more relevant, as play switches from individual to team scores. Northwestern and UW will be home for Lauryn and Grace in the fall. 
When asked about the freshman holding her own against a couple of seniors, "It is a little odd if I think about it. Suzie is a freshman and already playing well at this level, it will be interesting to see what she accomplishes in the next few years..." says Lauryn. Suzie looks down quietly,  "I am going to miss you two!" 
Grace and Lauryn are both headed to Kentucky for the next level in the Junior PGA Champioships.