Couple lives in the Alaska Junction & gets the royal treatment in Thailand
Couple lives in the Alaska Junction & gets the royal treatment in Thailand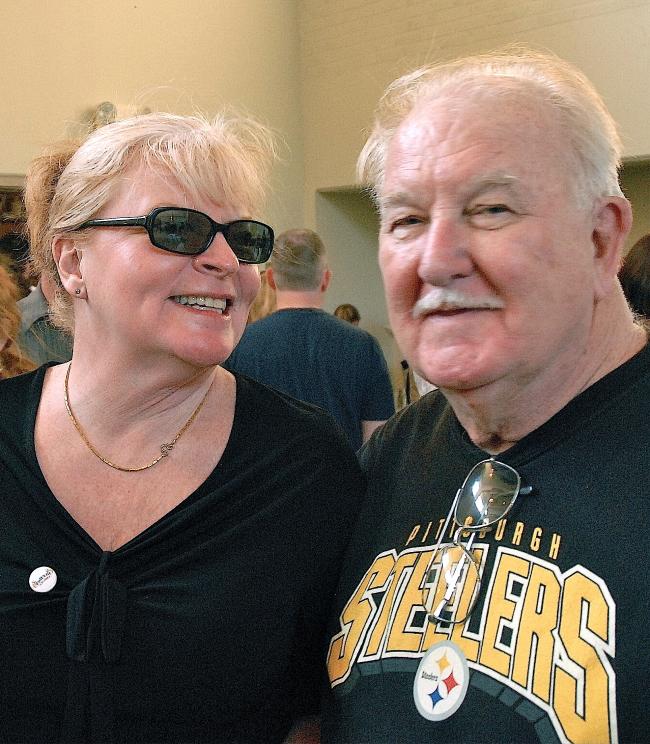 Photo by Steve Shay
Wed, 05/25/2011
If you see Hal and Barbara Jones walking through their Alaska Junction neighborhood, you might not, well, notice them. And while they appear as unassuming as their last name suggests, it would be difficult to keep up with these Joneses as their lives have been immersed in international intrigue and song.
Born in Chillicothe, Ohio, Hal was a rescue pilot in Da Nang, Vietnam and Thailand and flew helicopters for Special Operations Command, or Special Ops in 1971-'72. He came home, then volunteered to return to Thailand for the Military Assistance and Advisory Group (MAG) as an advisor to the Thai Air Force.
But before that, he studied the Thai language in most of 1973 at the Defense Language Institute Foreign Language Center (DLIFLC) at the Presidio of Monterey, California. A decade later Hal would be at Patch Barracks, Stuttgart, Germany, serving as Commander of Special Ops, U.S European Command, or EUCOM.
Barbara, Iowa-born, sang with the San Francisco Opera Company from 1975 until 1983. They set her up with a scholarship to Graz, Austria to their Singers Masters Course of Chorus where she was coached to sing works in German, French, and Italian. When she was training for opera, she also worked as a secretary where Hal was stationed, and sang God Bless America and the National Anthem at their Military Balls.
That's where Hal and Barbara first crossed paths, in 1986. They married, and moved back to America. She auditioned for Speight Jenkins at the Seattle Opera Company in 1993 and was hired. She sang lead roles there and in San Francisco and Arizona. A soprano, she specialized in composer Richard Wagner's four operas comprising the Ring Cycle.
The Joneses ran across an audition notice on the Internet for a soprano in the Bangkok Opera Company, placed by its artistic director, the world-renowned Thai musical prodigy, poet, and author, Somtow Sutcheritkoon.
"I found the initial notice in 2000," said Barbara. "I knew Hal really loved it in Thailand, so I sent my Siegried recording of Brünnhilde, and Somtow hired me before we ever met." Siegfried is the third opera in the Ring.
"I told her, 'Don't worry about Thailand,'" said Hal, referring to his wife's concerns over the cultural differences. He would join her. "I said, 'We'll get along fine. I speak Thai, and I know the turf. You'll love the country.'
"Somtow had this dream of establishing opera opportunities for Asian singers," Hal said. "The problem is, Asian singers don't normally have these big booming soprano voices. They have nice voices but they are on the smaller side, not the Madam Butterfly's and Brünnhilde's."
When they arrived, Hal even got into the act.
"Somtow came up short of people back stage," Hal recalled. "I volunteered to become prop master and assistant stage director because they had nobody backstage who could speak both Thai and English. It was fun."
Barbara sang lead in Somtow's "Madana" in 2000, his opera he translated from one of his murder mystery books. She sang soprano in his composition "Requiem: In Memoriam 9/11", commissioned by the government of Thailand, in 2002 as a gift to the victims of the tragedy.
Fans of Somtow know him on a first-name basis, as is the custom in Thailand. One fan was Princess Galyani Vadhanawas, the sister of Thailand's King Bhumibol Adulyadej. She was a huge supporter of the Bangkok Opera, and of both Somtow and Barbara. Princess Galyani died in 2008 at age 84. According to Hal, with her passing, some of the prestige and funding of the Bangkok Opera decreased. But the King continues to attend, and Somtow seeks funding for a new production of the Ring Cycle. If and when he does, Barbara and Hal will return.
Now Barbara works at Allstar Fitness teaching water exercise and admits to a weakness for sweets at Bakery Nouveau in the Junction.
Hal is a lead technician for VA Research Labs, and does development for biomedical and clinical research.
"I love the Ring Cycle," said Barbara. "The music is very epic, the story of it is legend It is not as much German as it is Norse. It starts with water and basically ends with water putting out the fire.
"In Thailand I was face to face with the people who loved the music," Barbara recalled. "It was a wonderful environment. I was invited to sing Italian arias at the home of the Italian Ambassador, an American concert at home of our U.S. ambassador, and others. "We'd be invited to dinner, and then do a little performance" she said. "It was our way of thanking them."
She prides herself in her operatic background.
Said Barbara, "I love the dreaded 'opera topic' when they have it on Jeopardy. I usually get all those right."