Hall at Fauntleroy from 11am to 2pm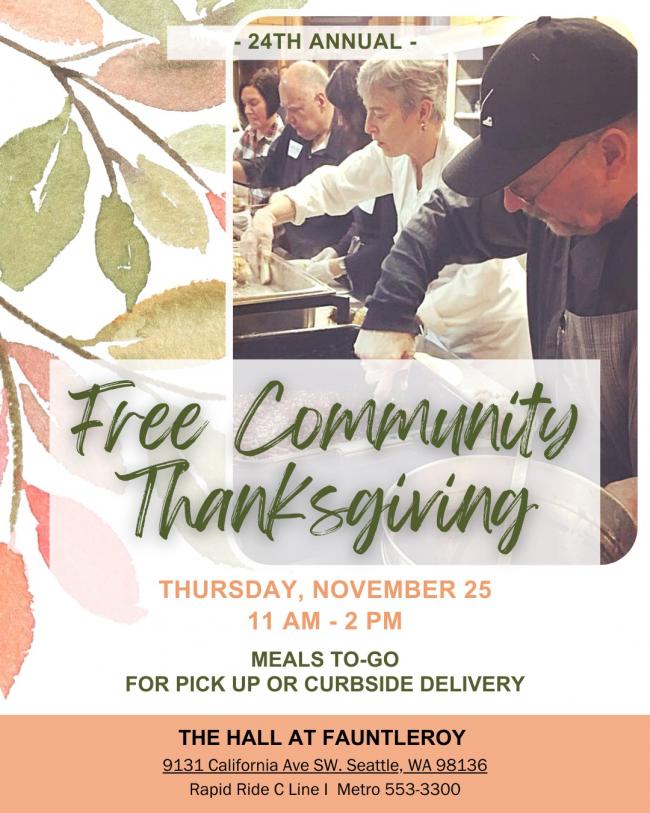 The 24th annual FREE Community Thanksgiving at The Hall at Fauntleroy at 9131 California Ave SW.

- WHAT: Free Thanksgiving meals to-go!
- WHEN: 11am - 2pm on Thanksgiving Day 
- WHERE: The Hall at Fauntleroy

With heavy hearts, we had to cancel last year's Community Thanksgiving due to rising Covid cases in our area. This year, while not fully back to our normal sit-down community event, we are able to continue our holiday tradition by offering pre-packaged Thanksgiving meals-to-go for walk-up or curbside delivery. We will miss all of you, our Thanksgiving family, and hope you will accept our offer of a meal or simply drive by and give a honk on Thanksgiving day!

We're accepting donations of NEW SOCKS and BLANKETS which can be dropped off at the Hall at Fauntleroy (front entrance where it says "Auditorium") on Thanksgiving morning between 9:30 and noon. We are not accepting dessert donations this year, nor clothing donations.