Groundswell recognizes Ballard Commons as their "Park of the Month", hosts Field Day
Groundswell recognizes Ballard Commons as their "Park of the Month", hosts Field Day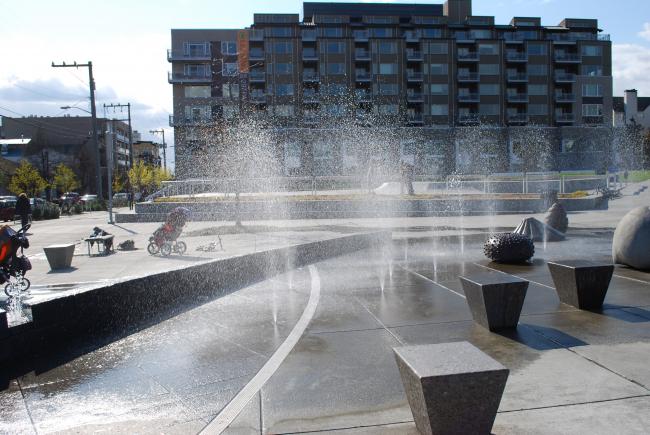 Anne-Marije Rook
Thu, 07/14/2011
In celebration of Ballard's green spaces, Groundswell NW features and celebrates a "Park of the Month" and the community around it. In July, the spotlight is on Ballard Commons and the neighbors that made it possible.
From Groundswell NW:
The creation of the Ballard Commons came from the dreams and schemes of many of Ballard's stalwart citizen activists and a willing and able Seattle Neighborhood Planning initiative. Two groups led the local charge: Groundswell NW and the Ballard Open Space Committee. Their first product was the Ballard Open Space Inventory and Action Plan of 1996.
Neighborhood Planning began in 1997, and with it added more leadership with Jody Grage, Stephen Lundgren, Jim Jensen, and the irascible Tom Miller, then owner of the landmark Skandi's Restaurant. Ballard's Neighborhood plan was created with the participation of over 6,000 citizens ... that's right 6,000.
The late Mr. Miller brought a bold idea to Davidya Kasperzyk, then serving as President of the Groundswell board. Miller wanted to create a civic area in the space then occupied by two big grocery stores, with this park and a new Library as centerpieces. Davidya took Miller's idea and developed the initial concept for the Commons.
With backing from staff at Seattle's Departments of Parks and Neighborhoods, the old Safeway site was acquired, Swift Company was hired to complete the design, and construction soon followed.
Neighbors were involved at each and every step, including the skateboard community, the Ballard Chamber of Commerce, the Ballard Open Space Committee and Groundswell NW working together. Now the trees are filling in, just as Davidya said they would in his opening remarks at the 2006 Commons dedication, making it a welcoming destination for all of Ballard today.
Please come join Groundswell NW, collaborating with the new On the Park apartment complex, for a Field Day in the Commons on July 31st from 4 – 7 p.m. We'll have field games for all ages, summer-time treats, and a chance to hang out getting to know our neighbors.