All that drizzle makes salads that sizzle
All that drizzle makes salads that sizzle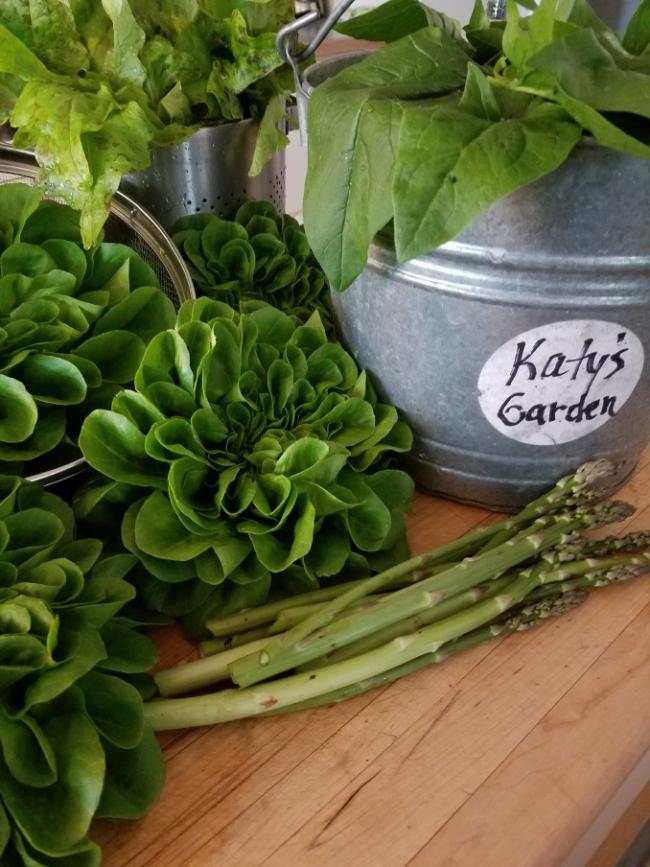 Katy Wilkens
Mon, 07/24/2017
By Katy Wilkens, MS, RD 
I picked a bouquet from my garden the other morning. It wasn't the kind you put in a vase. It was the kind you put on your plate - a salad plate, to be exact.
When I plant early veggies in the mud in early March as rain drips down my neck, it seems unlikely that a beautiful head of lettuce would emerge from that squishy stuff. So I end up overplanting, hoping some seedlings will make it through our spring rains. 
The rain this year was truly amazing, the most in recorded history for our area. My lettuce and green veggie harvest has also been truly amazing. I have beautiful heads of butter lettuce, bronze oakleaf lettuce, a green leaf lettuce with red spots called Freckles, fantastic spinach, snap peas and asparagus. 
With all of this abundant green stuff, the question becomes how to make a meal out of it. Big dinner salads are my favorite right now. They show off the ruffled greens and serve as a backdrop for flank steak cut in strips, sliced barbecued chicken or fresh shrimp. Additionally, add hard cooked eggs, nuts, cheese and some early berries or cherries. Voila! Dinner is served. 
Flank Steak Dinner Salad 
1 small flank steak
2 tablespoons oil 
4 tablespoons cider or fruit flavored vinegar
1 tablespoon dried onion or onion powder
1 teaspoon dried garlic or garlic powder
¼ cup fresh parsley, chopped fine
1 cup fresh mixed lettuces 
1 cup fresh spinach
1 cup fresh dark cherries, pitted and cut in half
1 cup fresh peas, sliced in pods if edible, shelled if not
1 cup almonds, unsalted
1 cup manchego or other hard cheese
1 green pepper, sliced
1 avocado cut in half-inch cubes
Preheat grill or oven broiler. Marinate meat in oil, vinegar, onion powder, garlic powder and parsley for about 15 minutes. While meat is marinating, fill four bowls with a mixture of lettuces, spinach, peas, cherries, almonds, cheese cubes and avocado. Serve with homemade blue cheese dressing. When grill is hot, place meat over coals or under broiler. Allow about 5 minutes per side, watching to avoid burning. Add asparagus for the last five minutes or so, but remove when spears turn bright green. Remove meat when desired doneness is reached. Slice in ¼-inch wide slices, lay over salad with asparagus and serve with crusty French bread. 
Nutritional information:
Calories: 617, Carbohydrates: 26 grams, Protein: 35 grams, Sodium: 430 milligrams
Blue Cheese Dressing
½ cup sour cream
2 tablespoons lemon juice
¼ teaspoon hot sauce
¼ teaspoon Worcestershire sauce
2 cloves garlic, browned
2-4 tablespoons milk, to thin 
8 ounces blue cheese, crumbled
Cook garlic in a small amount of oil until golden. Add to sour cream. Mix in all ingredients except cheese. Thin with milk if needed to desired consistency. Crumble blue cheese into salad dressing, stir and serve. Keeps 3 to 4 days in refrigerator. 
The information in this column is meant for people who want to keep their kidneys healthy and blood pressure down by following a low-sodium diet. In most cases, except for dialysis patients, a diet high in potassium is thought to help lower high blood pressure. These recipes are not intended for people on dialysis without the supervision of a registered dietitian. 
[Katy G. Wilkens is a registered dietitian and department head at Northwest Kidney Centers. A recipient of the Susan Knapp Excellence in Education Award from the National Kidney Foundation Council on Renal Nutrition, she has a Master of Science degree in nutritional sciences from the University of Washington. See more of her recipes at www.nwkidney.org.]