Steve Christensen saves the day . . . again
Steve Christensen saves the day . . . again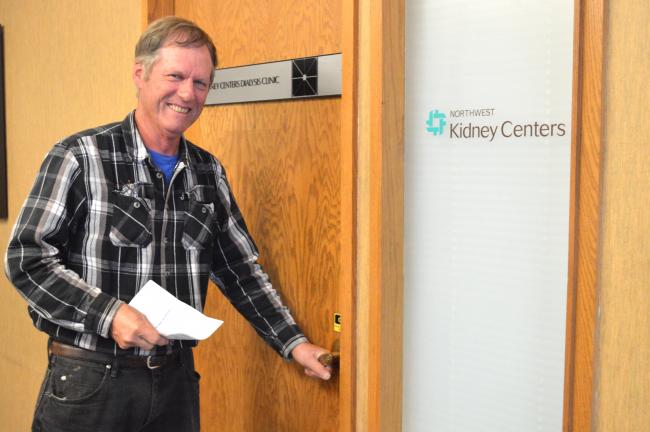 Lindsay Peyton
Mon, 09/25/2017
By Lindsay Peyton
At only 10 years old, Steve Christensen was charged with an important task. His bedroom was located in the basement, next to that of his older brother Richard. 
While Richard went through a three-nights-a-week regimen of 14 hours of dialysis, Christensen would be on hand to make sure everything went smoothly. 
He was always on call – and he also cleaned out the machine's tanks after each treatment completed its course.
Now, five decades later, Christensen, a resident of Ballard, has become a caregiver again. This time, it's for his friend Kristy Lee. 
He says a lot has changed since he first learned about kidney failure in the early1960s. At the time, he explained, dialysis machines were difficult to come by – and only a limited number of individuals were eligible for treatment. 
"My brother was lucky enough to be one of them," Christensen said. "They only had a couple of slots."
Richard learned that his kidneys were failing when he took a physical to join the Marines.  "They told him to get to the doctor right away," Christensen said. "They removed one kidney that was ready to burst."
And they set him up at Northwest Kidney Centers for dialysis treatment. The company is still in operation providing dialysis more than half a century later. What was once a small company, capable of helping nine patients has become the largest provider in the Puget Sound region. 
In the 1960s, Richard was in his early 20s and worked as a photographer.  His family was able to get a machine set up at home for his treatments so he could make it to work the following morning. "They put the machine in, and it was so big and awkward," Christensen said. "I would listen for alarms and take care of him. He had to get on by 4 p.m. to get off by 6 a.m. and be at work by 8 a.m. It was a slow, inefficient process."
Times have changed, Christensen said. 
"It's been modernized so much," he said. "It's a faster system – and anyone can get on it now. No one can be denied the dialysis treatment they need to stay alive."
Now patients spend three to four hours for each dialysis treatments. 
Christensen learned about the more efficient process, when his friend Melissa Gonzalez needed help a few years ago. 
Christensen went through training and earned a license to become a credentialed caregiver. "I think anyone in the same position would do the same thing," he said. 
By day, he worked in the roofing business his father started, Christensen Roofing. At night, he focused on his patient. 
Gonzalez died last year. 
While still helping Gonzalez, Christensen met Lee, who would soon need his help as well. 
Christensen knew Lee for a couple of years before her health started failing. She had problems with her liver, kidney and heart. 
Christensen brought her to the Northwest Kidney Centers, and then set up home treatment, while she waits for a kidney transplant. 
"If she got a kidney, she could get off the dialysis, but it's a three to five year process," Christensen said. "We're just in the first part of it, setting it up."
Connie Anderson, vice president of clinical operations for Northwest Kidney Centers, said the need for donations is high. 
Besides being a donor, Anderson said individuals can help by becoming caregivers, like Christensen has. It takes a big heart and a selfless person, she added. 
"He's made a huge commitment to this individual so she can live as normal a life as possible with kidney failure," she said. 
Anderson explained that in 1965, when Christensen was taking care of his brother, "there were virtually no resources for patients with kidney failure."
Then, Dr. Belding Scribner of the University of Washington, developed the Scribner shunt, which made long-term, repeated dialysis possible.
In 1967, Northwest Kidney Center launched the world's first hemodialysis program. 
Anderson admires Christensen for helping his brother with the process at such a young age. 
"For a kid to have that level of responsibility is huge," she said. 
Anderson explained that there are still a number of risks involved with the treatment and having a partner to help is essential – and still a major commitment. "It's a part-time job," she said. "It totally is." 
She hopes that Christensen will inspire others to become caregivers for those needing treatment. "Building awareness of organ donation – or of being a helper to someone you know – would be great," she said. 
For more information about Northwest Kidney Center, visit www.nwkidney.org.