Anthony's serves up halibut this April
Anthony's serves up halibut this April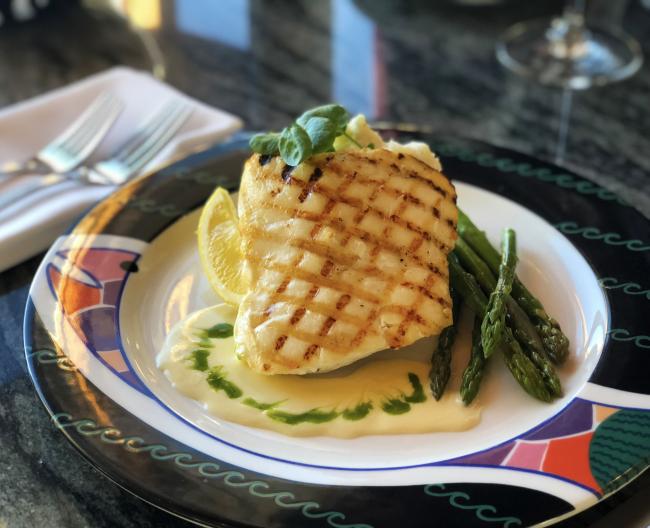 Mon, 04/09/2018
In April, Anthony's Seafood locations are serving up fresh preparations of halibut. Head to one of the two west side locations of the restaurant this month to see what's on the menu featuring halibut. There's Anthony's HomePort, 421 South 227th Street, Des Moines, WA 98198, or Chinook's in Salmon Bay, 1900 W Nickerson St #103, Seattle, WA 98119, located right in the Fisherman's Terminal. 
The chef's at Anthony's are sharing this recipe with our readers to celebrate the season:
Alder Planked Fresh Alaskan Halibut topped with Beurre Blanc and Chive Oil
Yield: 4 servings
Ingredients for Halibut:
2 Pounds Fresh Alaskan Halibut
4-6 Tablespoons Olive oil
1 Dash Hickory salt or Salish Alder Smoked salt
8-10 Ounces Beurre blanc (see recipe below)
1 Tablespoon Chive Oil (see recipe below)
Procedure for Halibut:
Cut the halibut into 4-6 pieces. Rub the fillets with olive oil and sprinkle lightly with smoked salt. Place the fillets on a hot grill pan or grill, skin-side down. Cook for 4-5 minutes and flip. Remain cooking fish until internal temperature is 140 degrees, about 6 -7 more minutes. Remove the halibut from the grill and immediately place the fillets on a plate. Stir sauce well and pour approximate 1 ½ ounces over each fillet and finish with chive oil. Serve with your favorite mashed potato and seasonal vegetable.
Ingredients for Beurre Blanc:
1.5 Tablespoons Finely minced shallots
¼ Teaspoon Lemon juice, freshly squeezed
1.5 Ounces White wine
1 Ounces Heavy whipping cream
8 Ounces Unsalted butter (room temperature)
¼ Teaspoon Kosher salt
Procedure for Beurre Blanc:
Combine the shallots, lemon juice and white wine in a small saucepan over medium heat. Cook until the liquid has reduced by half – about 15 minutes. Strain the contents while saving the liquid. Return the liquid to the saucepan and add cream. Remove from heat and whisk in the butter in small amounts at a time to form an emulsion.
Ingredients for Chive Oil:
1 Ounce Fresh Chives
½ Cup Olive Oil
Procedure for Chive Oil:
Place chives in food processor and stream in the olive oil. Strain and set aside.