Ballard artist Dara Solliday captures city's ever-changing landscape
Ballard artist Dara Solliday captures city's ever-changing landscape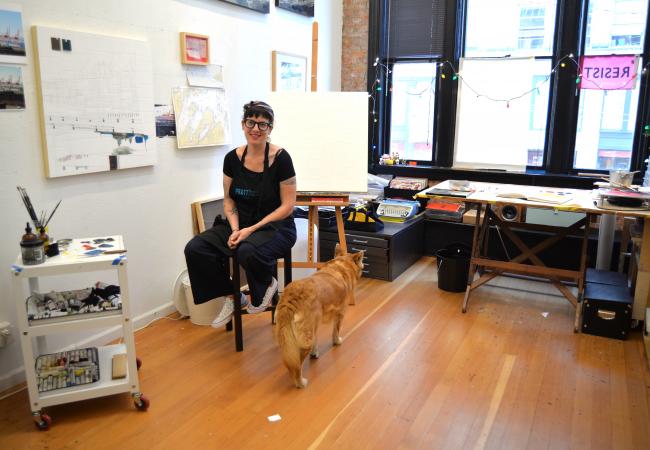 Mon, 08/13/2018
By Lindsay Peyton
Most days, Ballard artist Dara Solliday can be found working away on her encaustic canvases in her Pioneer Square studio.
Lately, the sounds of construction come into her window, as crews tear up and reconfigure 1st Ave below. The ever-changing cityscape has made its way into her work, which features architectural images, construction cranes, scaffolding and urban development.
Layered into Solliday's pieces are old newspaper articles and other forms of text, alluding to the story behind the fluctuating landscape.
A long-time fan of literature and creative writing, the artist enjoys the aspect of storytelling that can appear in a painting. She also favors encaustic—or using pigment mixed into hot wax—because the medium allows her to weave in collage and found objects.
"There's something about encaustic that's so conducive for building and layering," she said.
Solliday traces her interest in construction back to her childhood, growing up in Whitefish, Montana, with a father who built and designed houses. She has fond memories of playing on job sites.
She later studied architecture at Tulane University in New Orleans, before shifting her focus to visual art and majoring in painting and drawing at East Carolina University.
"They had this extremely formal painting and drawing department," Solliday recalled.
At first she resisted the tight structure but later grew to love the rigorous program. About 10 years ago, she moved to Seattle, thinking it would be her temporary home.
Instead she met Miles Chung, who would eventually become her husband, and fell in love with the city as well.
The couple moved to Ballard, and Solliday rented a studio at nearby Gasworks Gallery. When prices started to rise in the Fremont area, she moved her art practice to 619 Western, where she met artist Jane Richlovsky.
Solliday later moved with Richlovsky and other artists to '57 Biscayne studios in Pioneer Square, where she continues to hone her craft.
While in Seattle, Solliday was drawn to photographs of construction and remodeling in the city, the history of projects as they rose and were later destroyed.
"In the 10 years I've been here, the urban landscape has completely changed," she said. "In the last century? Hills became islands; street levels became basement levels."
When Solliday is not busy creating her own work, she enjoys teaching encaustic and bookbinding methods to others. She also can be found bartending in Ballard's neighborhood hangout, the Stepping Stone and serves as a Girl Scout leader for Troop 40827.
Solliday has exhibited her work in a number of galleries and gathering spaces across the country. She was honored with the "juror's choice award" in the Center on Contemporary Art's show "Creativity Persists."
She recently was selected to show her pieces at the Seattle Art Museum Gallery.
Gallery manager Jody Bento was drawn to Solliday's work for its unique depiction of architectural movement and structural disconnect in Seattle.
"The buildings are kind of leaning, the pressure of the city everyone is experiencing is embedded in her work," Bento said. "It's all just under such rapid and radical change, and her work speaks to that."
When viewers step closer to the paintings, Bento said, they will see more detail, history and words. A narrative is formed that speaks to both the changing cityscape and the residents who inhabit and build it.
"Our stories are woven into our buildings," Bento said. "When you take a closer look, Dara's art has a really complex craftsmanship. There's an architectural feel, but it's all a little bit abstracted."
The artwork becomes both mysterious and calming, Bento said.
Solliday said her goal is creating paintings that are both interesting and complex. "I want to make something you never grow tired of looking at," she said. "There are at least eight stories being told in each piece. The subject matter of a city being transformed takes layers upon layers."
She also creates work that examines the natural environment and is captivated by stories of seasons and storms.
"It's just about change," she said. "It's the cycles – sometimes it's nature, sometimes it's man. It's the story that I've always had, layers of narrative. I think that's life."
For more information about the artist, visit www.darasolliday.com