Electric bikes are successful in reducing Seattle's traffic woes, claim ridesharing companies
Electric bikes are successful in reducing Seattle's traffic woes, claim ridesharing companies
However, safety concerns remain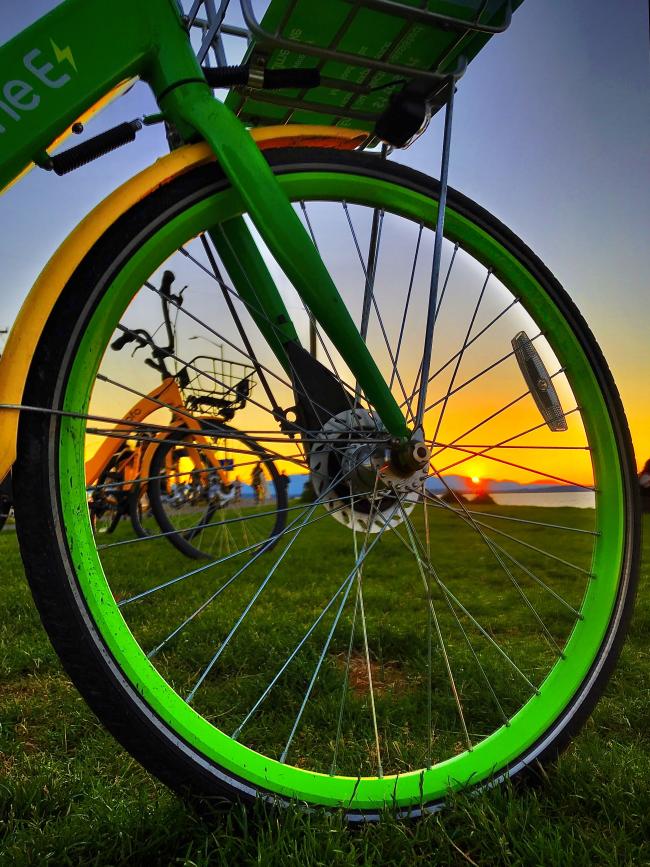 Sun, 03/31/2019
By Gwen Davis
Have you tried riding an electric bike yet?
The West Seattle Transportation Coalition (WSTC) held its monthly meeting Thursday night, where managers from Seattle's two electric bike ridesharing companies, JUMP and Lime addressed the coalition. Kian Mousavi, senior operations manager at JUMP, and Isaac Gross, general manger at Lime, each gave 15-minute presentations, discussing the impact their programs were having on public transportation in Seattle. 
Jumping for JUMP bikes
Launched in 2013 and now acquired by Uber, Mousavi said that JUMP operates in 18 cities across the U.S., and has been beneficially impacting traffic in Seattle.
 "One of the first questions when Uber acquired JUMP was, are people going to take less rides and switch to bikes?" Mousavi said. "That was the vision and the goal." 
This is JUMP's first year in Seattle. When JUMP launched in Sacramento, the company found that six months later, more Uber users were using bikes over cars, for two to three mile rides. Mousavi said a similar pattern is happening in Seattle. 
"Basically, short Uber rides are becoming JUMP rides, which is great," he said. As the company continues to operate in the city, it'll be able to collect more data, which will be useful to both the company and the City of Seattle. 
Mousavi said that letting users leave bikes wherever they choose — and not in a set docking station — makes the program more convenient. Additionally, the company is "not constrained by infrastructure and docks, so we can shift our bikes to where the demand is," he said. 
The bikes go up to 15 mph, are accessed through the Uber app, have wireless connectivity and an integrative locking system. They use lithium iron batteries, and every charge lasts 20 to 40 miles.
The fact that the bikes are electric, attracts more users, especially in a hilly place like Seattle. 
"We also see that the bike share attracts more female riders and older cyclists," Mousavi said.
 The bikes cost 15 cents per minute of riding. Low-income riders who own a reduced-fare Orca card, can ride for five dollars per month.  
"Right now, we're trying to implement incentives for having people park well," he said.  
"Safety, obviously, is our number one priority," Mousavi continued. "We have mandatory safety as you install the app, we gave away hundreds of helmets when we launched in Seattle, and [sometimes] you can get 50 percent off when you buy a helmet through JUMP."
 The company also helps its host city. 
"We have new mobility document, which we share with the city," he said. "We help cities track effectiveness of their [ridesharing] policies."  
Lime bikes for the twist 
Gross, general manger at Lime, said that Lime bikes put the fun back into commuting. 
 "The average person in Seattle spends 60 hours a year in traffic," he said. "Sixty hours is an entire series of Game of Thrones — there are so many better things you could do with that time." 
 While technology has changed how people live their lives, transportation has been the same, he said. 
 "What hasn't changed until this past year is how people get around: bus, train or walk," he said. "I love rideshare, but you don't always see that many people smiling when they're sitting in a car. With Lime, you see people with a smile on their face. Gov. Inslee visited our headquarters in the winter, and said Lime is a time machine — you become an 18- or 19 -year-old version of yourself."
 Gross talked about how working with the city is imperative for the company.
 "There are goals of a city or region that don't always align with the goals of a rideshare company," he said. "So, how do you operate in a way that meets city goals and company goals? [Our program] doesn't cost the city or area anything."
 When the Viaduct closed, King County Metro reached out to Lime, and coordinated a discount code for commuters. 
 Lime has had over 2 million bike rides in Seattle, Gross said. From July of 2017 to March 2018, people have ridden over 103,000 miles on the bikes in West Seattle. 
 "We really enjoy working in Seattle, and are looking forward to being here," he said.
 Comments and questions   
One West Seattle resident, who attended the meeting, had some pointed questions for the companies regarding safety. She said she works downtown and takes public transportation.
"I have friends who are handicapped," she said. "I'm not handicapped, but if I'm having to hurdle over this things to get in a bus, what does a disabled person do? The people who are riding them are leaving them everywhere."
Michael Taylor-Judd, WSTC board member, seconded that. "People are leaving them all over the place," he said, addressing Mousavi and Gross. "What are you doing with trying to address these issues?"
 "I can guarantee you that as soon as we receive a call, we have a two-hour window we try to move the bike," Mousavi said. "This is an issue we are accountable for and we understand that." 
He also said the company is continually educating riders on were to leave the bikes, and that the company is trying to create incentives so people park correctly. 
The woman who brought up the issue, continued pressing the rideshare managers. 
"When I get hurt tripping over one of your bikes, who do I send my medical bills to?" she asked.
Mousavi admitted that while the company contacts offending riders, there is no penalty and no plan about what to do in the future.
"When we receive a call about a bike being left improperly, we do note it and contact the rider, and tell them not to park in that spot again," he said. "But we don't have a plan for repeat offenders."
Furthermore, Gross said it's not entirely the responsibility of the company. 
"This is not something that we or our competitors can do alone," he said. "If the community decides they don't want to work with us, there's nothing much we can do."
Deb Barker, WSTC board member, asked if there's an easy way the public can notify the company if someone sees a bike that's not parked well. 
Gross replied that yes, there is number to call, and it takes just one click to find it on the website. 
Another West Seattle resident asked if the companies are receiving any subsidies.
"There are zero subsidies," Gross replied, who noted that the only time the company got a subsidy was when it launched its pilot program on Mercer Island.
"Generally, not only do we not get a subsidy, we pay," he said.
Rest of the meeting
The WSTC went over a draft of the coalition's EIS scoping letter to Sound Transit board members, the stakeholder advisory group and the elected leadership group who will be determining the preferred alternatives for the light rail extension. The letter said there must be at least two alternatives moving forward, including an elevated rail option and a tunnel option. Lately, West Seattle residents and businesses have been concerned that Sound Transit will move forward with elevated rail instead of a tunnel, which they fear will damage the neighborhood.