Local homelessness documentary film Trickle Down Town now available online
Local homelessness documentary film Trickle Down Town now available online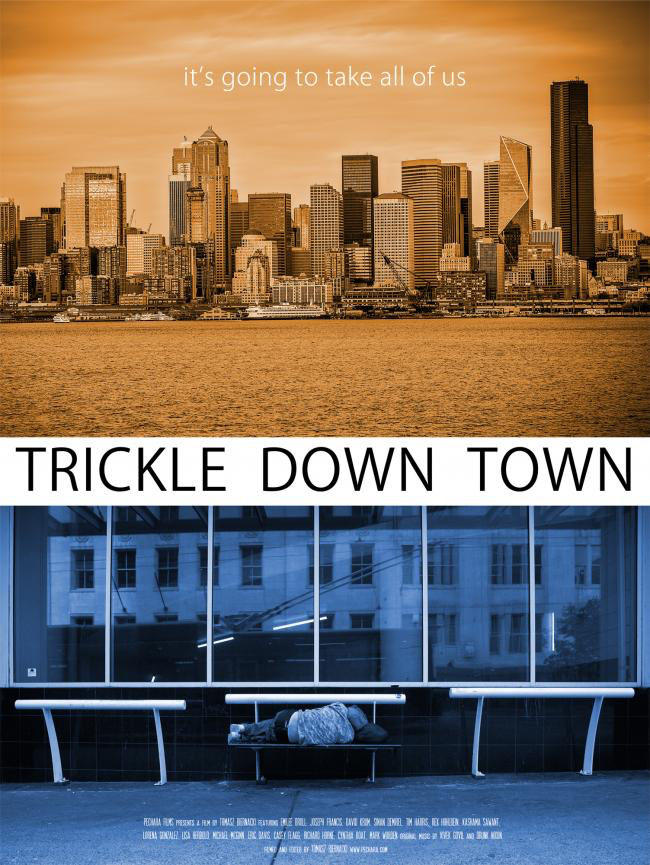 Fri, 04/19/2019
West Seattle filmmaker and activist Tomasz Biernacki became engaged in the issue of homelessness in the Seattle area over the last two years. He first got to know some of the people living in RV's he encountered on walks along Harbor Ave. SW and realized they were often victims not just of circumstance but of many misconceptions. Calling on his own photography and video skills he set out to tell their stories and quickly realized it was a much larger story. His interest finally grew into a full length documentary film called "Trickle Down Town" which debuted at the Admiral Theater last October. Since then the film has been screened many times at public gatherings but has not been available to watch online. In response to the rising debate over homelessness, drug use, crime and more that was put into higher profile by a local television documentary, Biernacki has now posted the full film online. His reasoning and the link to Trickle Down Town are found here.

His website is www.pechara.com
"In recent weeks KOMO4 television, run by Sinclair Broadcast Group, produced a very narrow, sensationalized production called 'Seattle is Dying'.
There are many good and in-depth articles written about this production ( Crosscut article, United way piece, Disability Rights WA piece, another Crosscut article, Stranger article , Real Change News article and Youth Care statement). At a recent public screening of 'Trickle Down Town', a gentleman offered up this proverb: "It is better to light a candle than to curse the darkness."

I have made 'Trickle Down Town' available for free to any reasonable Puget Sound organization or group that wants to host a public screening as a counter-narrative to the KOMO4 piece.
As of April 19th 2019, The film is also available for online viewing at the link below.
I feel it's important that people have a broad understanding of the complex issue that homelessness is in our modern times. Poverty is with us for many complex reasons, we can "light a candle" by understanding the roots of poverty and helping the less fortunate amongst us, or, give up and "curse the darkness".

PLEASE CONSIDER DONATING
A segment of 'Trickle Down Town' features a community fueled project called Sound Foundations NW. The group is building tiny homes at Camp Second Chance in Seattle.
Please consider a donation. 100% of your donation will go to purchasing needed materials to construct more tiny homes. I myself discovered this project while searching for solutions during the filming of 'Trickle Down Town' and have joined in building high quality transitional shelters for our neighbors in need.
So far we have constructed 20 tiny homes and are on track to build many more with your support. The project is 100% run by volunteer neighbors who want to be part of the solution."
Upcoming public screenings of 'Trickle Down Town'
April 25th - Mt. Baker Neighborhood Meaningful Movies Project - More information
May 10th - Woodinville Meaningful Movies - More information
May 15th - Seattle U - More information soon
May 22nd - American Institute of Architects Seattle Committee on Homelessness (COHO) - More information
July 2nd - ST. JAMES CATHEDRAL. Seattle WA - More information Soon
August 9th - Gig Harbor Meaningful Movies - More information soon
Date / Time TBA - UNIVERSITY HEIGHTS CENTER, Seattle WA - More information soon.
Comments
Where is the link to the full film? I only see the trailer link. Thanks.
Add new comment