Copine in Ballard named in top 20 US Restaurants by Yelp.com
Copine in Ballard named in top 20 US Restaurants by Yelp.com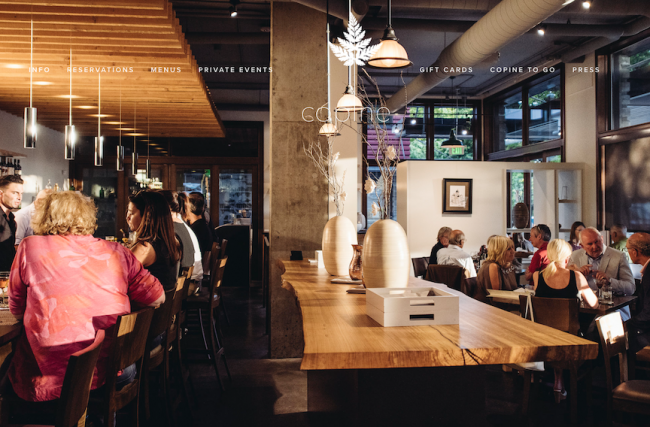 Wed, 01/19/2022
Copine in Ballard at 6420 24th Ave. NW was ranked number 19 in the top 100 restaurants by Yelp.com in their just released ranking of the top 100 restaurants in the U.S.
The French inspired cuisine at Copine brought Yelp to say,
"Chef Shaun McCrain and his team offer a new menu each week, featuring contemporary American cuisine with a decidedly French flair. The 3-course prix-fixe meal offers multiple selections, so you'll have some decisions to make—such as a recent entree choice between grilled Japanese hamachi with pickled black trumpet mushrooms; poulet rôti (roast chicken) with a smoked potato croquette; or a slow-smoked tomato stuffed with quinoa, lemon, and toasted pine nuts.

Cuisine: American (New), French 

What they're known for: The menu changes, but recent reviewers loved the cannellini bean agnolotti (similar to ravioli), the black truffle risotto, and a house-made fennel-scented ricotta.

Yelpers say: "Hands down the best culinary experience I had in Seattle. Everything was so delicious and seasonal. The butternut squash and maple soup is the best soup I've ever had in my life (I'm not even a big soup person). So so good!" —Kaye S."
At the moment, until Feb. 3 Copine has suspended indoor dining but still offers meals to go from their menu.