Salmon Creek Café is back–and better—in Burien
Salmon Creek Café is back–and better—in Burien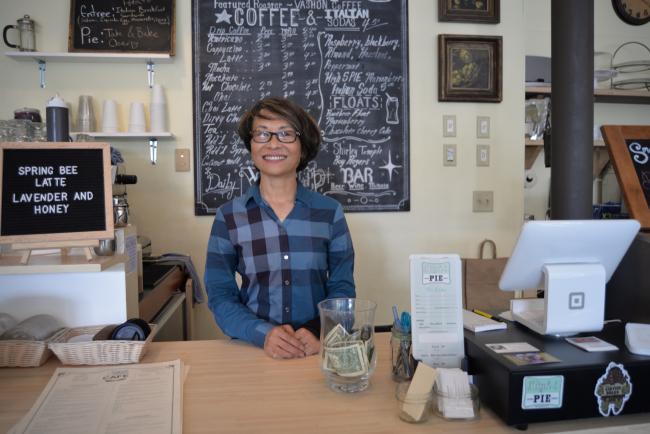 Photo by Lindsay Peyton
Thu, 06/14/2018
When Salmon Creek Café celebrated its grand reopening earlier this month, owner EJ Kim said that customers were lining up to get a taste of new menu items. 
"We had live music, couples were dancing outside, and it was a lot of fun," she said. 
Kim has reimagined the space and its offerings for the second time now. The new Salmon Creek Café, located at 11620 Ambaum Blvd SWin Burien, offers savory as well as sweet treats and a bar serving beer and wine in an extended happy hour, lasting daily from 3 p.m. to 6 p.m. daily.
Special events are planned in the space, including live music and supper club weekend dinners. 
Kim took over the space in early October, but at first the spot was a home to her family business, High 5 Pies.  
Before that, the location was home of Geno's Coffee Shop and Bakery, with various owners at the helm. 
"They were here for like 20 years," Kim said. "It was really popular. Geno's was famous."
After the business was sold, a couple of other owners tried to keep the spot going. The establishment, however, never reached its prior popularity, Kim said. 
That's when she decided to step in. 
Kim admits that her career has followed an unusual path—but one that has provided her with helpful background for the restaurant industry. 
She has spent her career as an accountant, mainly focused on small businesses.
Kim got involved in High 5 Pie when it was located in Capitol Hill. Rents forced the bakery to relocate.  She started searching for a more affordable neighborhood.
"We couldn't stay there," she said. 
Kim lives in West Seattle and eventually located a new spot to the south--in restaurant-friendly Burien. 
"When we found the space, we thought it would be a great boutique bakery," she said. "But that didn't quite work out."
Kim ran High 5 Pie in the location for a couple of months but she felt that the neighborhood was begging for a different concept. 
"A lot of old customers were coming in and telling me about Geno's," she said. 'They made great sandwiches and baked bread."
She felt called to do something more in-line with the original café but did not have the culinary experience to make the leap. 
Luckily, chef AnnaBicknell arrived right in time. 
Bicknellhad actually started her career at High 5 in Capitol Hill and was a natural fit for the new location. 
When Kim started talking to Bicknell about switching up the menu, the chef agreed.
"Our business plan changed slightly," Kim said. "This is not a place for a high-end bakery. What we needed was a great chef. We wanted to create a neighborhood gathering spot."
She said that Bicknell was the ideal candidate for the transformation. 
Bicknell started as kitchen manager at High 5. Then she went on to build her career as a chef. 
She agreed that the restaurant would benefit from a more extensive menu. 
"Not everyone wants pie all the time," she said. "To sustain our business, we needed other options. Now, we still have pie, but we also have everything else. We have the best of both worlds." 
Bicknell said biscuits and gravy and egg sandwiches are popular breakfast items. At lunch, there are salads, sandwiches and soups, as well as quiche, chicken pot pie, and pasta on the menu. 
The supper club on weekends will feature alternating items. One of the first served up a prime rib dinner. The specials will be shared on social media prior to each event. 
"We've had a good response," she said. "But some people still don't know we're here."
Bicknell hopes Salmon Creek Café will become a popular local option.
"We're creating something for the neighborhood," Kim added. "I like what's happening in this place. It's changing."
She believes with some hard work, dedication and a team of talent, anything is possible. 
"You see what goes into this and you can't help but fall in love," she said. "And you want to share that with people."
For more information, visit www.salmoncreekcafe.com.