Democratic candidates for the 34th legislative district head to West Seattle
Democratic candidates for the 34th legislative district head to West Seattle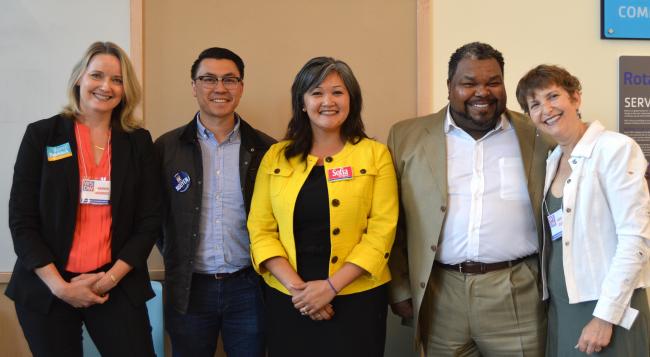 Photos by Lindsay Peyton
Thu, 06/28/2018
Almost all of the Democratic candidates vying for the 34thlegislative district seat headed to West Seattle on Thursday, June 28. 
The West Seattle Democratic Women hosted a candidates forum for the state senate primary race, where they introduced Joe Nguyen, Sofia Aragon, Shannon Braddock and Lem Charleston. 
Lois Schipper and Annabel Quintero, also Democrats competing for the seat, were not able to join the group due to a scheduling conflict.
Also running in the primary race are Republicans Courtney Lyle and Darla Green and Independents Debi Wagner and Hilary Shaw. 
The 34thlegislative district, which includes West Seattle, White Center, Burien and Vashon Island, is currently represented by Senator Sharon Nelson (D), who will retire at the end of her term.
The two-top primary election will be held on Aug. 7, and the general election is slated for Nov. 6. 
Shannon Braddock started the discussion. "There are some big shoes to fill in Sharon Nelson," she said. 
Braddock serves as senior member of County Executive Dow Constantine's administration and is a longtime children's advocate and resident of the 34th District. She is also on the board of local nonprofit Westside Baby and previously served on the Board of the West Seattle Food Bank. 
Braddock is the mother of three and served as the legislative representative on the Lafayette Elementary PTA. She received a masters degree in public administration from the University of Washington.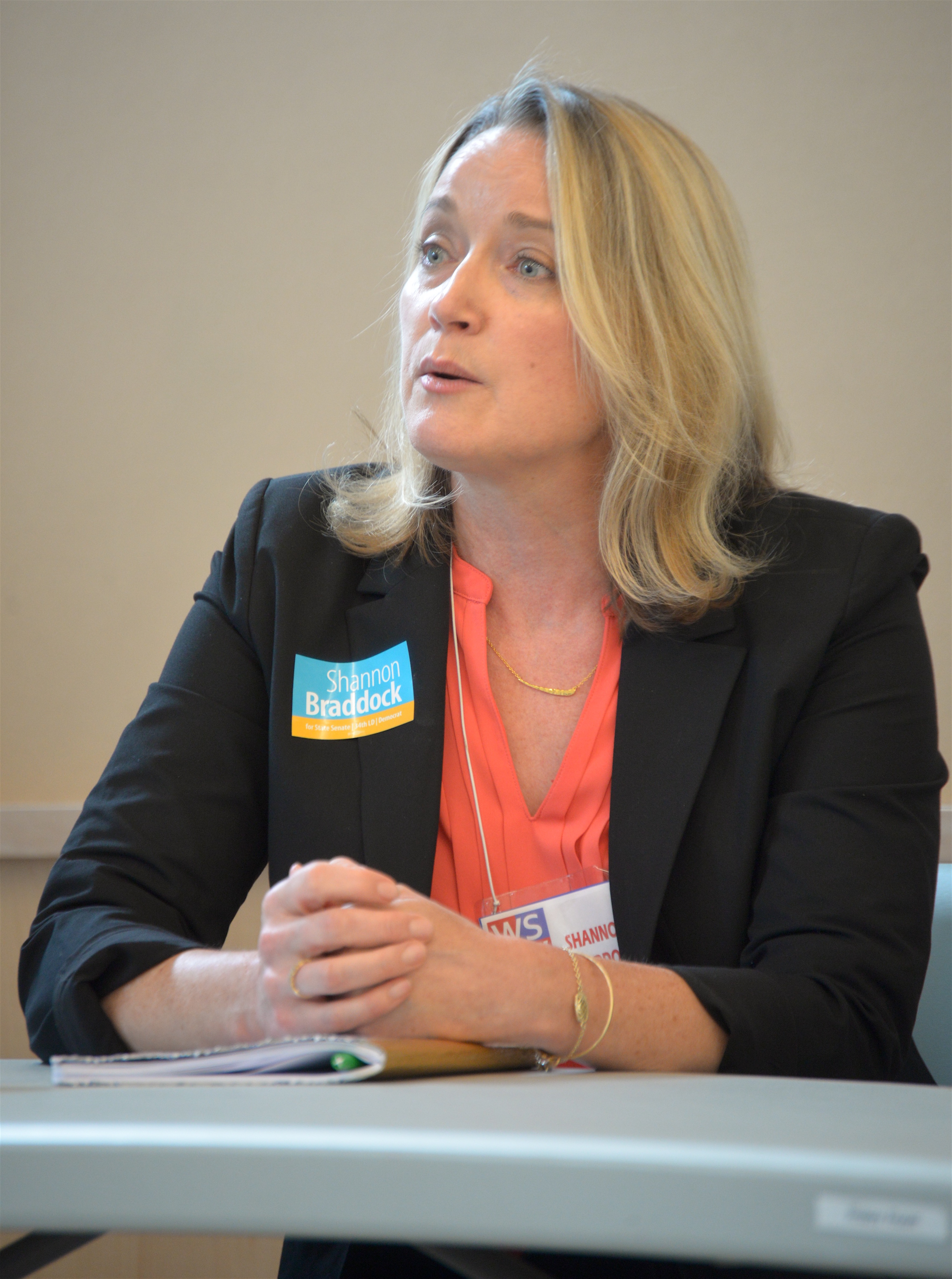 Braddock was inspired to run by her parents' dedication to public service, as well as her children. She explained that one of her sons is gay and that her daughter was adopted by Korea. 
"We talk a lot about the fears she is experiencing from this Trump administration," Braddock said. "Seeing me run gives her hope." 
She believes that being a good leader requires "harnessing the power of people around you" and bringing everyone to the table to move forward. 
Braddock said, if elected, she hopes to focus on the needs of women and families. She explained that as a single, working mother she took seven years to complete a two-year grad school program because affordable childcare was difficult to find.
"I want universal access to childcare for everyone who needs it," she said. 
She said that no one can lift themselves out of poverty without knowing there are diapers and childcare available. "We have to really start addressing these issues with mothers, with families," she said. 
Joe Nguyen, senior manager at Microsoft, was born and raised in the 34thDistrict. He said that as the son of Vietnamese refugees, his family was able to settle in Washington with assistance from social services.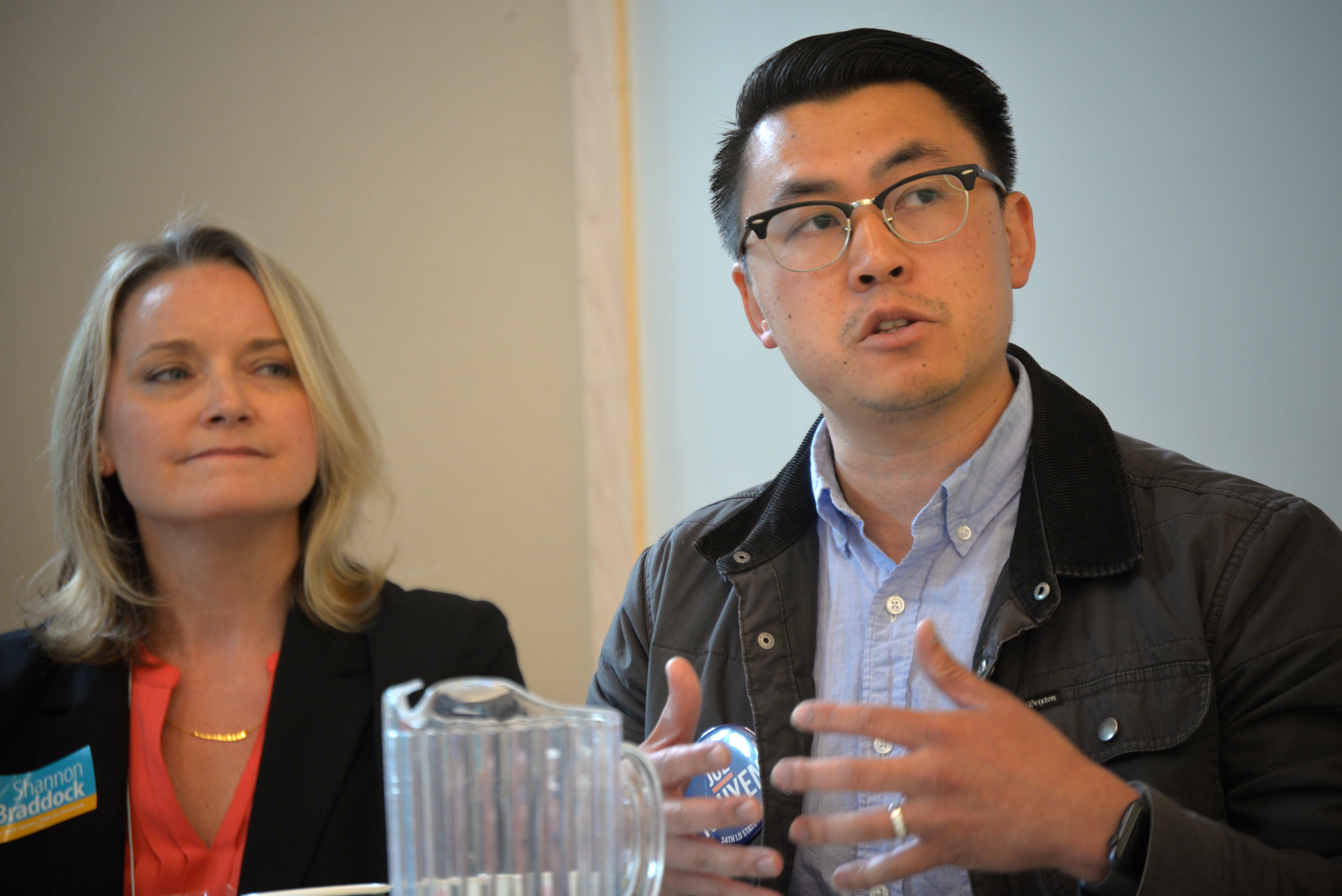 "They came to America, because they were fleeing a repressive regime," he said. 
His father was involved in a tragic accident, which left him a quadriplegic. This experience led Nguyen to become a life-long advocate for affordable healthcare. 
"That's why I care so much about having healthcare for all," he said. 
Nguyen currently serves as chair of the associate board for Wellspring Family Services, which is dedicated to providing housing for homeless children and their families. He is also a member of the Community Advisory Committee for the Office of Law Enforcement Oversight in King County. 
"I was born and raised in this area," he said. "My family and friends are in this community. I will be a relentless advocate."
He believes that the best candidate will have a strong understanding of local issues  and will be able to support the groups that are already working towards solutions. "Being a good leader means being a good listener," he said. 
His top priorities include fully funding education, creating affordable housing and building mass transit, but remarked that all of those programs require funding. His top priority is making local taxes less regressive and more progressive.
"It's not fair," he said. "I'd like to take a hard look at our tax structure."
Nguyen said that having lived in White Center, Burien and West Seattle gives him unique insight into the district. "What I really want to be is a voice for all communities," he said. 
Sofia Aragon, a registered nurse and advocate for affordable housing and healthcare, came to the U.S. as a 3-year old with her family from the Philippines.
"I'm able to sit here today because of the opportunities available to me in the Seattle area," she said. 
She earned her degree from the University of Washington and a nursing degree from Seattle University. She now lives in Burien. 
While working as a registered nurse in a health clinic in South Seattle, Aragon experienced firsthand the affect elected leaders have on health care. The desire to be a stronger patient advocate led her to pursue a law degree as a tool to improve health policy. She graduated from Loyola University-Chicago School of Law.
Aragon then spent 13 years in health policy and governmental affairs in Olympia to to assure health coverage for all children and full implementation of the Affordable Care Act for Washington residents.  
She is a current board member of the Washington Low Income Housing Alliance and serves as executive director for the Washington Center for Nursing. 
"There is power in numbers," Aragon said. "You have to build relationships and communication with people who are against you on an issue."
She said finding ways to solve issues together is key to strong leadership. "You need perseverance," she said. 
Aragon wants to work for higher education for everyone and ensure more opportunities for students to attend community colleges.
"Someone with a high school education will face a lot of inequality if they don't get additional work force training or education," she said. 
Aragon said that her years in Olympia make her an ideal candidate. "Running for office is a serious and very difficult endeavor," she said. 
She added that Nelson was a progressive leader in the 34th district. "We need to keep that momentum," she said.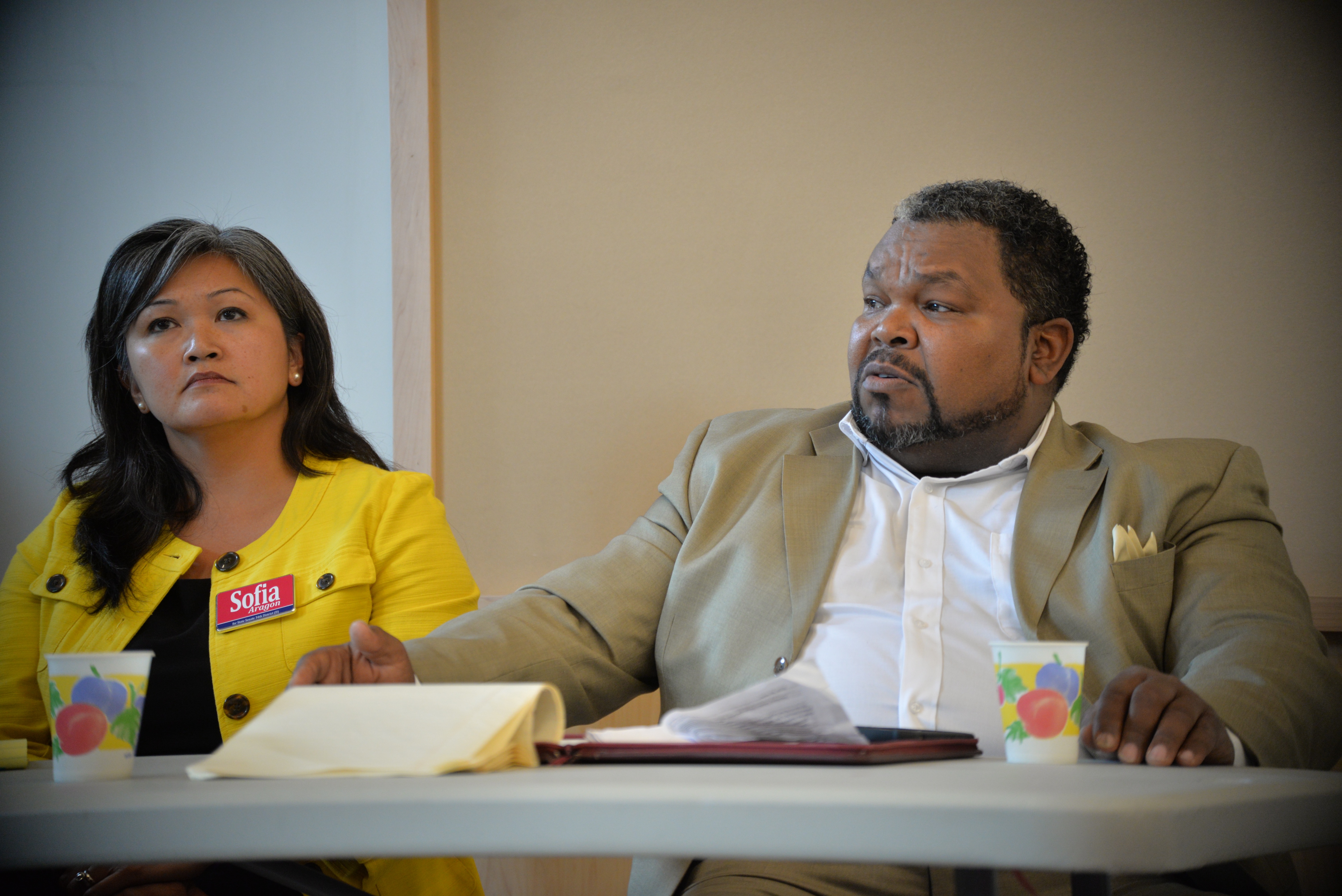 Lem Charleston, a West Seattle resident, worked in the aerospace industry for 25 years and is a union member. He is also a former U.S. Marine, associate chaplain with the Seattle Police Department, minister and a soccer coach.
Charleston said he has been a lifelong advocate, whether fighting for employment rights for people of color, showing his support labor unions or working in support of gun control. 
"I don't believe civilians should have assault weapons," he said. 
Charleston said that the Marine Corps trains members to become leaders, and he also gained needed skills from the clergy. 
"You cannot lead when you do not follow," he said. "You have to know where you're going and how to get there."
When it's time to take the reins, Charleston said, keeping the values of strong mentors close to heart is important. 
"Leadership is something you don't take lightly," he said. "I personally don't want to follow someone who is diving into leadership because I question their motives."
He says he simply wants to make a difference. I look around at the issues that were facing me, facing my family," he said. "You've got to step out, step up, step forward." 
Charleston is an advocate of creating a state bank, which he said could be a tool to provide affordable housing and universal healthcare. 
"It would reduce the debt," he said. "It would reduce the interest. That's a bold move I think we should make." 
He said that he is running because he is dissatisfied with the status quo. "I believe we can do a lot better," he said. "There are some unfair things happening in this state. I hope to be that voice for you in the 34th district. I've always been a servant to the people, and I will be until the day I die." 
For more information about the West Seattle Democratic Women, visit westseattledemocraticwomen.org.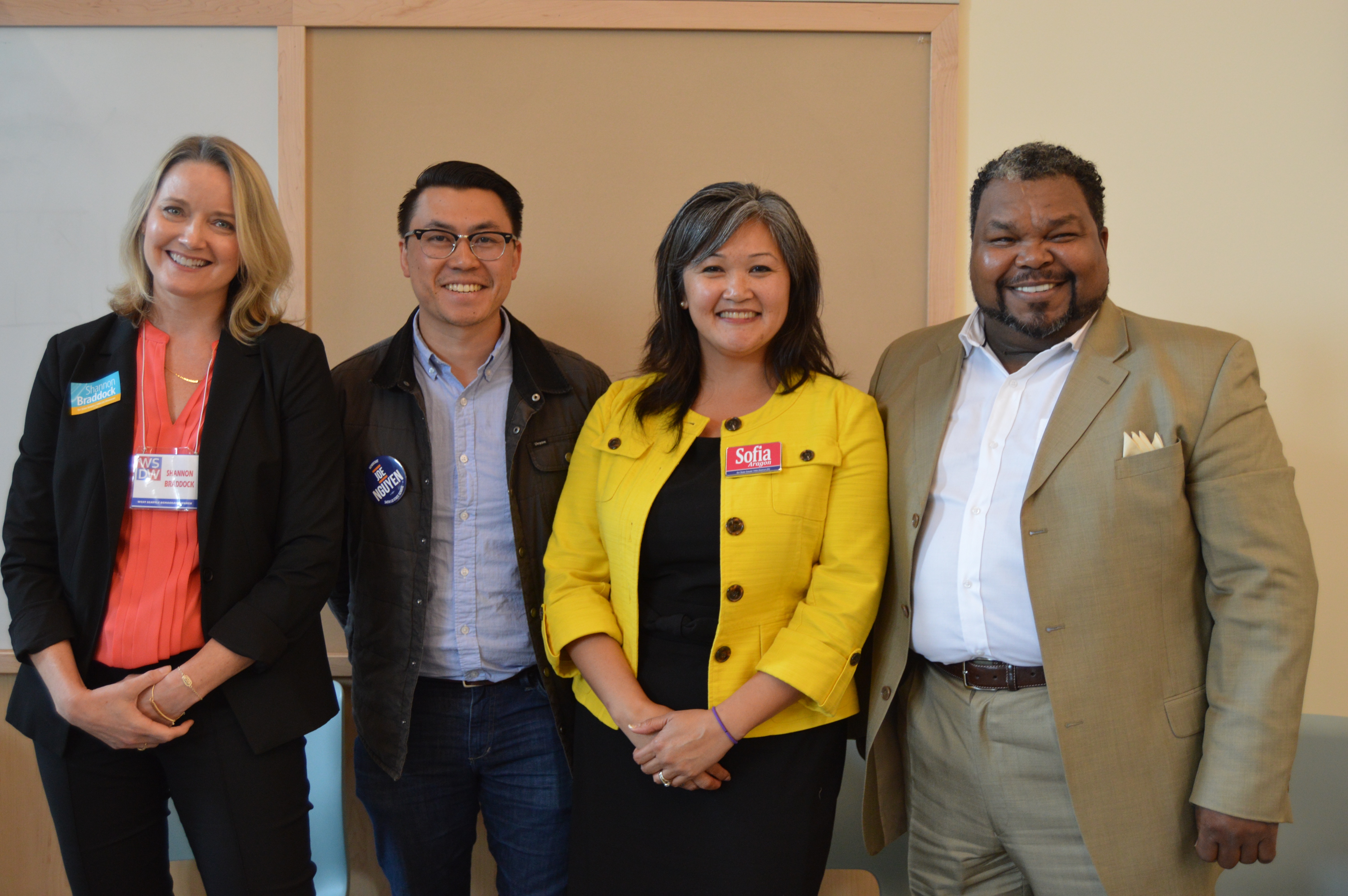 Comments
I'm very impressed with Joe Nguyen, he's the only candidate who's been talking about our unfair tax system that is pushing so many people out of the area. We need to elect more non-career politicians who know what the average person is struggling with, and who have dedicated their lives to service and giving back to the community. Joe has my vote!