Review of ArtsWest Holiday Cast Party
Review of ArtsWest Holiday Cast Party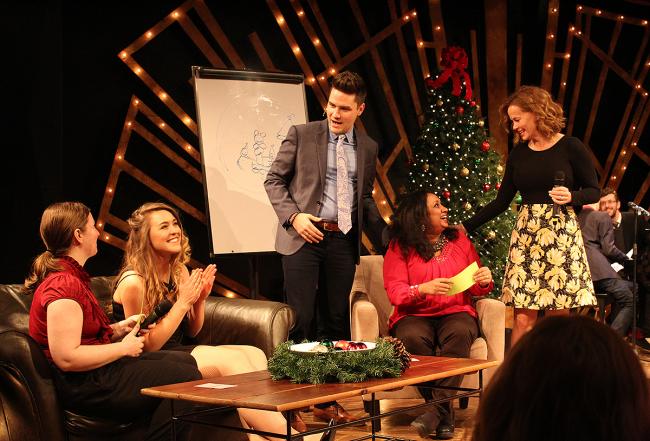 Photo courtesy of ArtsWest
Sun, 12/10/2017
ArtsWest is hosting a party – and everyone is invited.
If you're looking for some holiday cheer – and something a little different than the usual line-up of Scrooge and the Nutcracker, this is your show.
"We don't do anything normal at ArtsWest," the theatre's artistic director explained with a laugh while introducing the show.
The Holiday Cast Party is playing through Saturday, Dec. 23 at ArtsWest Playhouse and Gallery, 4711 California Ave SW.
This delightful series of evenings was inspired by the Dean Martin Show and the Judy Garland Show. It's a bit cabaret, a little Lake Wobegon Days and a heaping helping of the Late Show with David Letterman, complete with top-10 list and scene-stealing pianist.
Wright serves as the host of the evening – with playful interludes from music director Chris DiStefano, peering out from behind the keys.
Each night features different guests – who sings songs and play reindeer games with the host. Wright also interviews them about their own holiday traditions.
A few audience members made it on stage to join in the fun – and everyone ended up singing together by the end of the night.
Wright describes the show as "boozy but family-friendly, hilarious but packed with classic songs – it's just got all the right ingredients."
The Cast Party is casual fun, a throwback to some good old-fashioned entertainment but with a little bit of edgy humor. It's just the show to inspire a little good will towards men for the holidays – the natural result of time with family and friends, traditional tunes and easy banter, perhaps paired with one of ArtsWest's specialty cocktails.
For tickets and more information, www.artswest.org