Ballard, West Seattle now part of Imperfect Produce's delivery route
Ballard, West Seattle now part of Imperfect Produce's delivery route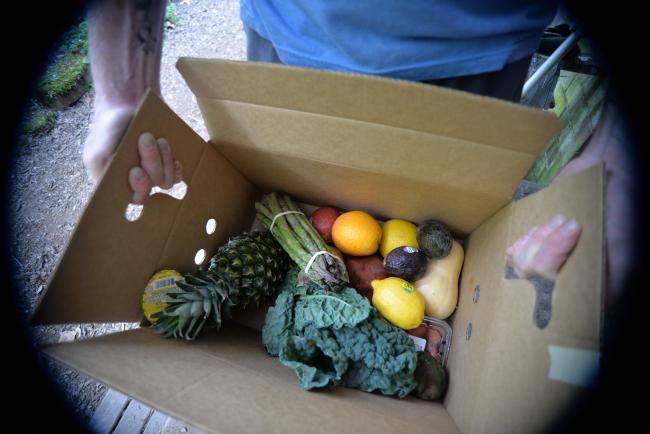 Thu, 06/21/2018
Just because the produce doesn't look perfect doesn't mean it doesn't taste as sweet. 
That's the concept Imperfect Produce is setting out to prove. The rapidly expanding San Francisco-based company finds the beauty in ugly fruits and vegetables—and helps prevent food waste along the way. 
The company arrived in Seattle last fall and recently expanded its delivery area to include Ballard and West Seattle. 
Imperfect Produce content manager Reilly Brock said the plan was to expand as demand grew. First, the company had to determine whether Seattle was ripe for the concept. 
Brock explained that Imperfect Produce, which means they are left to rot or become waste at the farm. 
Imperfect prevents that extra curvy carrot or twinned cherry or oddly shaped apple from being sent to landfills. "Fruit comes in all shapes and sizes, just like people, and we think that's worth celebrating," Brock said. "It's all perfectly good produce, we're proud to help find a good home for it."
By buying the produce, the company helps farmers benefit fully from their harvests. 
"We essentially offer a more flexible alternative," Brock said. "You don't have to settle for that loss."
Imperfect offers customize-able boxes of produce at various sizes, delivered to customers' front door. The ugly fruits and vegetables are priced at least 30 percent less than grocery store rates and sometimes at an even greater discount. Shoppers can also choose an organic box.
The idea caught on right away in Seattle.
"In the Pacific Northwest, people are so forward-thinking about their food," Brock said. "There was a demand for this even before we got here. They've been really receptive."
Seattleites appreciate the mission of eliminating waste, supporting farmers and having convenient food delivery. 
"You get it dropped on your doorstep, instead of dealing with traffic and parking," Brock said. "You can get your staples and try something new. People are inspired and empowered to cook more."
A number of residents from Ballard and West Seattle were on the delivery waiting list, and when Imperfect was ready to expand, the company headed to those neighborhoods first. 
Brock had visited Ballard before and knew that the food culture there would support the service. 
"We're stoked to be in Ballard," he said. "The vibrancy of the food culture there blew me away. It totally made sense to go there."
Imperfect Produce is available in a handful of cities around the U.S. and the company has grown steadily since it was founded in 2015. 
Founder and CEO Ben Simon noticed campus food going to waste as a college student and started a non-profit to combat the problem, called Food Recovery Network. 
He then met Ben Chesler and Ron Clark, who became his co-founders for Imperfect Produce in the Bay Area. In 2016, they expanded to Los Angeles. Then, the company stretched north to Portland and Seattle. Chicago and Indianapolis were next on the list, and Milwaukee will be added next week. 
West Seattle resident Megan Knievel loves Imperfect Produce so much that she became a part-time brand ambassador for the company in addition to her full-time job. 
Her neighborhood has been receiving deliveries for the past year and Knievel learned about Imperfect on Facebook. 
"I read about what they stand for, and I was really jazzed because I wanted to eat healthier," she said. 
She also wanted to support sustainability and, as a bus commuter, was looking forward to a more convenient shopping experience. 
"For me, this is an amazing service," she said. 
When Knievel does go to the grocery store, she just grabs her protein. "My grocery bags aren't 25 or 30 pounds anymore," she said. "It's also allowed me to eat more veggies and save money."
For more information, please visit www.imperfectproduce.com.
Comments
Great post you wrote dear. I really appreciate your wisdom and command on your selected topic. In addition, I have a small business idea for your visitors which is Delivery services near me. By making an <A href="http://businessguideblog.com/delivery-services-near-me/">Delivery Services Near Me</a> people can make a smart way of income as part time or full time.
Thank you
Best Regards,
Hitesh