The Kindness Quotient
The Kindness Quotient
A neighbor since 1970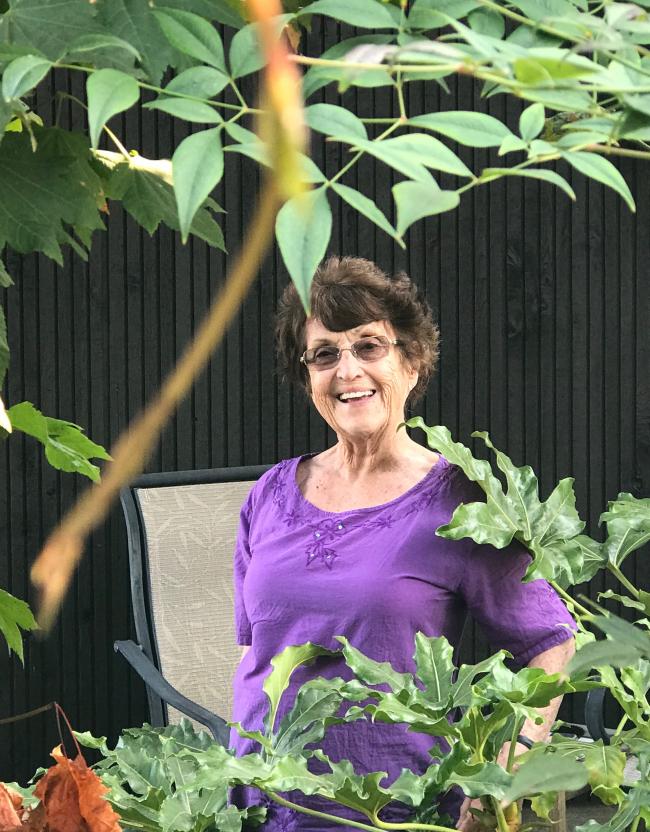 SJ MacKay
Sun, 06/09/2019
by SJ MacKay 
At 86, Mary Erickson's super power is a zest for life. Her neighbors enjoy her exuberant joie de vivre and nurturing, protective nature... Forget to leave your trash or recycling out, it will magically appear curbside come sunrise.
In today's nomadic and changing world, few people can say they've lived in the same house since 1970.  Many neighbors come and go, people move away, families move in, children grow-up. Yet, each neighbor would describe Mary as the break in clouds. She encounters the ups and downs with courageous vitality, which she jokingly attributes to her Irish ancestry and to overcoming numerous hurtles in life.
"I handle pain well, brain tumor, lung cancer surgery, plus hip replacements. When people can't handle pain, I want to help them through it," she said standing at 5' 2" smiling ear to ear.
Traveling back in time, January 1, 1970, Mary stood in front of her newly built home on the cusp of starting a family. Today, a widow and mother of four, one of whom passed away two years ago, her ability to embrace life is no different. Mary is a neighbor in the truest sense with her willingness to chat on the sidewalk and over the fence just because that's what neighbors do.
"Back in the 70s people flocked to my house," Mary smiles remembering. "We were a hub of parties, people loved to come over with their Tupperware casseroles." Photos upon photos fill the side tables and walls of her home, years of memories with children, family, knick-knacks and momentos.
Still today, her home is a sanctuary and her neighbors, an extension of family. Every other week, she can be seen mowing her lawn, watering the dozen potted flowers bordering her driveway, checking on mail for out-of-town neighbors and watching neighbor's pets.  Mary is the eyes and ears of the neighborhood ready to navigate "whatever comes her way," she says brightly. 
"I really care for how people feel inwardly. I don't like people being slighted or treated disrespectfully, " she said with conviction. She admits difficulties in her life; with each one she's developed a growing strength and wisdom.  A pivotal point came when she took a job with Metro at 52.
Working the night shift at Metro brought an absolute and definable turning point in her life. She held her post in high regard and treated each situation with clear determination. One night, in Federal Way a young woman had left a Mariner's game and missed her last bus. Mary drove her home in her pickup truck, she couldn't imagine leaving the young woman alone in the dark at the station. She felt a great purpose helping people late at night. Another vivid example, a young boy on the autism spectrum took a bus without notifying anyone; the parents came to Mary terrified, she promised to find him and when she did, stayed with him until the parents could come and pick him up.
She is the equivalent of today's Neighborhood Watch Program. You may ask how is Mary so powerful and resilient? Consider a timeless, ageless courage. And, if you listen closely you can hear a soft hum, it might be the birds or the wind or perhaps Mary's positive vibe.