Great Escapes: Oregon Trail featured at OTIC center
Great Escapes: Oregon Trail featured at OTIC center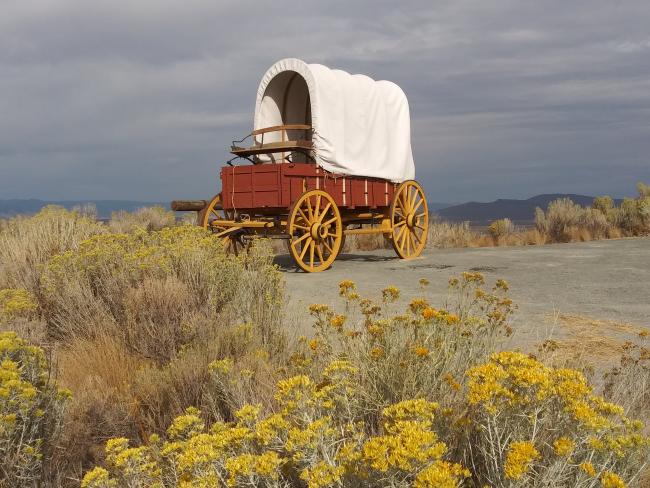 Tim Clinton
Tue, 07/14/2020
By Tim Clinton
SPORTS EDITOR
You could really get stuck in a rut at the National Historic Oregon Trail Interpretive Center.
The actual deep tracks left by covered wagons in the mid-1800s can be found crossing the desert at the 500 acre park near Baker City, Ore.
You can work your way on trails through the sage brush to a point on a well preserved seven-mile segment of the ruts, part of which are among the hills and part of which go out onto Virtue Flats.
Over four miles in all of trails lure on visitors who are looking at or climbing onto wagons circled near the parking lot on panoramic Flagstaff Hill.
From here they can get an overview of the trail as well as of the Powder River Valley and the distant Blue Mountains and Elkhorn Mountains.
Whether you walk to the Oregon Trail itself or not, you can learn all about it at the center's 23,000 square foot museum.
Inside you can see life size displays of what life was like on the 2,170 mile trail from Independence, Mo. to the Willamette Valley in Western Oregon -- including of the ruts.
The trail was started by fur seeking mountain men in the 1830s and was well publicized by 1843.
It took 160 days by covered wagon in 1849 and was cut to 140 days by 1859.
The cost to enter the center is $8 for two days for ages 16 and over from April to October and $5 for November to March. Ages 15 and under are admitted free year round, with the cost for ages 62 and over set at $6 April to October and $4 November to March.
Commercial groups are admitted for $6 per person year round with scheduled educational groups with certified teacher admitted free.
Call (541) 523-1843 for information.
To get to the accessible center and the trails, take exit 302 off Interstate 84 onto Highway 86 near Baker City and head five miles east to 22267 OR-86.
From the center you can either go back to I-84 and head on your way, or go east on 86 and take the 208-mile Hells Canyon Scenic Byway where more adventures await...